Faster evolving Drosophilaparalogs lose expression rate and ubiquity and accumulate more non-synonymous SNPs
Received: 1 October 2013
Accepted: 7 January 2014
Published: 17 January 2014
Abstract
Background
Duplicated genes can indefinately persist in genomes if either both copies retain the original function due to dosage benefit (gene conservation), or one of the copies assumes a novel function (neofunctionalization), or both copies become required to perform the function previously accomplished by a single copy (subfunctionalization), or through a combination of these mechanisms. Different models of duplication retention imply different predictions about substitution rates in the coding portion of paralogs and about asymmetry of these rates.
Results
We analyse sequence evolution asymmetry in paralogs present in 12 Drosophila genomes using the nearest non-duplicated orthologous outgroup as a reference. Those paralogs present in D. melanogaster are analysed in conjunction with the asymmetry of expression rate and ubiquity and of segregating non-synonymous polymorphisms in the same paralogs. Paralogs accumulate substitutions, on average, faster than their nearest singleton orthologs. The distribution of paralogs' substitution rate asymmetry is overdispersed relative to that of orthologous clades, containing disproportionally more unusually symmetric and unusually asymmetric clades. We show that paralogs are more asymmetric in: a) clades orthologous to highly constrained singleton genes; b) genes with high expression level; c) genes with ubiquitous expression and d) non-tandem duplications. We further demonstrate that, in each asymmetrically evolving pair of paralogs, the faster evolving member of the pair tends to have lower average expression rate, lower expression uniformity and higher frequency of non-synonymous SNPs than its slower evolving counterpart.
Conclusions
Our findings are consistent with the hypothesis that many duplications in Drosophila are retained despite stabilising selection being more relaxed in one of the paralogs than in the other, suggesting a widespread unfinished pseudogenization. This phenomenon is likely to make detection of neo- and subfunctionalization signatures difficult, as these models of duplication retention also predict asymmetries in substitution rates and expression profiles.
Reviewers
This article has been reviewed by Dr. Jia Zeng (nominated by Dr. I. King Jordan), Dr. Fyodor Kondrashov and Dr. Yuri Wolf.
Keywords
Gene duplicationPseudogenization Drosophila Substitution rateGene expressionPolymorphism
Background
Retained gene duplication is probably the most important mechanism of evolution of genes and gene functions [1–7]. While many duplications, including the majority of genes resulting from whole-genome duplications, are rapidly lost by pseudogenization, many are retained. Paralogs can be retained when both copies continue to perform the original function due to dosage benefit, i.e., by gene conservation [1, 6, 8], also described as "more of the same" mechanism [5]. Alternatively, one of the copies may undergo neofunctionalization: assuming a novel function due to relaxation of stabilising selection in that copy [1, 9, 10]. Finally, subfunctionalization may occur where both copies become necessary to perform the function previously accomplished by a single copy. This may happen either by fixation of hypomorphic alleles in both copies or due to differential loss of regulatory elements [3, 7, 11, 12]. Each of these duplication retention models implies different predictions about relaxation of stabilising selection in neither, one, or both paralogs [6, 7]. During pseudogenization and neofunctionalization selective constraints are relaxed in one copy but not the other; such pairs of paralogs may be expected to evolve in an unusually asymmetric manner relative to the null expectation of equal rates in both paralogous clades: one paralog accumulates more mutations than the other and that difference is too large to be explained by binomial process of incurring random mutations. Conversely, paralogs retained by gene conservation or balanced degradation type of subfunctionalization may be hypothesised to accumulate changes in an unusually symmetric manner, i.e. with rates more similar than one might expect from the random null expectation, something that can be much harder to detect and test. Such symmetry may be further explained by the action of gene conversion or unequal crossing over homogenizing paralogous copies [13].
There are several important caveats that make the analysis of rates' asymmetries in paralogs difficult and prone to false negatives. Firstly, both neofunctionalization and subfunctionalization often occur by loss or gain of entire protein domains [14, 15] or by fixation of alternative splicing modes [16], neither of which would be detected by a comparison of aligned amino acid sequences. Likewise, both neofunctionalization and subfunctionalization may occur through a single or few amino acid substitutions at functionally important sites. A gene-wide analysis of rates and asymmetries will never have sufficient resolution to detect these few critically important substitutions. Finally, different modes of duplication retention may be difficult to distinguish, as they may not be mutually exclusive. For example, neofunctionalization may be accompanied by asymmetric expression profiles between the two paralogs, such as in the case of pancreatic ribonuclease in leaf-eating monkeys [17, 18] or β-catenin/armadillo paralogs in insects [19], although it is not clear if faster-evolving paralogs generally tend to also acquire a more specialized expression. Moreover, there is compelling evidence that paralogs may evolve through a combination of subfunctionalization and neofunctionalization [20, 21] with subfunctionalization often prevailing in the initial phases of duplicated genes evolution, setting the stage for further neofunctionalization [20]. Furthermore, it is particularly difficult to unequivocally distinguish between neofunctionalization and unfinished (or incomplete) pseudogenization, as both mechanisms predict identical signatures: relaxed selective constraint and high asymmetry in paralogs.
For the reasons outlined above, it is difficult to distinguish between different modes of duplication retention by the analysis of sequence evolution alone. Yet, one might attempt to detect genome-wide patterns of several of these modes by a joint analysis of rates and asymmetry of sequence evolution, gene expression and polymorphisms segregating in extant copies of duplicated genes.
Paralogous genes often demonstrate a faster divergence than their singleton counterparts [6, 22–24] and their divergence can also be more asymmetric that that of orthologous clades [24–29]. However, genome-wide comparison of rates and asymmetries of sequence evolution between paralogs and singletons is difficult owing to the lack of a properly matched control: conserved gene families are also more likely to retain duplications [30, 31], (but compare to Ref. [32]), thus creating an apparent decrease in evolution rate in paralogs than in singletons in a genome-wide comparison [33]. One approach to eliminate this confounding is to compare paralogs to their pre-duplication sister singleton orthologs [9, 10, 13, 26], which requires sequence data analysed on a detailed phylogenetic context encompassing a number of closely related genomes, and thus was, until recently, limited to unicellular organisms. Here we report the analysis of rates and asymmetries of sequence and expression evolution in paralogous genes present in twelve Drosophila genomes [34] juxtaposed to those in their nearest singleton outgroup, a strategy recently employed for the analysis of duplicated genes in pairs of species of yeast [26], Drosophila[10] and rodents [9], but, to the best of our knowledge, has not been used on data encompassing entire phylogenies. Using the 12 Drosophila genomes and detailed phylogeny information available, we identify pairs of paralogs whose divergence is significantly more asymmetric than one would expect based on random distribution of substitutions across paralogous clades. We then focus on a subset of duplication with both copies present in the D. melanogaster genome in order to analyse the asymmetry of their sequence evolution in conjunction with gene expression data and the data on frequencies of SNPs mapped to these paralogs. Such analysis provides additional information about intensity of stabilising selection in each duplicated copy.
Results
Paralogs evolve faster and diverge more asymmetrically than their singleton orthologs
Duplicated genes demonstrated higher rates of amino acid substitutions than their singleton outgroup (Figure
2
A, B, Additional file
3
: Table S1). This result holds for all three duplication age groups defined by the age (in K
s
units) of the preceding speciation serving as the upper-bound estimate of duplication's age. This is a conservative test: because the speciation event defining the outgroup preceded the duplication event, for an unknown time, the paralogs in this analysis existed and accumulated substitutions as singletons. Moreover, paralogs evolved through more radical amino acid substitutions than their counterpart singletons, both for the radicality expressed as the absolute difference in polarity (|dPolarity|, Figure
2
C) or as Exchangeability [
44
] (Figure
2
D).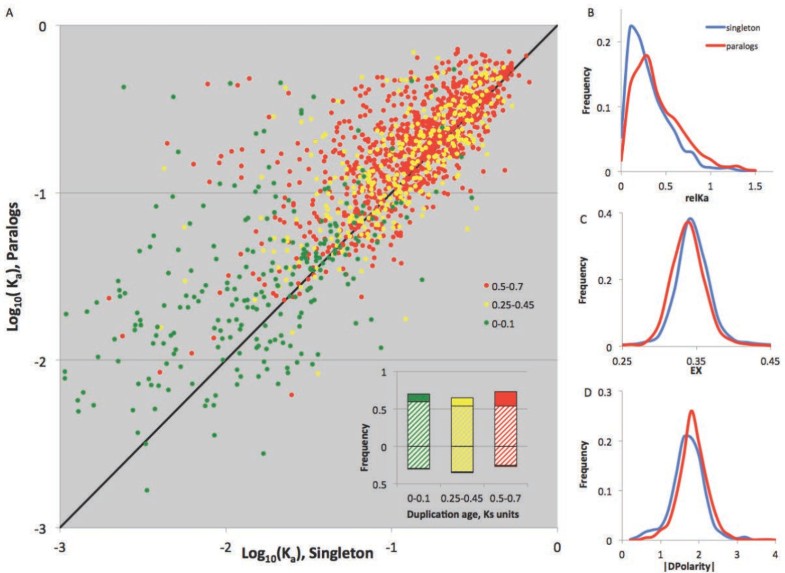 Numerous duplications demonstrated a significant asymmetry in frequency of amino acid substitutions between paralogous clades. Out of 1726 duplications analysed, 287 had the Yates-corrected χ2 test for asymmetry significant after Bonferroni correction (P < 0.05); 451 duplications had asymmetry test surviving false discovery rate correction [45] with q < 0.1. On average, paralogous clades diverged greater than did their singleton orthologous from the average of the two paralogs (Additional file 3: Table S1). This difference was more pronounced for older duplications and only marginally significant for the youngest (Ks < 0.051) ones. In contrast, the asymmetry of radicality was greater between orthologous than between paralogous clades and significant only in the youngest pairs of clades. Thus, paralogs diverge unexpectedly asymmetrically with respect to the numer of substitutions, but not with respect to radicality of these substitutions.
However, the comparison of mean asymmetry in paralogous and orthologous clades is misleading: the difference in the means notwithstanding, the distribution of asymmetries for paralogous clades is overdispersed relative to that for orthologous clades (contingency table test: P < 0.00001, Figure
3
A). A large class of unusually symmetric pairs of paralogs is to be expected: firstly, some paralogs may have duplicated a significant and unknown time since the nearest preceding speciation and thus evolved for the unknown time as a single copy, not accumulating any differences; and secondly, even after duplication, paralogs may be evolving unusually symmetrically due to concerted evolution. These two effects are impossible to untangle in our design. Furthermore, the statisitical power of testing the hypothesis that the two paralogs are unusually symmetric (Z
2
too small) is very low, as Z
2
 = 0 (equal number of substitutions in each paralog) is difficult to distinguish from the expected value Z
2
 = 1. None of the "unusually symmetric" pairs of paralogs survive Bonferroni correction for multiple tests of whether the observed Z
2
is significantly below 1, except for those pairs in which there are equal numbers of substitutions in the two paralogs, resulting in a nominal P value of 0. Furthermore, unusually symmetric clades may be an artefact of the maximum likelihood failure to assign substitutions to specific branches. To illustrate this, Figure
3
B shows the frequency of pairs of paralogs that differ by less than 2 substituted sites, as a function of relK
a
of the singleton ortholog, without making a statement about statistical significance of such cases.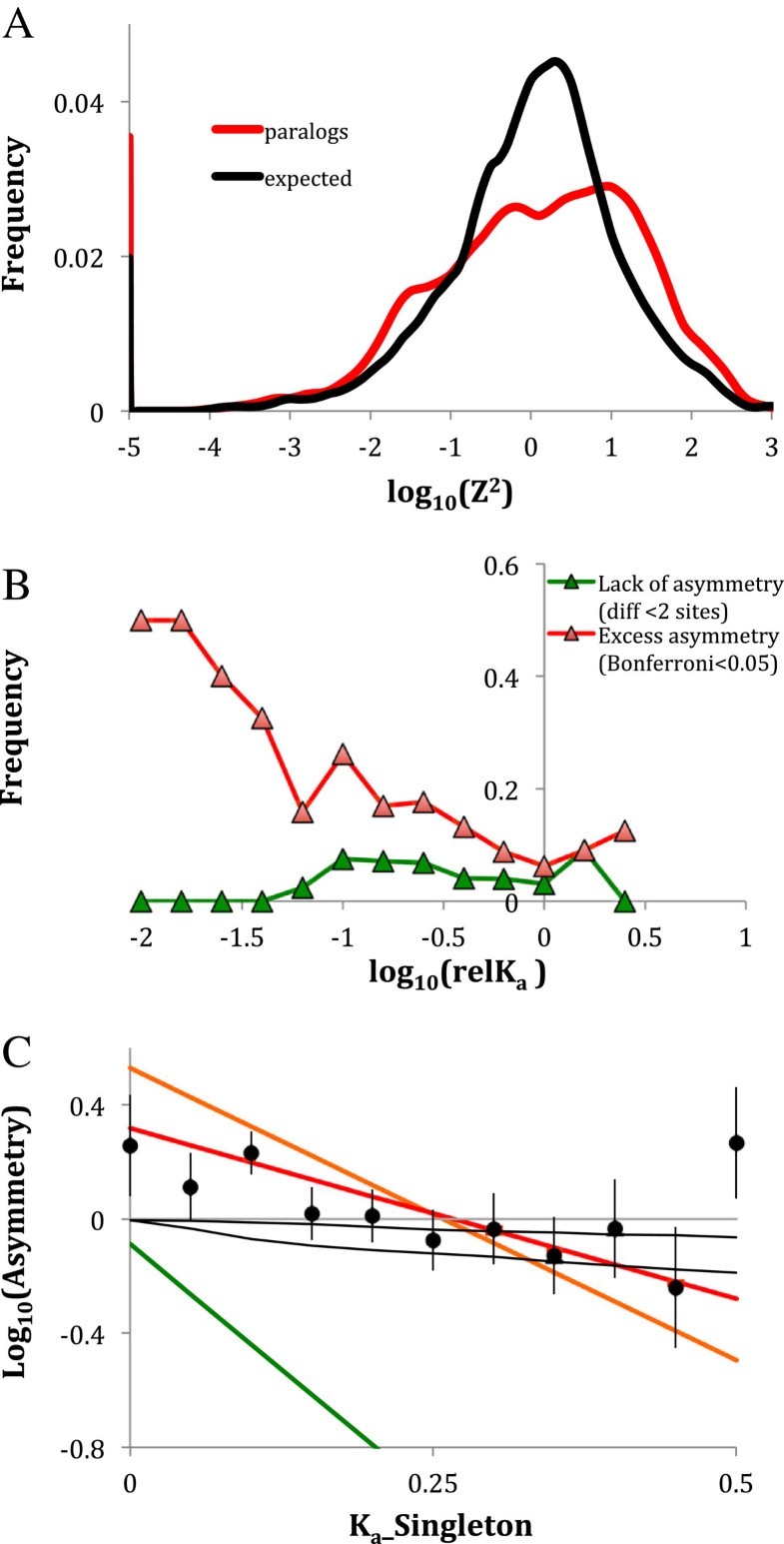 On the other hand, excessive asymmetry is observed in pairs of paralogs despite the two biases discussed above (Figure 3A, B). Excessive asymmetry was observed in gene families under the strongest stabilising selection, i.e., lower relKa in the singleton ortholog (Figure 3B) and has a minimum at logarithm of relKa = 0, i.e. in the pairs of paralogs in which the singleton orthologs evolves close to neutrality. Only about 5% of such duplications are significantly asymmetric after Bonferroni adjustment, while about 25% of duplications with singleton relKa near 0.1 (−1 on the logarithm scale) are significantly asymmetric. The decrease of asymmetry with Ka can be caused by heterogeneity of evolution rates at different sites (see Methods and Additional file 1: Figure S1). Indeed, the observed mean asymmetry in classes of gene families with singleton Ka > 0.1 is consistent with reasonable assumptions about such heterogeneity (Figure 3C). Yet, the asymmetry in gene families with singleton Ka < 0.1 is significantly higher than the expected, indicating either relaxed selection in one of the paralogs or a strong epistatic interaction between substitutions (see below). As Figure 2B and age-specific regression lines on Figure 3C indicate, this observation is not caused by the effect of very young duplications but rather by the lower rate of substitutions in these gene families.
Paralogs' sequence evolution asymmetry correlates with gene expression and polymorphism asymmetry
If paralogs' evolution asymmetry correlates with the selective constraint operating on the orthologous singleton genes, one would also expect a correlation between paralogs' asymmetry and mean gene expression in these paralogs and with ubiquity of their expression, as these parameters are strongly correlated with selective constraint [
46
,
47
]. To test for this prediction we analysed asymmetry of substitutions in 175 duplications present in
D. melanogaster
genome. Among these, 38 duplications demonstrated a significant asymmetry of K
a
rates between paralogs with false discovery rate q < 0.1 [
45
] (Additional file
3
: Table S1). As predicted, there was a strong positive correlation between asymmetry of paralogs' evolution and their mean expression rate (Figure
4
A, Table
2
) and a negative (Figure
4
B, Table
2
) correlation (with a statistically intangible hint of a maximum) with the CV of expression across 26 tissues sampled by FlyAtlas [
39
]. The average asymmetry of the lowest-expressed and the most non-uniformly expressed paralogs was not different from the random expectation. Thus, there was an emerging syndrome of asymmetrically evolving paralogs: these are orthologs of selectively constrained singletons that are, on average, highly and ubiquitously expressed. This observation is only true for the asymmetry of substitution rates; no significant relationship has been observed for duplications of any age between expression level parameters and radicality measures (data not reported).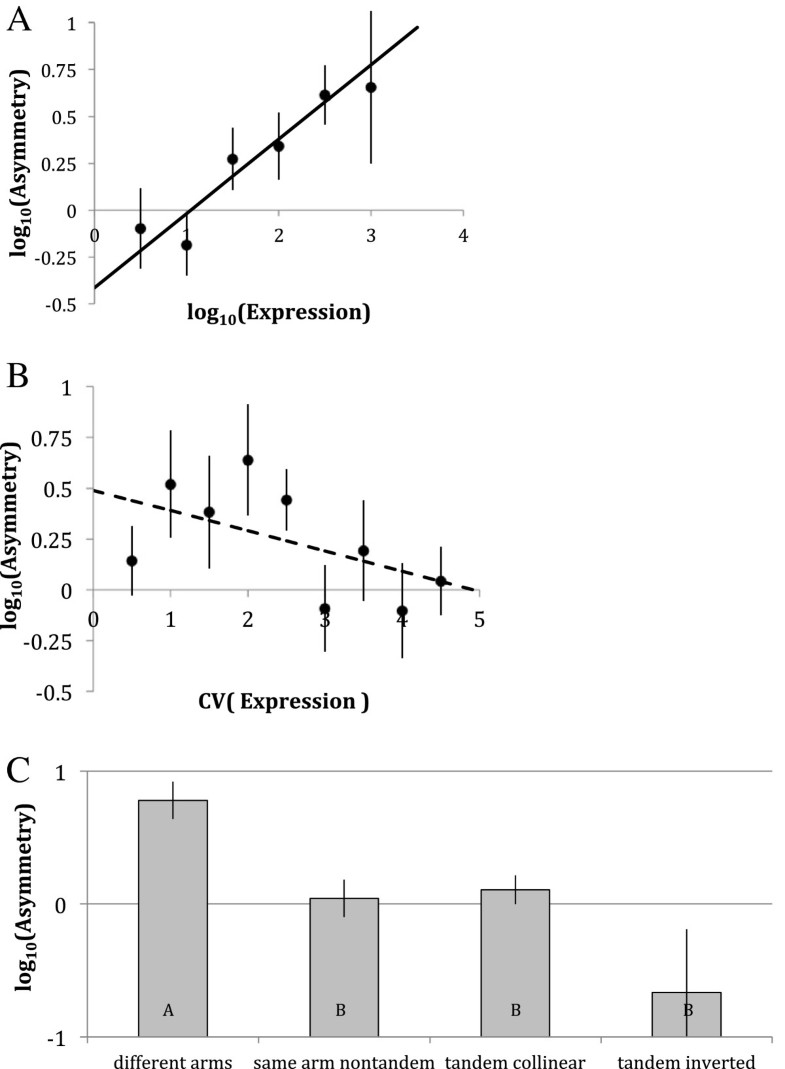 Table 2
ANOVA of the effects of mean expression, CV of expression (continuous covariables) and chromosomal location (categorical effect) on substitution rate asymmetry between paralogs
| Source | DF | MS | F | P |
| --- | --- | --- | --- | --- |
| Log (Mean expression) | 1 | 25.67 | 17.11 | 0.00005 |
| CV (Expression) | 1 | 13.69 | 9.13 | 0.00277 |
| Location | 3 | 8.55 | 5.7 | 0.0009 |
| Error | 264 | 1.5 | | |
One additional effect on paralogs' evolution asymmetry has been identified: relative chromosomal location of the two paralogs (Figure 4C, Table 2). Paralogs located on different chromosomal arms are the only type of paralogs with the average asymmetry significantly above the null expectation. Inverted tandem duplications are the most symmetric, although not different from collinear tandem and same arm but distant duplications in Tukey test. Although the effects of mean expression, CV of expression and chromosomal location explained only 11% (adjusted R2) of the variance of asymmetry among pairs of paralogs, all three effects are highly significant (Table 2).
Do asymmetrically evolving paralogs diverge in their expression tissue specificity greater than more symmetrically evolving ones? Figure
5
A demonstrates that while retained paralogs with low sequence evolution asymmetry (log Z
2
 < 0) retain a high (~0.6) coefficient of correlation across 26 tissues sampled from two developmental stages [
39
], those that diverged asymmetrically quickly lost such correlation, indicating that one of the members of the asymmetric pairs was also volatile in terms of gene expression specificity.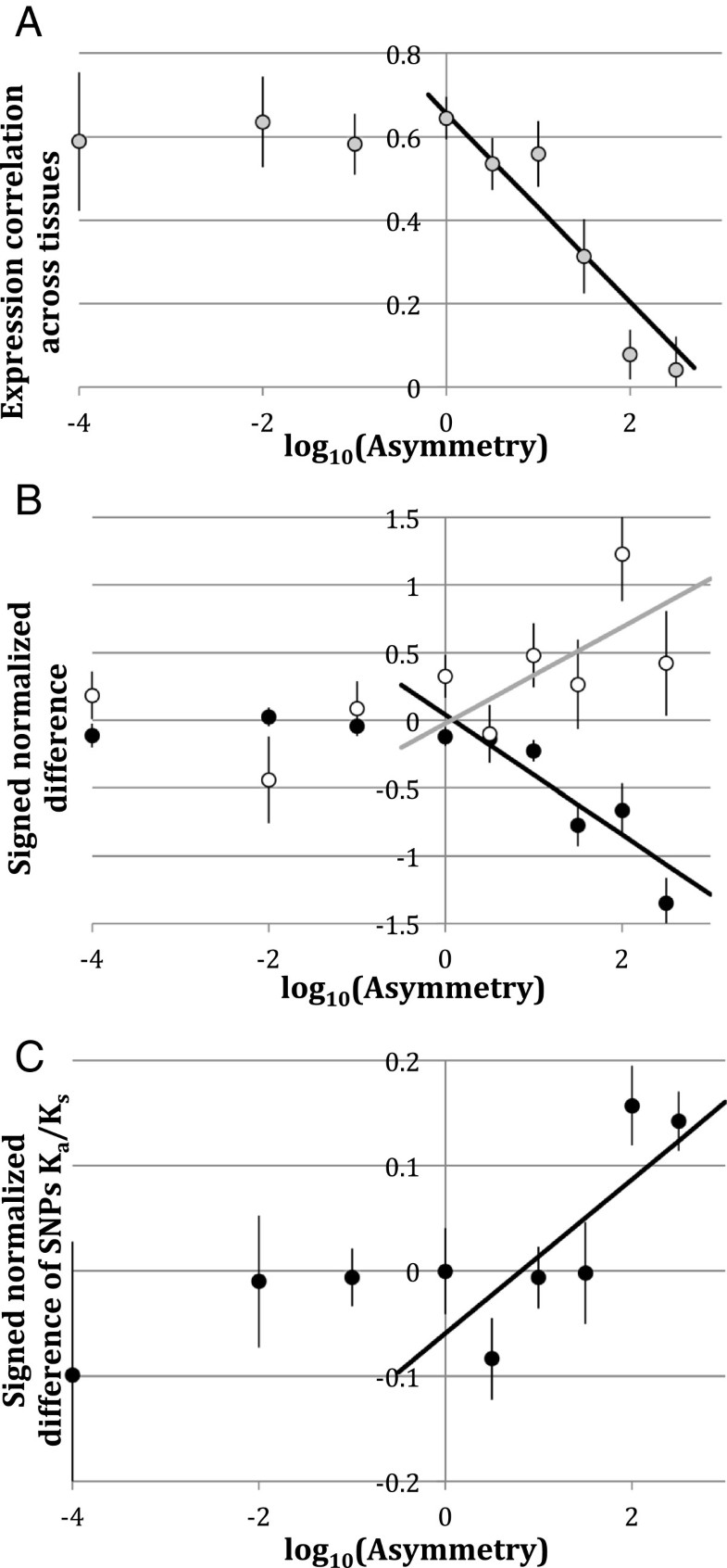 The question then arises whether it is the faster evolving member of such asymmetrically evolving pairs that is also the one that loses more expression average or uniformity. To test for this, we analysed signed asymmetry of log-transformed expression average and CV polarised by the sign of the asymmetry of the substitution rates. We observed that signed difference in mean expression between two paralogs (polarized by their Ka) remained near 0 for symmetric pairs of paralogs and significantly decreased as the asymmetry increased (Figure 5B). The same figure demonstrates that the signed difference in expression CV increased with the asymmetry of substitution rates. Thus, in asymmetrically evolving pairs of paralogs the faster evolving member tended to lose both overall expression rate and the uniformity of expression across tissues, as indicated by the increase in expression rate CV. The same effect, graphically represented by the regressions on Figure 5B, can be confirmed by alternative statistical tests. Signed difference between log-transformed mean expression rates (faster paralogs – slower paralogs) was significantly less than 0 (Two-tailed t-test: df = 275, t = 6.53, P < 2E-10 for all pairs; df = 162, t = 7.39, P < 4E-12 for pairs with Z2 > 1 and df = 49, t = 6.60, P < 2E-8 for pairs with asymmetry surviving χ2 test with false discovery rate adjustment [39] at q < 0.1). Fisher's exact test of the 2x2 contingency table (faster/slower evolution vs. higher/lower expression) resulted in P values of 0.0024 and 0.0007, respectively for all pairs and pairs with Z2 > 1. Two-tailed sign tests resulted in P-values of 0.001 and 0.0001, respectively. Likewise, the signed difference between expression CV (faster paralog – slower paralogs) was significantly greater than 0 (df = 275, t = 2.67, P < 0.0041; df = 162, t = 3.06, P < 0.0013 and df = 49; t = 2.58, P < 0.006 for all pairs, pairs with Z2 > 1 and pairs surviving false discovery rate adjustment for asymmetry test, respectively). However, non-parametric tests (FET and sign) were not significant for the signed difference of expression CV. The significant results reported here remained robustly significant when false discovery rate correction with q < 0.1 was used as a criterion of high asymmetry instead of the formal cut-off of Z2 > 1 (data not shown). (Note: the fact that the number of degrees of freedom in the tests for paralogs pairs with Z2 > 1 and the number of duplications analysed (Table 1) are the same (162) is a coincidence). Pairs of paralogs with false discovery rate adjustment q < 0.1, along with their expression and polymorphism data, are listed in Additional file 4: Table S2.
Does the faster evolving member of a pair of paralogs also accumulate higher frequencies of polymorphisms? Figure 5C demonstrates that, in the pattern already presented on Figure B, the average difference between SNPs Ka/Ks estimates (faster paralogs – slower paralogs) is, predictably, close to 0 for symmetrically evolving paralogs pairs but significantly increases in the paralog pairs with the highest asymmetry. Here, the t-test of signed difference between Ka/Ks estimates is significant only for the pairs with rates' asymmetry surviving false discovery rate adjustment with q < 0.1 (df = 45, t = 5.11, P < 4E-6).
Discussion
We analysed rates and asymmetries of substitution rates in duplicated genes in the 12 Drosophila genomes using the nearest non-duplicated ortholog as the outgroup and reference. We demonstrated that paralogs tend to evolve faster than their singleton orthologs (Figure 2), that this effect is largely independent of the duplication age, and that not only are there more substitutions per site occurring in duplicated genes than in singletons but that these substitutions are also more radical (Figure 2C, D). Although this observation has been made many times in the past [6, 9, 22, 23, 26], this is, to the best of our knowledge, the first such demonstration with the use of the nearest orthologous singleton as a reference and the first such demonstration on the material of 12 closely related genomes. We further demonstrate that the distribution of substitution rates asymmetry between paralogs is significantly overdispersed, with both unusually symmetric pairs and unusually asymmetric pairs observed more frequently among paralogous clades than among orthologous clades (Figure 3). The unusually symmetric pairs of paralogs are difficult to individually validate statistically and can be readily explained as being an artefact of the unknown period of evolving as a single gene between the speciation and duplication events, or an artefact of the failure of our maximum likelihood procedure to reliably assign substitutions to paralogous clades, or as a result of concerted evolution. Unusually asymmetric pairs of paralogs, on the other hand, are easy to subject to a statistical test of such asymmetry significance and are interesting because high asymmetry of substitution rates may be an indication of relaxed stabilising selection or accelerated positive selection in one but not the other copy.
However, two genes can evolve asymmetrically for a fundamentally different reason: epistatic interactions among substitutions at different amino acid sites, an effect largely overlooked by previous interpretations of sequence evolution asymmetry. If a particular substitution makes further substitutions at other sites, previously prevented by stabilising selection, more likely, the binomial model of distribution of substitution events into the two clades does not apply, and the null expectation of the observed asymmetry can be substantially greater than 1 even though selective constraint in the two copies is exactly identical (Additional file 2: Figure S2). Thus, all results of this study and previous studies that concern rates' asymmetry should be interpreted as simply detection of higher rate of evolution in one paralog copy than in the other without an implication that such higher rate is caused by innate asymmetry in selection pressures and not by random relaxation of stabilising selection in the copy that happened to incur an epistatically acting substitution. Yet, with this in mind, all the conclusions we arrive at in the further discussion remain valid. Similarly, the apparent lack of asymmetry relative to the binomial expectation can be readily explained by unequal substitution rates per site (Figure 3C and Additional file 1: Figure S1). Thus, any asymmetry between sequence evolution rated between two genes has to be strong enough to be detectable despite the effect of unequal substitution rates.
Average asymmetries we observed were close to the null expectations, but numerous individual pairs of paralogs demonstrated a significant asymmetries. We were able to observe at the following patterns in the pairs of paralogs that are likely to evolve asymmetrically. Firstly, such pairs tend to have orthologs showing lower overall substitution rates (Figure 3C). This effect is not caused by lower evolutionary age of the duplication in question but rather by stronger selective constraint (Figure 3B, C). Gene families under stronger stabilising selection tend to generate more asymmetric duplications despite the prediction that highly conserved genes are more likely to be maintained in duplicated state by gene conservation [5–7]. This effect is more pronounced in older duplications than in the youngest ones (Figure 3C). In fact, the regression line on Figure 3C for the youngest substitutions has the intercept not significantly different from 0, indicating that even in young duplications in the most constrained gene families the rate asymmetry is low. This observation is in a general agreement with stabilizing selection acting to maintain similar sequences and possibly functions in highly constrained paralogs. Furthermore, the fact that the asymmetry of paralogs' evolution is less pronounced in younger duplications is consistent with the idea that the divergence of paralogs with high sequence similarity is constrained by concerted evolution, while pairs of paralogs that have diverged sufficiently to escape the homogenizing effect of gene conversion or unequal crossing over continue to accumulate substitutions to become even more divergent [48].
Secondly, on the material for D. melanogaster, for which detailed gene expression data are available, we demonstrated that the most asymmetric duplications tend to be observed in gene families with the highest mean expression (Figure 4A) and with the lowest CV of expression across 26 tissues sampled in two developmental stages [39], i.e., with the highest ubiquity of expression (Figure 4B). This is in contradiction to a previously observed result in yeast [49], where the most symmetric pairs (i.e. pairs most likely to be maintained by gene conservation) tend to have the highest expression rate. Moreover, these observations suggest that widespread neofunctionalization may be occurring more frequently in household genes with high and ubiquitous expression. However, they can also be explained by unfinished or incomplete pseudogenization in one of the duplicated copies of such genes. Indeed, further analysis demonstrated patterns of expression and polymorphisms consistent with unfinished pseudogenization (see below).
Finally, the most asymmetric pairs of paralogs tended to be found among non-tandem duplications (Figure 4C). This observation is consistent with two explanations: firstly, neighbouring duplicates are more likely to experience concerted evolution due to gene conversion or unequal crossing over, and secondly, distant duplications are more likely to occur by retrotransposition, resulting in one of the paralogs being deprived of its promotors or other cis-regulatory chromosomal context, predestining this copy for pseudogenization. In addition, inverted tandem duplications are to be expected to be the most symmetric, as crossing over in such repeats results in gene conversion with retention of both copies. Meanwhile, crossing over between collinear repeats results in gene conversion accompanied by a loss of one of the copies. Tandem duplications also were showing less expression divergence than non-tandem ones (data not shown), corroborating previous findings in plants [50, 51], rodents [51, 52] and Drosophila[10, 51, 53].
In a pattern corroborating the previous findings in yeast [25] and rodents [9] higher sequence divergence between paralogs correlates with higher divergence of tissue-specific expression (Figure 5A). The faster evolving member of the pair was likely to show lower mean expression and higher coefficient of variance of expression across tissues, making it "less household" than the slower evolving copy (Figure 5B). This is consistent with the recent finding [10] that the faster evolving paralog ("child" in the terminology of [10]) attains a significantly higher tissue specificity. Yet, as we argue here, this pattern is not necessarily indicative of neofunctionalization [10], as it is also fully consistent with gradual decay of expression during pseudogenization.
The faster evolving member of the most asymmetric pairs also had, on average, a significantly higher Ka/Ks ratio for segregating SNPs than its slower evolving counterpart, indicating either relaxed stabilising selection or positive selection acting on these loci (with caveats, [54]). While some of these observations are consistent with other modes of duplication retention, we believe that unfinished pseudogenization is likely to be the most parsimonious explanation for the observed patterns in a large number of D. melanogaster paralog pairs. This indicates that numerous duplicated copies "on their way out" may still be recognized as functional genes by the bioinformatics approaches [35] and may still be expressed according to FlyAtlas data [39]. Only one of the significantly asymmetric pairs of D. melanogaster paralogs (Additional file 3: Table S1) has a member (FBgn0036646, CR18217) that is identified as a pseudogene in the current FlyBase annotation (note that it does have expression and polymorphism data). It has been well established that pseudogenes, including those resulting from gene duplication can persist in the genome for a long time, retaining transciption [55]. While no comprehensive theory of time until pseudogenization exists, one may expect that selection in favour of complete loss of expression or complete loss of a pseudogene altogether is weak and degenerative changes are accumulating by drift, thus allowing slow and gradual decay. It is worth noting that the paralog with faster coding region evolution also typically being the one losing more expression is consistent with the theoretical finding [56] that less ubiquitously expressed genes are likely to show a higher rate of evolution due to the accumulation of deleterious mutations. In that study, environmentally specialized genes were considered, but it is reasonable to assume that tissue specialization may also result in lower selective constraint.
Is the fate of the copy with a faster rate of substitutions, lower expression, and more frequent non-synonymous polymorphisms sealed? Perhaps not, if it is allowed to linger in the genome for a long time despite partial loss of expression and accumulation of harmful mutations. Such lingering semi-pseudogenes may be an important resource for eventual neofunctionalization or subfunctionalization. However, because neofunctionalization may also result in sequence evolution asymmetry while subfunctionalization may also result in loss of overall expression or expression uniformity in one of the copies, it is difficult to detect these processes by the genome-wide analysis of sequence and expression divergence as any signal from these processes occurring in a particular gene is going to be indiscernible from similar patterns caused by unfinished pseudogenization alone. A clear-cut demonstration of the signature of neo- or subfunctionalization would therefore require a detailed gene-specific structural and expression analysis [17–19, 57].
Conclusions
We observed higher rates and radicality of amino acid substitutions in duplicated clades of Drosophila genes than in their nearest singleton orthologous outgroup, which indicates relaxed selective constraint in duplicated genes. The substitutions were often distributed asymmetrically in the two paralogous clades: paralogs diverged faster than their nearest ortholog from either of them. Such paralog asymmetry was higher in gene families with higher selective constraint, higher gene expression and higher expression ubiquity. The faster evolving paralog in each pair had, on average, lower and less ubiquitous expression and higher frequency of non-synonymous polymorphisms than its slower counterpart. All these observations are consistent with the hypothesis that many duplications in Drosophila are retained despite relaxation of stabilizing selection in one of the copies, i.e., due to unfinished or incomplete pseudogenization.
Authors' information
LY is an associate professor at East Tennessee State University. MB is a software developer at InterSystems Corp.
Declarations
Acknowledgements
We are grateful to Matthew Hahn for making dfam alignment data available and for helpful suggestions on the study design, to Julien Ayroles for his help with accessing DGRP SNP data, and to Mira Han, Eugene Koonin, Larry Bowman and the three reviewers - Jia Zeng, Yuri Wolf and Fyodor Kondrashov - for numerous helpful suggestions and criticisms on the manuscript. LY has been supported by NSF-1136706.
Authors' Affiliations
(1)
Department of Biological sciences, East Tennessee State University, Johnson City, USA
(2)
InterSystems Corporation, Cambridge, USA
Copyright
© Yampolsky and Bouzinier; licensee BioMed Central Ltd. 2014
This article is published under license to BioMed Central Ltd. This is an Open Access article distributed under the terms of the Creative Commons Attribution License (http://creativecommons.org/licenses/by/2.0), which permits unrestricted use, distribution, and reproduction in any medium, provided the original work is properly cited. The Creative Commons Public Domain Dedication waiver (http://creativecommons.org/publicdomain/zero/1.0/) applies to the data made available in this article, unless otherwise stated.