Method of predicting Splice Sites based on signal interactions
Received: 03 March 2006
Accepted: 03 April 2006
Published: 03 April 2006
Abstract
Background
Predicting and proper ranking of canonical splice sites (SSs) is a challenging problem in bioinformatics and machine learning communities. Any progress in SSs recognition will lead to better understanding of splicing mechanism. We introduce several new approaches of combining a priori knowledge for improved SS detection. First, we design our new Bayesian SS sensor based on oligonucleotide counting. To further enhance prediction quality, we applied our new de novo motif detection tool MHMMotif to intronic ends and exons. We combine elements found with sensor information using Naive Bayesian Network, as implemented in our new tool SpliceScan.
Results
According to our tests, the Bayesian sensor outperforms the contemporary Maximum Entropy sensor for 5' SS detection. We report a number of putative Exonic (ESE) and Intronic (ISE) Splicing Enhancers found by MHMMotif tool. T-test statistics on mouse/rat intronic alignments indicates, that detected elements are on average more conserved as compared to other oligos, which supports our assumption of their functional importance. The tool has been shown to outperform the SpliceView, GeneSplicer, NNSplice, Genio and NetUTR tools for the test set of human genes. SpliceScan outperforms all contemporary ab initio gene structural prediction tools on the set of 5' UTR gene fragments.
Conclusion
Designed methods have many attractive properties, compared to existing approaches. Bayesian sensor, MHMMotif program and SpliceScan tools are freely available on our web site.
Reviewers
This article was reviewed by Manyuan Long, Arcady Mushegian and Mikhail Gelfand.
Keywords
Receiver Operating Characteristic Curve
Hide Markov Model
Splice Enhancer
Author Response
Exonic Splice Enhancer
Open peer review
Reviewed by Manyuan Long, Arcady Mushegian and Mikhail Gelfand. For the full reviews, please go to the Reviewers' comments section.
Background
Precise removal of introns from pre-messenger RNAs (pre-mRNAs) by splicing is a critical step in expression of most metazoan genes. The process requires accurate recognition and pairing of 5' and 3' SSs by the splicing machinery. Inappropriate splicing of a gene may result in the translation of a nonfunctional protein. SS motifs are necessary, but not sufficient, for the exact recognition of the exons. Frequently degenerate donor, acceptor and branch point motifs provide insufficient information for exact SS detection [
1
]. Figure
1
shows SS consensus signals for both 5' and 3' exonic ends. The human transcribed regions have plenty of motifs of unknown functionality with structure very similar to the SS consensus signals (GT or AG dinucleotide surrounded by proper context). These sites are called
splice-like signals
and they outnumber the real sites by several orders of magnitude.

Correct prediction of SSs appears to be the key ingredient in successful ab initio gene annotation, since dynamic programming procedures must see all the exon/intron boundaries in order to find the optimal solution [2]. The most sensitive sensor design predicting the least amount of false positives is preferable. Another good feature of a SS sensor is the ability to rank predicted SSs, i.e. to assign a certain score characterizing the importance or strength of a putative site of splicing.
Numerous approaches have been taken towards effective detection of SSs. In our experiments, the highest performance for complete gene structural prediction has been achieved with GenScan [3] and HMMgene [4] tools. Both tools use three-periodicity in coding exons. Codonic composition of coding exons has particular probabilistic properties that allow gene finders to synchronize their prediction engines with gene structure and efficiently stitch exons in frame-consistent fashion [2].
However, all tools relying on three-periodic coding components in their prediction algorithm suffer substantial performance loss if confronted with noncoding exons. On the other hand, the biological splicing process seems to be indifferent to exonic coding potential [5, 6]. To alleviate the problem, gene structural prediction tools use information sources directly related to the biological process of splicing [7]. One of the promising mechanisms of SS definition is signal interaction, i.e. putative SSs and various ESEs, ISEs in addition to Exonic (ESS) and Intronic (ISS) Splicing Silencers [see Subsection Splicing signals].
In this paper we introduce our new gene structural annotation tool SpliceScan. Our tool is based on the Naive Bayesian network that linearly combines the number of splicing-related components to improve SS prediction. Before we describe our tool, we discuss our approach to SS sensor design [see Subsection Splice Sites sensor]. We discuss the MHMMotif tool we use to detect putative splicing enhancers [see Subsection De novo motifs detection].
Splicing signals
Specificity in the splicing process derives partly from sequences other than SS signals, including Exonic Splicing Enhancer (ESE) and Exonic Splicing Silencer (ESS) signals [8, 9]. ESE signals are required for a constitutive exon definition and for an efficient splicing of weak alternatively spliced exons [10] (while ESS signals suppress the removal of adjacent introns [9, 11]), which may lead to exon skipping. There are 10 serine/arginine-rich (SR) Splicing Enhancer proteins known today (SRp20, SC35, SRp46, SRp54, SRp30c, SF2/ASF, SRp40, SRp55, SRp75, 9G8 [12]) and approximately 20 hnRNP Splicing Silencing factors [13], among them the most studied hnRNP A1 complex [11]. Tra2β is reported to be the SR splicing regulator [12]. All the SR proteins have two structural motifs: the RNA Recognition Motif (RRM) binding to certain motifs in RNA; and the arginine/serine-rich (RS) domain responsible for Protein-Protein interactions within splicing complex [12].
Together with inefficient SS signals, the appropriate balance of ESE and ESS elements somehow allows fine tuning of the splicing mechanism [9]. Both 5' U1 snRNP and 3' U2AF65·U2AF35 were shown to interact with ESEs [12]. Cross-intron bridging may happen through hnRNP complexes [14]. Experiments show that the 3' end definition is not affected by intron bridging, but is defined solely by the strength of the acceptor site polypyrimidine tract and the position of splicing enhancers and silencers [10, 15].
The silencing process is still poorly understood [16]. However, there are several models explaining the observed antagonism between hnRNP complexes and SR proteins [17]. For example, hnRNP A1 binds to the ESS and hinders binding of SR proteins to a weak ESE located just downstream of ESS [9]. Several rules have been identified for interaction of ESE/ESS factors with spliceosomal assembly:
• ESE and ESS elements are frequently located in downstream exons [18];
• The precise mechanism by which hnRNP A1 binds the ESS in the upstream exon and represses splicing of the upstream intron remains unknown, although the 3' site is a likely target for repression [9] as shown in Figure 2(c);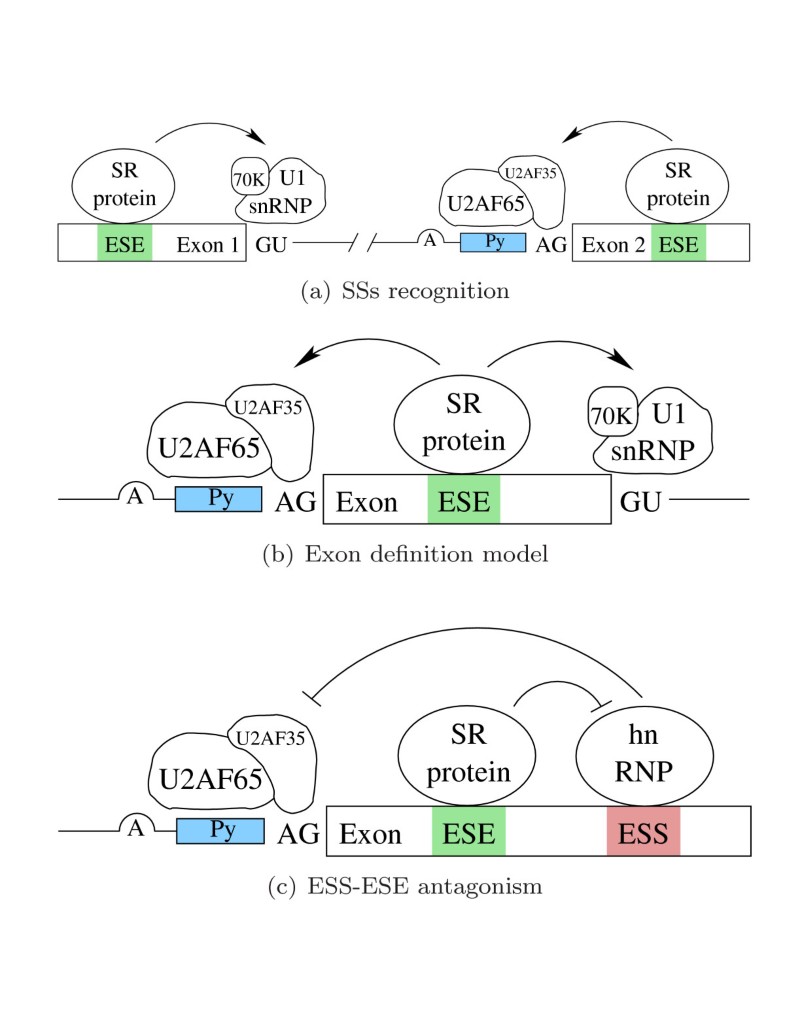 • Most splicing enhancers are located within 100 nucleotides of the 3' SS and are not active further away [15];
• Each enhancer complex assembles independently for 3' and 5' sites, and there is a minor interaction across an intron [19], as shown in Figure 2(a);
• Based on current views of exon definition, each exon should be recognized by the splicing machinery as an independent unit [3, 19], as shown in Figure 2(b);
• Analysis of the experimental data revealed that the splicing efficiency is directly proportional to the calculated probability of a direct interaction between the enhancer complex and the 3' SS:
- Strong natural enhancers function at a greater distance from the intron than weak natural enhancers do [18];
- The closer an ESE is to a SS, the more efficient it is [15];
- Multiple enhancer sites increase the probability of splicing activation [15];
- Strong ESS sites may suppress an effect from ESE(s) located upstream [9].
To identify known ESE/ESS motifs, we used RRM binding motifs from [
20
] as shown in Table
1
. PolyA signals, that could also be employed by splicing machinery, were detected by oligos reported in [
21
].
Table 1
Nucleotide symbols used: M → (A/C), R → (A/G), W → (A/U), Y → (C/U), S → (C/G), K → (G/U). (Table credit [20])
| Protein | High-affinity binding site | Functional ESE |
| --- | --- | --- |
| SRp20 | WCWWC | GCUCCUCUUCC |
| | CUCKUCY | CCUCGUCC |
| SC35 | AGSAGAGUA | GRYYMCYR |
| | GWUWCCUGCUA | UGCYGYY |
| | GGGUAUGCUG | |
| | GAGCAGUAGKS | |
| | GUUCGAGUA | |
| | UGUUCSAGWU | |
| | AGGAGAU | |
| 9G8 | (GAC) n | |
| | ACGAGAGAY | |
| | WGGACRA | |
| SF2/ASF | RGAAGAAC | CRSMSGW |
| | AGGACRRAGC | |
| SRp40 | UGGGAGCRGUYRGCUCGY | YRCRKM |
| SRp55 | | YYWCWSG |
| TRA2β | (GAA) n | |
| nhRNP Al | UAGGGW | |
Conclusion
By trading complexity of sensor design for the size of learning set we were able to substantially improve prediction of the SSs. Bayesian 5' SS sensor demonstrated superior performance, as compared to existing approaches, in all conducted experiments. Neither removal of cross-correlation between the learning and test set, nor fourfold decrease of learning set size were able to compromise the sensor fidelity. Opposite observation were made with 3' SS sensor, where performance is affected both by degree of cross-correlation between learning and test set and the size of the learning set. Bayesian 3' SS sensor demonstrates comparable performance with the Maximum Entropy sensor, when cross-correlation is removed between the learning and test set. The sensor performance improves substantially if we do not specifically remove cross-correlation, as in case of 183 rat genes test set or experiments with the degree of cross-correlation. We believe that performance of our sensor could be generalized to a broad variety of tetrapoda organisms; genes encoding splicing RNP complexes are among the most conserved known genes [31].
Using MHMMotif tool we were able to discover motif families for ESE/ISE elements. Small fraction of our detected putative ESE elements correspond to previously reported ESE motifs [24], other elements could be considered as novel. Statistically significant average conservation ratio for putative ISE elements, as compared to other motifs, supports their functional importance in human genome.
Our predicted ISE and ESE elements have substantial impact on splicing, as we were able to improve SS prediction using these elements. Based on linear model of splicing factors interaction, SpliceScan has been able to outperform SpliceView [5], GeneSplicer [28], NNSplice [29], Genio [30] and NetUTR [6] tools in all the test categories.
SpliceScan did not to perform better than GenScan [3], HMMgene [4], NetGene2 [32, 33], MZEF [34], Geneid [35, 36] and ExonScan [7] on the test set 250 human genes and 183 rat genes. The reason is that SpliceScan does not rely on three periodicity property to discover the coding exons. ExonScan, which uses exon definition model combined with ESS/ESE elements for better prediction quality, is another tool implemented as splicing simulator with objectives similar to SpliceScan. It has the same "average" ROC profile for not using exonic coding potential statistics. Exon definition model of ExonScan seems to work better for internal boundaries prediction, but suffers in case of predicting boundaries of incomplete exons, first and last exons, as all the other tools do.
In our experiments on the human test sets we removed cross-correlation from the learning set, that made performance of our tool worse as it would normally be. Since we do not have control over the learning sets of the competing tools, performance of these tools is likely to be positively affected by overlaps between their learning sets and our test sets. The test set of 183 rat genes exemplifies the performance issues with the existing tools that were trained on the human learning sets; they usually perform worse when confronted with new sequences. ExonScan does not seem to lose prediction quality when confronted with sequences from other closely related organisms.
SpliceScan performs best on the set 5' UTR fragments because of the SS definition model we use, i.e. we combine all available information for a certain SS without mandatory requirement of large contexts or having other corresponding exonic boundary.
Bayesian sensor, MHMMotif program and SpliceScan tools are freely available on our web site [37].
Reviewers' comments
Reviewer's report 1
Manyuan Long Department of Ecology and Evolution, The University of Chicago Chicago, United States, Email: mlong@uchicago.edu
The authors attempted to develop a simple sensor to detect splice and splice- site signals. A 7-mer was designed to scan a sequence. The ROC diagrams (Fig. 3) showed its obvious advantage, significantly higher specificity and sensitivity than other methods. In addition, the authors also used MHMM to detect ISE and ESE signals and used found signals to improve SS prediction. I think that the authors developed useful new methods for SS detection and I favor its publication in Biology Direct. However, I also have following minor concerns and hope them get fixed in revision.
Page 1: "Figure 1...": is not original, some sources should be cited (for example, the early work of Tom Schnider of NCI in 1992?". Originality is something that a paper in bioinformatics wants to emphasize.
Author response
For graphical representation of splicing motif consensuses we extracted multiple splicing motifs from our database and used WebLogo tool[78]to build the logos
Page 1: " the human transcribed region have plenty of motif....": it should be pointed out how are these motifs defined and why mentioned here? Is it relevant to the intron splicing?
Author response
Many oligonucleotides have composition identical to known potent splicing signals and at the same time are not supported by spliced alignment. Ab initio SSs prediction has to filter out such signals to predict the correct gene structure(s).
Page 2, the second paragraph, the caveat of current methods to detect SSs is pointed out: non-coding exons do not have three-periodic coding components. The idea used is the signal interaction: SSs, ISE, ESE, ESS and ISS. New gene structural annotation tool SliceScan is developed and reported in this paper. SS sensor is the key and several majors SS sensors reviewed.
Page 3: in the proposal of a new sensor and compute P (7-mer and SS), why to choose the 7-mer rather than 8-mer or 6-mer should be explained. In addition, the sign – I guess is "non-ss" should be defined. If my guess is correct, this equation makes sense. Biology Direct is a journal for general biology audience; not only for computational biologist so the jargons and special signs should be avoided or if having to use them, explanations should be given.
Author response
7-mer is the size of donor consensus minus GT dinucleotide, since it is always the same, as could be seen in Figure 1(a). For the modelling of acceptor signal 7-mer appears to be optimal: shorter oligonucleotide will have limited capability of representing long-range positional correlations, while longer oligonucleotides will produce large combinatorial table difficult to learn.
Page 7: I am not sure how they identify ISEs; section 3.2 is unclear. It seems the conservation is the only criterion. This might be reasonable in a narrow scale of evolution. But given the high evolutionary rate of intron sequence with a lot insertion-deletion (indels), I am suspicious of its feasibility because of the difficulty in alignments to identify the short homologous sequences. Although I do not oppose the approach, a cautionary note in the discussion should be given, which I think will be useful to colleagues.
Author response
ISE signals are predicted using EM learning of MHMM model on intronic fragments of human genes. Main detection criteria used:
1. Close localization of putative signals to the intronic boundaries,
2. Constant size of putative enhancer,
3. Affinity of putative enhancing element to a certain HMM profile.
To test hypothesis of their higher conservation, compared to other oligonucleotides, we use mouse-rat intronic alignments that have substantial conserved domains.
Typo: Page 12: should be put in a different place to make reference continuous.
Reviewer's report 2
Arcady Mushegian, Stowers Institute, Kansas City, United States
Email:ARM@Stowers-Institute.org
Good: 1. Part 2: the main idea appears to be to trade a more complex model for a larger training set. This seems to improve specificity of the splicing site detection.
Two relevant issues that are not discussed but should be: a. In Figure 3, all ROC curves are still below the non-discrimination line – is this acceptable.
Author response
We use ROC curve different from common True Positive Fraction vs. False Positive Fraction plot, where diagonal is a non-discriminant test result. In our test we know total number of positive cases, so we can build Sn vs. 1 - Sp curve, which is more informative for application comparison purposes.
b. Gain of the current method is more evident in the lower FP zone, where sensitivity is also low.
Author response
All application ROC curves converge to one point with 100% sensitivity and 0% specificity. The curves differ for lower sensitivity values, where we can speculate about prediction quality. Some applications, like NetUTR and ExonScan, have sensitivity artificially limited to ~50%. Performance analysis for such applications makes sense only in lower sensitivity quarters.
2. A repertoire of intronic splicing enhancers was detected, which is interesting. Not so good: 1. Very unclear writing at different levels:
a. Various inconsistencies and poorly defined terms, for example on pg. 3–4, authors say that they compiled two test sets, and then describe three. Or on pg. 4, line 8 and further: what is "cross-correlating"?
Author response
Cross-correlation means the genes in learning and test set have extensive homologous regions, which favorably affects sensor performance on the test set and should be avoided for rigorous comparison.
b. section 3.1 : MHMM is not described well: we see a mix of introductory references on general HMMs, of more specialized references that may be telling something relevant but we do not know that, and cat's cradle pictures which are not self-explanatory (and what about these mu parameters?).
Author response
Here we try to reach reasonable compromise between complete system definition and skipping details of well known results from artificial intelligence community, which we reference. Please refer to MHMMotif application source code for more details.
2. The Results section mentions the programs that work less well than SpliceScan. But we do not hear about comparison between SpliceScan (which barely gets over the non-discrimination line) and half a dozen other, more successful methods represented on the same plots. If the goal of the work was to improve the ab initio approach (cf a line in the abstract), this has to be maintained as the message throughout the paper.
Author response
Our method has clear advantage in case of 5' UTR gene fragment structural prediction according to ROC curves shown in Figures 9(e)and 9(f). In case of gene structural prediction in CDS area, one should use different application, such as GenScan, since SpliceScan does not have frame-consistent synchronization component.
Overall, this manuscript reads more like the technical report on the ongoing project than a stand-alone paper.
I declare that I have no competing interests.
Reviewer's report 3
Mikhail Gelfand, Institute of Information Transfer Problems, Moscow, Russian Federation Email: gelfand@iitp.ru
On "Method of predicting splice sites based on signal interactions" by A.Tchourbanov et al., submitted to "Biology Direct"
The problem of identification of donor and acceptor splicing sites is not new, but far from solved, whereas identification of sites regulating splicing (exonic/intronic splicing enhancers/silencers) has emerged relatively recently. Given the importance of both these problems for gene recognition and understanding alternative splicing, any progress in this area is most welcome.
The authors attempt to address both problems in one framework of Bayesian analysis. They apply Bayesian sensors to detection of donor and acceptor splicing sites. The exposition in this part (section 2, pp. 2–3) contains several gaps. It is not clear how well the described approach of 7-mer counting with subsequent Bayesian weighting generalizes; in particular, it seems that the sensors will not accept a completely new 7-mer as a site. If the authors implicitly claim that all possible 7-mers have already been observed in the training set, and the only problem is proper weighting, this needs to be substantiated. A helpful piece of data would be the rank distribution of 7-mers in the positive and negative sets. How many 7-mers have been observed only once in the positive set (and would be missed if only half of that set were used for training)?
Author response
With cross correlation removed between learning set and the test set, when testing on the set of 250 human genes, we had miss rate of 0.52% for our 5'SS sensor, which is acceptably low value. For 3'SS sensor overall miss rate is negligibly low, since sensor topology is composite of several blocks. We show top 40 ranking 5'SS nonamers in Table 2. We added discussion on sensor performance related to learning set size [see Subsection Learning set size study/, where we show that Bayesian sensor has preference for the large learning sets. For example, the sensor could be successfully applied to recognition of the Translation Initiation Site (TIS) against upstream A UGs, where we can collect large learning set. In the TIS sensor design we used three strategically located heptamers, so that they can catch both long-range dependencies and initial codon bias, as shown below:
We used 42,883 TIS and 77,140 TIS-like signals from human, mouse and rat RefSeq databases to learn our TIS Bayesian sensor, which demonstrated, in our preliminary experiments, superior performance as compared to simple Kozak's consensus rule (GCC)GCCRCC AUG G (where R = G or A) [84] and corresponding weight matrix. However, the sensor design does not generalize well to recognition of other signal types, such as transcription factors, with very thin learning sets.
Another missing part of exposition is a formula for combining several sensors for acceptor site analysis. Is the final score (probability) obtained by multiplying probabilities assigned by the sensors?
Author response
Acceptor sensor uses product of block probabilities.
Given the possibility of over-fitting, the testing procedure should be designed very carefully. Description in section 2.1 (pp. 3–4) does not address several issues, the most important of which is the influence of homologous sites in the training and testing data. The authors mention that they have removed homologs from the human sets, but it is not clear whether only human paralogs have been considered, or mouse homologs as well. It is not clear also whether the rat set has been purged from homologs to sites used in training. A minor note is that the text (end of p.3) mentions two datasets, whereas three sets are listed.
The authors completely ignore the problem of alternative splicing.
Author response
Both human and mouse homologs were removed from the learning set in our experiments. Domains, paralogous to the rat test set, were not been specifically purged from the learning set. In the case of rat test set we were interested in the performance test on similar, but substantially diverged organism, i.e. simulation of practical sensor application. We considered prediction of genomic structures the way they are annotated in GenBank. Indeed, some of the predicted SSs could be alternatively committed, but this is another topic for study.
The behavior of ROC curves (Fig. 3) seems to be somewhat erratic. In particular, they are not even monotonic. Probably that means that the distribution of scores on positive and negative sets is not unimodal. Anyhow, these distributions should be presented in addition to the ROC curve data. On a technical side, it would be most helpful if the data were plotted using uniform scales; otherwise it is difficult to compare curves on different plots. The authors should also explain how they produced ROC curves for other methods: whether they had been re-programmed or some existing programs (stand- alone or internet servers) were used, what versions, etc. Otherwise these pieces of data are not easily reproducible.
Author response
The distribution of scores returned by different methods is multimodal, as shown in Figures 3(a)and 3(b). We used large number of possible intermediate points to reproduce fine features of the curves and to avoid possible graph extrapolation between distant points. The curves were obtained using Java web application, which sends queries of genomic structures to different online tools, collects statistics and outputs data points for ROC curves reconstruction.
The last sections of the manuscript are somewhat fuzzy. The authors identify a number of likely splicing enhancers/silencers, and then use these signals to improve site detection (section 4). However, is absolutely is not clear, how this improvement is implemented, nor whether the results become stronger: the entire "Results" section (4.1) consists of two short paragraphs and a huge figure featuring the ROC curves. The test sets are not described: what portions of adjacent exons and/or introns were considered? Again, the behavior of the ROC curves in many cases looks absolutely erratic: they are convex, concave, and even zigzagging. The reasons for that are not discussed.
Author response
Results of SpliceScan become much stronger compare to simple Bayesian SS sensor. In our algorithm we try to guess the boundaries of region eligible for LOD scoring by looking at the surrounding putative complementing SSs. For example, for 5' SS we consider the nearest 3' SS downstream as the beginning of next exon, and the first upstream 3' SS as the opposite side exonic boundary. Weak signals are abundant, which results in unnecessarily tight region boundaries. By relaxing requirements for the region boundary candidates to be stronger than 1, we substantially extend region boundaries and count additional enhancing signals, which improves performance. However, further relaxing of boundaries will put many signals in the wrong spot (signals that assumed to be within intron region might reside in exons with corresponding LOD score miscalculation), which worsens the ROC characteristic. The maximum allowed distance of the region expansion is -200...+ 300 bp for the 5' SS and -300...+ 200 bp for the 3' SS. Many applications tend to produce multimodal score distributions for the splice and splice-like signals, which causes ROC curves jitter.
Minor remarks.
" P. 2. Splicing silencers are mentioned in the introduction, but not addressed during analysis. At that, it is not clear how do the authors assign activation/repression function to their identified motifs: they could well function as silencers.
" P. 7. The claim that ISEs have never been systematically analyzed (section 3.2) is not correct.
" P. 7. What are the definitions of parameters in the formula (conserved/non-conserved)?
" P. 9. The first sentence in the last paragraph on this page is obscure. What are "SS of different strengths"? That is, what groups of sites, or what strength intervals, or whatever have been used?
" P. 9. Definition of D: is it a competing SS or a splicing enhancer?
" Ref. 9 = Ref. 11.
" Use of capitals in the reference list is erratic. "DNA", "Markov", "Bayesian" need consistent capitals.
Overall, I believe that, although the study has produced some interesting observations, and the authors' approach seems promising, the manuscript in the present form is rather raw and badly structured (it really looks like several independent papers half-written and stitched together), and several important points are not addressed at all.
I declare that I have no competing interests.
Declarations
Acknowledgements
We would like to thank members of the Bioinformatics Group at the University of Nebraska at Omaha who provided useful feedback on our progress and program. This work was supported by the NIH grant number P20 RR16469 from the INBRE program of National Center for Research Resource.
Authors' Affiliations
(1)
Department of Computer Science, College of Information Science and Technology, University of Nebraska at Omaha, Omaha, USA
(2)
NCBI/NLM/NIH, Bldg.38-A, room 5N505A, Bethesda, USA
(3)
Department of Computer Science and Engineering, University of Nebraska-Lincoln, Lincoln, USA
Copyright
© Churbanov et al; licensee BioMed Central Ltd. 2006
This article is published under license to BioMed Central Ltd. This is an Open Access article distributed under the terms of the Creative Commons Attribution License (http://creativecommons.org/licenses/by/2.0), which permits unrestricted use, distribution, and reproduction in any medium, provided the original work is properly cited.