Structure based hypothesis of a mitochondrial ribosome rescue mechanism
Received: 4 January 2012
Accepted: 27 March 2012
Published: 8 May 2012
Abstract
Background
mtRF1 is a vertebrate mitochondrial protein with an unknown function that arose from a duplication of the mitochondrial release factor mtRF1a. To elucidate the function of mtRF1, we determined the positions that are conserved among mtRF1 sequences but that are different in their mtRF1a paralogs. We subsequently modeled the 3D structure of mtRF1a and mtRF1 bound to the ribosome, highlighting the structural implications of these differences to derive a hypothesis for the function of mtRF1.
Results
Our model predicts, in agreement with the experimental data, that the 3D structure of mtRF1a allows it to recognize the stop codons UAA and UAG in the A-site of the ribosome. In contrast, we show that mtRF1 likely can only bind the ribosome when the A-site is devoid of mRNA. Furthermore, while mtRF1a will adopt its catalytic conformation, in which it functions as a peptidyl-tRNA hydrolase in the ribosome, only upon binding of a stop codon in the A-site, mtRF1 appears specifically adapted to assume this extended, peptidyl-tRNA hydrolyzing conformation in the absence of mRNA in the A-site.
Conclusions
We predict that mtRF1 specifically recognizes ribosomes with an empty A-site and is able to function as a peptidyl-tRNA hydrolase in those situations. Stalled ribosomes with empty A-sites that still contain a tRNA bound to a peptide chain can result from the translation of truncated, stop-codon less mRNAs. We hypothesize that mtRF1 recycles such stalled ribosomes, performing a function that is analogous to that of tmRNA in bacteria.
Reviewers
This article was reviewed by Dr. Eugene Koonin, Prof. Knud H. Nierhaus (nominated by Dr. Sarah Teichmann) and Dr. Shamil Sunyaev.
Keywords
Class I release factor
mtRF1
mtRF1a
Mitochondrial genetic code
Translation termination
Stalled ribosome
Background
Termination of protein synthesis in the ribosome is signaled by nonsense codons, known as ochre (UAA), opal (UGA) and amber (UAG) [1, 2]. In contrast to the recognition of sense codons, no tRNA is involved in nonsense codon recognition. This role is taken over by class I release factor proteins. Like tRNAs, they have two functional domains, one of which recognizes specific codons at the ribosomal decoding center while the other induces a catalytic event in the peptidyl transferase center (PTC). In bacteria, there are two class I release factor (RF) proteins that in combination recognize the three different stop codons. The release factor RF1 recognizes UAA and UAG stop codons, whereas the RF2 release factor detects UAA and UGA stop codons. Following stop codon recognition, both proteins promote peptidyl-tRNA hydrolysis resulting in release of the nascent polypeptide and termination of translation [3]. In contrast to bacteria, archaea and eukaryotes each utilize just a single omnipotent release factor, named aRF1 or eRF1 respectively, to recognize the three aforementioned stop codons [4].
The two bacterial release factors share the same fold, comprising four domains, which are highlighted in Figure
1
A. Domain 3 contains the GGQ motif, universally conserved amongst release factors, which is involved in the hydrolysis of peptidyl-tRNA in the peptidyl-transferase center (PTC). Domains 2 and 4 together form the stop codon recognition domain, containing the PXT motif conserved in all bona-fide RF1 release factors. The exact function of domain 1 in release factor functioning is at this time still unknown [
5
]. Structural studies have shown that release factors undergo a large conformational change upon stop codon recognition in the ribosomal A-site, which positions the GGQ motif in the peptidyl-transferase center [
6
–
9
]. This conformational change is triggered by the so-called 'switch loop', located between the catalytic and the codon recognition domains. The catalytic conformation of the release factor, as shown in Figure
1
B, is stabilized by specific interactions with the ribosomal decoding center. The universally conserved ribosomal RNA nucleotides A-1492 and A-1493 assume different conformations depending on whether the A-site is empty (Figure
1
C), occupied by mRNA and its cognate tRNA (Figure
1
D), or by an mRNA stop codon with its corresponding release factor (Figure
1
E). Only the latter conformation of the decoding center sufficiently stabilizes the catalytic conformation of the release factor, resulting in peptidyl-tRNA hydrolysis upon stop codon recognition.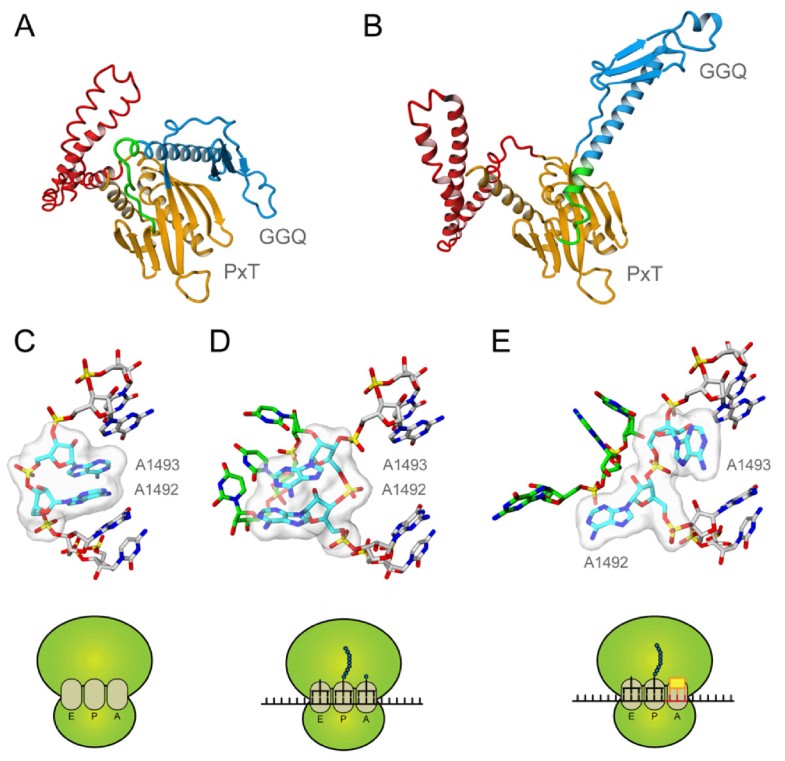 Animal mitochondrial translation termination employs a non-standard codon usage. In almost all metazoan species the UGA stop codon has been reassigned to tryptophan, reducing the number of stop codons to two (UAA and UAG). It was shown recently that these two codons are sufficient to terminate all mitochondrially encoded polypeptides in human [13, 14]. However, many aspects of translation termination in mitochondria remain unclear. The human mitochondrial release factor family consists of four members: mtRF1, mtRF1a, C12orf65 and ICT1 (Uniprot entries O75570, Q9UGC7, Q9H3J6, and Q14197, respectively). Of these four proteins, two have been shown experimentally to exhibit peptidyl-tRNA hydrolysis (PTH) activity: mtRF1a [15, 16] and ICT1 [17]. Only mtRF1a functions as a classical release factor, as the ribosome-dependent PTH activity of ICT1 was shown to be codon-independent, consistent with its loss of the two codon recognition domains [17]. Mutations in the C12orf65 gene were recently shown to be linked to a global and uniform decrease in mitochondrial translation in fibroblasts [18]. PTH activity of C12orf65 was not observed, but interestingly, overexpression of ICT1 resulted in a partial rescue of the observed defect. This suggests that ICT1 and C12orf65, which also lacks the codon recognition domains, may have similar or, at least partially, overlapping functions [18].
Here, we investigate the function of the mitochondrial protein mtRF1, which arose from a gene duplication of mtRF1a at the root of the vertebrates [19]. This protein was identified several years ago as the candidate gene for a human mitochondrial release factor [20]. More recently, it was shown that this protein does not show any capability of terminating translation at UAA or UAG stop codons and that mtRF1a is the actual release factor performing the translation termination in mitochondria [15, 16]. Recently, the hypothesis was put forward that mtRF1 recognizes adenine as the first base of nonstandard stop codons in vertebrate mitochondria [19]. However, this hypothesis seems to contradict the experimental observation that mtRF1a suffices to terminate all 13 human mitochondrial open reading frames [13, 14]. As such the true function of mtRF1 remains elusive.
The mtRF1 protein is most similar to mtRF1a, both in domain composition and at the level of sequence identity (39%). Using a systematic bioinformatics strategy, we have identified the most critical differences between mtRF1 and mtRF1a. We selected those amino acids that differ not just between the two proteins, but are also conserved within the individual subfamilies. Subsequently, we have built three-dimensional models of mtRF1 and mtRF1a bound to the A-site of a bacterial ribosome to analyze the structural implications of these residue differences. Our results are in agreement with mtRF1a functioning as a release factor and predict binding of mtRF1 only to an empty A-site, devoid of mRNA. Based on these findings we hypothesize a possible function for the mtRF1 protein.
Methods
Phylogenetic analysis
For our systematic sequence analysis of the mitochondrial RF1 family we built a dataset consisting of Eukaryotic mtRF1 homologous proteins. The human mtRF1a protein sequence (GI: 166795303) was used as seed for a BLAST search [21] of the GenBank refseq database, restricted to Metazoa, and using the NCBI's server default parameters.
After a careful inspection and manual removal of duplicates and truncated sequences, the final dataset was subjected to a phylogenetic analysis. First, the sequences were aligned with ClustalW (version 2.0.10) [22] and a Maximum Likelihood tree, 100 times bootstrapped, was computed with PhyML (version 3.0) [23] using a JTT model of amino acid substitution, 4 discrete-rate categories Gamma distribution, and the proportion of invariant sites and Gamma shape parameter (alpha) estimated from the data. These model parameters were chosen according to the Akaike Information Criterion (AIC) framework implemented by ProtTest (v2.4) [24].
Identification of subfamily specific residues
In order to identify the specific amino acids that allow the discrimination between the two mitochondrial RF1 homologous subfamilies, we submitted our alignment to Sequence Harmony [25] and selected the positions that are, in the vertebrates, perfectly conserved within mtRF1 and within mtRF1a, but that are different between them.
Molecular modeling of mitochondrial release factors
All models were built using the YASARA molecular modeling package [26]. The high-resolution structures of RF1 bound to the ribosome of Thermus thermophilus (PDB entries 3D5A, 3D5B [7] and PDB entries 3MR8 and 3MS1 [8]) were used as modeling templates. Sequence identity between human mtRF1 and the T. thermophilus RF1 is 38%. Sequence identity between human mtRF1a and the T. thermophilus RF1 is 45%. Loops were modeled by scanning a nonredundant subset of the PDB (≫8000 structures) for fragments with matching anchor points, a minimal number of bumps, and maximal sequence similarity. Side chains were added with YASARA's implementation of SCWRL [27], and then the model was subjected to an energy minimization with the YASARA2 force field as described elsewhere [28]. WHAT CHECK [29] validation scores were used to score and rank the final models Additional file 1. See Additional file 2: Table S3 for the structural quality indicators of the homology models.
Results and discussion
Based on the multiple sequence alignment a phylogeny was obtained that could be perfectly separated into a mtRF1 subfamily and an mtRF1a subfamily. Each sequenced vertebrate species is represented in both subfamilies and only once per subfamily, consistent with the phylogeny published by Young and coworkers [19] (data not shown). Subsequently we identified in total 24 critical positions that differ between the mtRF1 and the mtRF1a subfamilies but are at the same time conserved within the individual subfamilies (indicated in Additional file 3: Table S1). Interestingly, twenty of the identified amino acids cluster in the second globular domain of the release factor fold, which is responsible for stop codon recognition [7, 9]. Two of the identified positions are located in the switch loop, which links domains 3 and 4 and undergoes a conformational rearrangement upon ribosome binding. The two remaining positions are located in domain 1 and 3, the latter being responsible for peptidyl-tRNA hydrolysis in canonical release factors [7, 9].
The majority of the amino acids differentiating between mtRF1 and mtRF1a are found to cluster in or around the region that is involved in stop codon recognition in domain 2 (Additional file 4: Figure S1). This suggests that a possible differentiation of function in mtRF1 has most likely taken place here. This is corroborated by two highly conserved insertions that have also taken place in this region: a two amino acid 'RT' insertion and a three amino acid 'GLS' insertion. To structurally assess the effect of these insertions and the identified critical differences between mtRF1 and mtRF1a, we built homology models for both mitochondrial proteins using the high-resolution structures of Thermus thermophilus RF1 bound to the ribosome in response to either a UAA [7] or UAG [8] stop codon as modeling templates.
Conclusions
Using a combination of sequence analysis to identify positions that are conserved within the mtRF1a and mtRF1 subfamilies but that are different between these subfamilies, and of modeling the implications of these subfamily-specific residues on the 3D structure of mtRF1 in the context of the ribosome, we propose a function of mtRF1 in the rescuing of stalled mitochondrial ribosomes with an empty A-site. Despite the ribosomal decoding center not being in the stop codon recognition state, mtRF1 is able, via the proposed self-stabilizing RT-insert mediated mechanism, to induce the catalytically active conformation and release the nascent peptide chain. The most direct evidence to support our hypothesis would be to demonstrate the function of mtRF1 in a vertebrate mitochondrial translation termination assay. However, successful development of such an assay has proven to be very difficult [15, 16, 19].
Reviewers' reports
Reviewer's report
Title: Structure based hypothesis of a mitochondrial ribosome rescue mechanism
Version: 1 Date: 3 February 2012
Reviewer number 1, Dr. Eugene Koonin
Report form:
A very interesting hypothesis that mtRF1 is a constitutive peptidyl-tRNA hydrolase that rescues ribosomes stalled on aberrant mRNAs lacking termination codons in vertebrate mitochondria. The structural models are convincing, so the hypothesis rings true to me.
Answer: we thank the referee for the positive comments and have complied with the editorial suggestions he made.
Reviewer's report
Title: Structure based hypothesis of a mitochondrial ribosome rescue mechanism
Version: 1 Date: 4 February 2012
Reviewer number 2, Prof. Knud H. Nierhaus
Report form:
Bacterial release factors I and II share the same four-domain structure. Domain II and IV contain the codon recognition structure with the conserved stop-codon recognition motif PXT, domain III contains the universally conserved GGQ motif, which triggers the hydrolase activity of the ribosomal peptidyltransferase center. Human mitochondria contain four members of the release factor family, two of which (ICT1 and C12ofr65) are lacking the stop-codon recognition domains and are thought to be codon-independent hydrolases, an activity which has been demonstrated only for ICT1 until now. The other two are mtRF1A and mtRF1, where mtRF1A shows canonical release-factor activity depending on stop codons. The topic of this manuscript is the evaluation of the function and importance of mtRF1. mtRF1A and mtRF1 share the same domain composition and have a high amino-acid sequence identity of 39%. The authors used as background knowledge the known crystal structure of the bacterial 70 S·RF1 complex for fitting mtRF1 into the complex. Analyzing the contacts at the ribosomal decoding center they convincingly demonstrate that the two universally conserved insertions "GLS" in the PXT recognition loop and the "RT" next to the #-helix are incompatible with the presence of an A-site codon. Furthermore, both the RT insertion and universally conserved amino-acid changes in mtRF1 versus the canonical release factor mtRF1A prevent the hydrogen-bonding with the two first nucleotides of the mitochondrial stop codons U and A (UGA has been reassigned to tryptophan in metazoan mitochondria). The conclusion is that mtRF1 binds to ribosomes in the absence of an A-site codon. The "unfolded" structure of a canonical release factor is prerequisite of a GGQ contact with the peptidyltransferase for triggering the hydrolase activity. The active conformation of the switch loop responsible for the unfolding is fostered/supported by a hydrogen bond between the decoding A1493 and Glu297/Thr295 of the switch loop in mtRF1A. Inspection of the corresponding situation with mRF1 demonstrates that this interaction is impossible but probably functionally replaced by multiple hydrogen bonding of arginine of the RT insertion and the switch loop. The latter interactions would induce a self-stabilized catalytic (active) conformation. Collectively, these findings suggest a function of mtRF1 for recognizing and recycling ribosomes stalled on mRNA fragments that lack a stop codon. This function corresponds to that of bacterial tmRNA, which is absent in mitochondria. Minor issues not for publication (the authors should have inserted page numbers):
1: Page 7, paragraph 2, line 4 from the bottom: "side chain rotamer for isoleucine": explain "rotamer" for the non-specialists.
2: Page 10, paragraph 3, line 3: Replace "vertebrates" with "vertebrate mitochondria".
3: Page 11, paragraph 3, line 5: Replace "prokaryotes" by "bacteria", because prokaryotes cover both archaea and bacteria.
4: Reference 33: Year is missing.
Answer: we thank the referee for the positive comments and have complied with the editorial suggestions.
Reviewer's report
Title: Structure based hypothesis of a mitochondrial ribosome rescue mechanism
Version: 1 Date: 5 March 2012
Reviewer number 3, Dr. Shamil Sunyaev
Report form:
This manuscript presents a strong hypothesis about the functional role of mtRF1 protein of vertebrate mitochondria. This hypothesis is based on comparative sequence analysis and homology-based structure prediction. The authors argue that mtRF1 can only bind the ribosome with an empty A-site. This suggests that mtRF1 function is to release stalled ribosomes. The hypothesis will await experimental confirmation. I find the manuscript interesting and do not have any specific comments or concerns.
Answer: we thank the referee for the positive comments
Declarations
Acknowledgments
We thank Robert Lightowlers for stimulating discussions. S.B.N. is recipient of VENI grant 700.58.410 of the Dutch Organization for Scientific Research (NWO). ID is funded by the Portuguese Fundação para a Ciência e Tecnologia (SFRH/BD/32959/2006) and Bolsas Rui Tavares 2010 (RT2010). This work was supported by the Netherlands Genomics Initiative (Horizon Programme) and the Centre for Systems Biology and Bioenergetics, ZC-L thanks the Wellcome Trust for support.
Authors' Affiliations
(1)
Centre for Molecular and Biomolecular Informatics, Nijmegen Centre for Molecular Life Sciences, Radboud University Nijmegen Medical Centre, HB Nijmegen, The Netherlands
(2)
The Wellcome Trust Centre for Mitochondrial Research, Newcastle upon Tyne, UK
(3)
Lead Pharma Medicine, EN Nijmegen, The Netherlands
Copyright
© Huynen et al.; licensee BioMed Central Ltd. 2012
This article is published under license to BioMed Central Ltd. This is an Open Access article distributed under the terms of the Creative Commons Attribution License (http://creativecommons.org/licenses/by/2.0), which permits unrestricted use, distribution, and reproduction in any medium, provided the original work is properly cited.