Classifying transcription factor targets and discovering relevant biological features
Received: 25 May 2008
Accepted: 30 May 2008
Published: 30 May 2008
Abstract
Background
An important goal in post-genomic research is discovering the network of interactions between transcription factors (TFs) and the genes they regulate. We have previously reported the development of a supervised-learning approach to TF target identification, and used it to predict targets of 104 transcription factors in yeast. We now include a new sequence conservation measure, expand our predictions to include 59 new TFs, introduce a web-server, and implement an improved ranking method to reveal the biological features contributing to regulation. The classifiers combine 8 genomic datasets covering a broad range of measurements including sequence conservation, sequence overrepresentation, gene expression, and DNA structural properties.
Principal Findings
(1) Application of the method yields an amplification of information about yeast regulators. The ratio of total targets to previously known targets is greater than 2 for 11 TFs, with several having larger gains: Ash1(4), Ino2(2.6), Yaf1(2.4), and Yap6(2.4).
(2) Many predicted targets for TFs match well with the known biology of their regulators. As a case study we discuss the regulator Swi6, presenting evidence that it may be important in the DNA damage response, and that the previously uncharacterized gene YMR279C plays a role in DNA damage response and perhaps in cell-cycle progression.
(3) A procedure based on recursive-feature-elimination is able to uncover from the large initial data sets those features that best distinguish targets for any TF, providing clues relevant to its biology. An analysis of Swi6 suggests a possible role in lipid metabolism, and more specifically in metabolism of ceramide, a bioactive lipid currently being investigated for anti-cancer properties.
(4) An analysis of global network properties highlights the transcriptional network hubs; the factors which control the most genes and the genes which are bound by the largest set of regulators. Cell-cycle and growth related regulators dominate the former; genes involved in carbon metabolism and energy generation dominate the latter.
Conclusion
Postprocessing of regulatory-classifier results can provide high quality predictions, and feature ranking strategies can deliver insight into the regulatory functions of TFs. Predictions are available at an online web-server, including the full transcriptional network, which can be analyzed using VisAnt network analysis suite.
Reviewers
This article was reviewed by Igor Jouline, Todd Mockler(nominated by Valerian Dolja), and Sandor Pongor.
Keywords
Positive Predictive Value
Ceramide
Feature Ranking
Genomic Dataset
Recursive Feature Elimination
Introduction
Many factors influence the regulation of genes and their protein products within the cell. Chromatin condensation, DNA methylation, and histone acetylation/methylation can affect the accessibility of a gene's cis-regulatory sites to trans-acting factors. On the RNA level, mRNA splicing, mRNA editing, microRNA silencing, and RNA degradation can all affect the ability or efficiency of translating mRNA into active protein [1]. Nevertheless, the primary mode of regulatory control is the association of transcription factors with their target binding sites in DNA. These binding sites occur most often in promoter regions, the stretch of DNA upstream of the transcription start site. The string of nucleotides bound by a particular TF is not identical at every recognized site. Instead, the TF distinguishes a flexible motif, or shared pattern of bases [2, 3].
Founding work in discovering and representing binding sites involved the use of position specific scoring matrices (PSSMs) [2–5], which represent the frequency of nucleotide bases at each position in a known motif. Many techniques for discovering and predicting binding sites have been reported [6–13], and an evaluation of the state of the art in unsupervised motif-discovery methods is available [14]. Despite their broad usefulness, detection by PSSM is beset by a high rate of false positive predictions. Some TF matrices can produce predictions at a frequency of 1 in every 500 bp [15]. Often, there is not enough information to construct high quality matrices.
To improve the prediction of which promoters are bound (i.e., the target promoters), more sophisticated machine learning approaches can be used. Supervised learning schemes begin with more information and seek to generate classification rules based on a user-provided set of positive and negative examples. In our case, a rule can be learned based on provided training data, and it can be applied to the whole genome to predict new targets of a specific TF. Some work has been published on supervised classification schemes for predicting TF binding targets, and we have briefly reviewed a few of these in our previous work [16, 17], which focused on developing and applying a support vector machine [18, 19] variant to predict transcription factor binding sites in Saccharomyces cerevisiae. We now expand that work to include a total of 163 TFs, revise our machine learning strategy to be more robust, and construct and analyze the gene regulatory network in S. cerevisiae. All predictions are now available online, including the full transcriptional network, which can be analyzed in the VisAnt browser [20, 21].
Genomic datasets have high dimensionality, meaning that for each example gene there may be thousands or tens of thousands of numerical features to describe it. One example is expression microarray data. If the expression of a gene is tested under 200 experimental conditions (i.e., 200 microarrays) then the gene is described by a 200 dimensional vector, each element being the expression under a single condition. Many classification algorithms, e.g., k-nearest-neighbors or neural networks, may degrade in performance as the number of features becomes large unless selection criteria are used to drastically reduce the size of the feature space. Support vector machines perform well with high dimensional data and have been shown to provide excellent classification accuracy with many genomic datasets (see Methods).
We take our positive set from known TF binding sites published in the literature (see Methods) [
22
–
25
]. Negatives are a randomly chosen subset of those genes found not to be bound by a TF in ChIP-chip experiments ("not bound " refers to the large group of genes with the highest
p
-values and thus least significant binding). A schematic representation of the classification workflow is presented in Figure
1
; a full description of classifier construction and validation is given in Methods.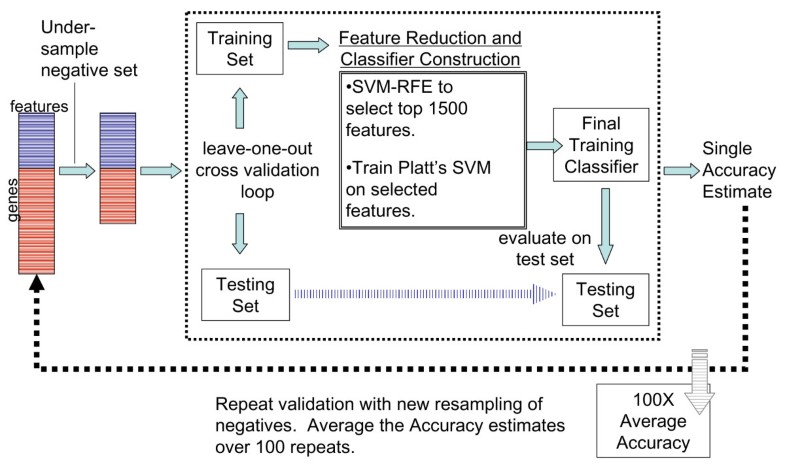 An SVM classifier is constructed for each TF based on a chosen set of biological features. These features (described in Methods) comprise a diverse set of data including promoter sequence composition, gene expression measurements, phylogenetic conservation of sequence elements, over-representation of promoter sequences, promoter melting temperature, and others. Choosing a negative training set (i.e., examples of genes not regulated by the TF) for such a classification is difficult as there is no way to determine which genes are truly not bound by the TF. To establish a pool of potential negatives, for each TF we select 600 genes shown as least likely to be bound by ChIP-chip experiments, always assuring that the negative pool is at least three times the size of the positive set. Once a negative pool is chosen, 50 classifiers are constructed for each TF using different random subsamples from the negative pool. Since the negative pool is expected to be noisy, the repeat sampling assures that no single, biased gene group dominates the classifier.
When the negative sets are chosen, they are sampled to be of equal size to the positive sets. This is done since the underlying distributions of positives and negatives are unknown and may vary greatly depending on the TF being studied. Other researchers have also employed such balanced training sets when making classifiers [26]. As discussed below, this has several important consequences for how classifier evaluation measures are interpreted.
Each classifier for a TF is evaluated using a leave-one-out cross-validation (LOOCV) approach, and the reported performance measures (accuracy, and positive predictive value) are the average measurements over all 50 classifiers. Because training sets are balanced an average positive predictive value of 50% is a baseline score which indicates a random classifier. Thus, the average cross-validation measurements are used to determine which TF classifiers can make useful predictions (i.e., better than expected by chance).
Post processing is also an important component of transcription factor target prediction. When applied to the entire genome a classifier may work well in finding a set of genes enriched with targets for a regulator, but the set will likely contain too many false positives to be used directly in future analyses. In order to select the best targets, Platt's procedure [27] is used to rank all new predictions. The scores given by Platt's method range from 0 to 1, and are intended to be interpreted (within the training set) as probabilities of any gene being a true positive. Once again, though this is a correct interpretation in the training set, it may result in overly optimistic probability estimates when applied genome-wide. Thus, we use the Platt scores only as a means to rank new predictions, and apply a high cutoff Platt score of 0.95 to identify new predictions for a regulator. Any new prediction must equal or exceed the 0.95 cutoff on average across all 50 classifiers for a TF. This restriction will further reduce the number of false positives in our final prediction sets since it is less likely that non-target genes will on the average pass such a high cutoff in 50 classifiers trained with different negative sets. Note here that the 0.95 cutoff is used only for selecting new targets, while the baseline threshold of 0.5 is used when performing LOOCV and evaluating whether a classifier performs better than random. Thus we note that these Platt scores may be interpreted as confidence levels, and that they are correct for selecting targets from balanced datasets used in SVM training and testing. A correction is needed in order to transform these confidence levels to ones which are appropriate to determination of targets from the full genome, in which the number of negatives can outnumber the number of positives by a large factor.
Although we use and report the uncorrected Platt scores here simply as a means to show enrichment for targets we provide, in our Methods section, the calculations necessary to correct these scores to the genomic scale.
Several things set the current work apart from our previous approaches, and allow us to draw biological conclusions that could not otherwise be obtained. Rather than using all features to make a classifier we apply recursive feature elimination to select those that are most relevant. Later the rankings are accumulated across all 50 classifiers (made from resampling the negative set) for a TF to establish a final ranking for each feature. We are thereby able to identify the specific biological attributes which are most useful for separating target genes from non-targets. The simultaneous ranking of all features and identification of those few with dominant relevance allows us to easily discover important biological aspects of regulation. Also, several of our methods have been improved. We introduce a new dataset of k-mer counts weighted by their conservation in alignments with sequences from closely related species.
We apply our formalism to the identification of targets for 163 of the ~200 S. cerevisiae TFs – these being the regulators with 4 or more established targets – and delineate the repertoire of networks formed by the resulting associations. An analysis of global network properties highlights the transcriptional network hubs; the factors which control the most genes and the genes which are bound by the largest set of regulators. Cell cycle and growth related regulators tend to dominate the former; genes involved in carbon metabolism and energy generation tend to dominate the latter. We use the ubiquitous cell cycle regulator Swi6 as a case study to illustrate the level of insight that can be obtained from a detailed analysis of results. Predictions can be downloaded from a publicly available web server, and the implied networks mined, visualized and analyzed using the VisAnt tool.
Conclusion
Our SVM-based approach generates classifiers for each TF, and the significance of the predictors is assessed using cross validation and comparison to randomized control. The selection of highly enriched prediction sets is made simpler by the use of an enrichment score for each potential target gene. By incorporating many types of genome-wide measurements into a robust feature ranking system, it is possible to discover important biological aspects of regulation which are specific to each TF being studied. This has been demonstrated on the yeast cell cycle regulator, Swi6. The predicted targets of Swi6 match the known biology of the regulator and suggest possible new roles of action in bioactive lipid metabolism and the DNA damage response. Moreover, feature ranking has identified interesting biological properties of the regulator including expression change of its targets in Mbp1 deletion mutants, and over-representation/conservation of the motif ACGCG. Similar analyses can be carried out with other TFs, as shown with Gzf3 and Ash1, for which meaningful biological features are identified. Investigators may download predictions made for all TFs, view classifier accuracies, and download lists of top-ranked features for each regulator at the provided web server. Custom analyses of the full yeast transcriptional network can also be accessed online in the VisAnt browser.
Classifier accuracy is loosely correlated with the size of the positive set, where TFs with more known targets tend to have more accurate classifiers (Additional File 3). This implies that classifier performance could improve in the future as more experimental targets are discovered. The next step of this analysis is to apply these methods to the human genome and assess their reliability.
Reviewers' Comments
Reviewer's report 1
Igor Jouline (Zhulin), Joint Institute for Computational Sciences, The University of Tennessee – Oak Ridge National Laboratory, Oak Ridge, TN Reviewer comments:
This study is an extension of a previously published work on machine learning for regulatory analysis and transcription factor target prediction in yeast by the same authors. Novel aspects of this work include the inclusion of new features in SVM classifiers, expansion of the transcription factor list and a case study of one of them, where some new biological insights can be gained. Overall, this is a straightforward work, which potentially can help uncovering useful biological information. Personally, I found the "principal finding #4" most interesting and appealing to a broader audience, although it is clear that it wouldn't be there without other findings reported in this study.
I do not have any major concerns. I am not impressed with the way this work is presented, perhaps because it is difficult to evaluate the true biological significance of the method. Why the Swi6 story is told in a great detail and two other transcription factors were "briefly explored"? This is out of 163 transcription factors for which the developed formalism was applied to identify their targets. Clearly, it is difficult to produce in-depth analyses for all of them, but what was the choice of the few based upon? In the absence of such explanation, one usually thinks (ignoring the presumption of innocence rule) that in the case of "the case study" biological insights were obtained, whereas in other cases it was not that impressive. Hopefully, authors can prove me (and my diabolic suspicion) wrong.
A couple of other comments: (i) I think the title of this paper is too broad and non-specific; (ii) on page 4 (last sentence) authors state that "instead of using all (available?) features to make a classifier we apply recursive feature elimination to select those that are most relevant ". It would be helpful to explain in the next sentence what those most relevant features are...
Other than that, this is certainly a strong computational study worth publishing and hopefully yeast biologists will make use of information presented here.
Authors' Response
Regarding the Reviewer's comment on our choice of exploring Swi6 in depth, we chose this TF because it is widely studied. It was our objective to bring practical biological insights to the publication, which is why we focused the majority of the discussion to a single factor. It was not our intention to "cherry pick" the case study, although Swi6 is one of the factors for which the method shows a higher accuracy. There are other TFs with similar accuracy measurements, though we feel that experimental validation is an important future step to corroborate these results. We would also like to direct the reader to the reviewers' comments to another manuscript wherein we apply SVM methods to predict binding sites in the human genome (Holloway et al. In Silico Regulatory Analysis for Exploring Human Disease Progression. 2008. Biology Direct. Pending). Comments and responses therein may also be relevant to the instant manuscript.
Reviewer's report 2
Todd Mockler, Center for Genome Research and Biocomputing, Oregon State University
Nominated by Valerian Dolja, Department of Botany and Plant Pathology and Center for Genome Research and Biocomputing, Oregon State University
Reviewer comments:
I think this is interesting and important new work in the area of supervised learning approaches to identifying transcription factor targets. Overall, the manuscript is very well written, and the principle findings are well supported by the data presented. The methods are appropriate and sufficiently described to allow replication and/or application to other datasets or species. Additionally, the data are presented in a clear manner. I have concern about one particular figure, which should not affect publication because it doesn't affect the major conclusions relating to the figure. Figure 3 is presented as further evidence of the regulatory network connection between Swi6 and the newly predicted target Rfx1. Figure 3 is supposed to depict the association of these two genes with the cell cycle due to an apparent correlation in their expression patterns. The expression profiles of Swi6 and Rfx1 across the 18 time points have a correlation coefficient of 0.6, and a selected subset of 8 time points has a correlation coefficient of 0.73. However, unlike the G1 and S phase reference genes shown, the expression profiles of Swi6 and Rfx1 show no obvious pattern that could be associated with the cell cycle in this experiment. Moreover, the amplitudes of their changes across this time course are minimal, and could be easily mistaken for slightly correlated noise. I find this figure unimpressive, and possibly unnecessary because the major conclusions drawn from this figure are well supported by other data and cited studies as described in the manuscript.
Authors' Response
We thank Dr. Mockler for his comments and suggestions. We understand his reservations about Figure 3, and we agree that the expression analysis of Swi6 and Rfx1 are not required to make the manuscript complete. Nevertheless, a correlation value of 0.73 may be significant and, if nothing else, it is suggestive of further studies which may be pursued to understand the relationship between these genes.
Reviewer's report 3
Sandor Pongor, International Centre for Genetic Engineering and Biotechnology, Trieste, Italy
Reviewer comments:
The paper is about the classification/prediction of transcription targets. It summarizes new developments to the work summarized in two preceeding publications on the same subject (Machine Learning methods for data integration, IBM J. Res. Dev., 50, pp 631–643, 2006 and "Machine learning for regulatory analysis and transcription target prediction in yeast, Systh. Synth. biol., 1: 25–46, 2007). The added value of the present manuscript is the application of recursive feature elimination for selecting relevant classifier descriptors, a technique described by Vapnik and associates (Machine Learning, 46: 389–422, 2002), a heuristic selection of attributes, and several, sometimes not entirely specified improvements to the methods, applied to a greater dataset.
While the findings are potentially interesting for a wide audience, I find the writing very technical, at times repetitive and quite difficult to follow – even for readers interested in support vector machines, string kernels and feature selection. The abstract lists four principal findings, and I am not entirely sure if and where these points are dealt with in the Results section.
For instance, the first finding reads as: "Application of the method yields an amplification of information about yeast regulators." Is "amplification of information" defined later in the text? It is then stated: "The ratio of total targets to previously known targets is greater than 2 for 11 TFs, with several having larger gains: Ash1(4), Ino2(2.6), Yaf1(2.4), and Yap6(2.4)." Apart form the general list in supplementary materials, I did not find a table in the text that would substantiate these points. The same holds for the second principal finding "Many predicted targets for TFs match well with the known biology of their regulators.". This finding should be underpinned with numerical data.
Principal finding 4 reads as follows "An analysis of global network properties highlights the transcriptional network hubs; the factors which control the most genes and the genes which are bound by the largest set of regulators. Cell-cycle and growth related regulators dominate the former; genes involved in carbon metabolism and energy generation dominate the latter." I found only one network figure which refers to a local subnetwork, but I did not find a figure or a table that would underpin this finding in a numerical way.
The authors made a large study, with many methodological improvementa that are difficult to coherently present for any audience. A better writing (removal of redundancies, a conceptual separation from previous work, and a bettter focus on added values, a clear comparison of previous and present predictions, comparison with other methods etc.) could in my opinon substantially improve this manuscript, because the work is novel and interesting. Perhaps the authors should make it clearer whether the goal is to describe methodological and Web-server details, or rather to present biological findings. It would be useful to quote examples of how a new methodology affects the efficiency of the prediction.
Authors' Response
Regarding Dr. Pongor's point related to "amplification of information", we intended this phrase merely to describe the fact that the method allows the prediction of many transcriptional targets, and that for some TFs the number of new predictions may be large compared to what is currently known, hence an "amplification of information". This was not intended to provide a quantitative assessment such as would be possible if metrics from Information Theory (e.g., Entropy measures) were employed.
Also, regarding the comments related to the network analysis, we note that global network diagrams often appear cluttered and unwieldy. For this reason we calculated basic statistics using the online VisAnt tool and chose to report the results rather than submit images which would not likely be informative.
Declarations
Acknowledgements
This work was partially supported by NIH grant A08 POGM66401A awarded to CD. Special thanks to Zhenjun Hu for assistance with VisAnt software.
Authors' Affiliations
(1)
Molecular Biology Cell Biology and Biochemistry Department, Boston University, Boston, USA
(2)
Department of Mathematics and Statistics, Boston University, Boston, USA
(3)
Bioinformatics and Systems Biology, Boston University, Boston, USA
Copyright
© Holloway et al; licensee BioMed Central Ltd. 2008
This article is published under license to BioMed Central Ltd. This is an Open Access article distributed under the terms of the Creative Commons Attribution License (http://creativecommons.org/licenses/by/2.0), which permits unrestricted use, distribution, and reproduction in any medium, provided the original work is properly cited.