Mathematical modeling of tumor therapy with oncolytic viruses: effects of parametric heterogeneity on cell dynamics
Received: 28 September 2006
Accepted: 03 October 2006
Published: 03 October 2006
Abstract
Background:
One of the mechanisms that ensure cancer robustness is tumor heterogeneity, and its effects on tumor cells dynamics have to be taken into account when studying cancer progression. There is no unifying theoretical framework in mathematical modeling of carcinogenesis that would account for parametric heterogeneity.
Results:
Here we formulate a modeling approach that naturally takes stock of inherent cancer cell heterogeneity and illustrate it with a model of interaction between a tumor and an oncolytic virus. We show that several phenomena that are absent in homogeneous models, such as cancer recurrence, tumor dormancy, and others, appear in heterogeneous setting. We also demonstrate that, within the applied modeling framework, to overcome the adverse effect of tumor cell heterogeneity on the outcome of cancer treatment, a heterogeneous population of an oncolytic virus must be used. Heterogeneity in parameters of the model, such as tumor cell susceptibility to virus infection and the ability of an oncolytic virus to infect tumor cells, can lead to complex, irregular evolution of the tumor. Thus, quasi-chaotic behavior of the tumor-virus system can be caused not only by random perturbations but also by the heterogeneity of the tumor and the virus.
Conclusion:
The modeling approach described here reveals the importance of tumor cell and virus heterogeneity for the outcome of cancer therapy. It should be straightforward to apply these techniques to mathematical modeling of other types of anticancer therapy.
Reviewers:
Leonid Hanin (nominated by Arcady Mushegian), Natalia Komarova (nominated by Orly Alter), and David Krakauer.
Keywords
Initial Distribution
Tumor Heterogeneity
Homogeneous Model
Uninfected Cell
Heterogeneous Model
Open peer review
Reviewed by Leonid Hanin (nominated by Arcady Mushegian), Natalia Komarova (nominated by Orly Alter), and David Krakauer.
For the full reviews, please go to the Reviewers' comments section.
Background
Cancers are extremely complex systems that possess many features of robustness, i.e., they are systems that tend to maintain stable functioning despite various perturbations [1, 2]. The main two mechanisms that enable cancer robustness are functional redundancy, that comes from inherent heterogeneity of tumor cells, and feedback-control systems that facilitate survival of a tumor under adverse conditions, e.g., caused by anticancer drugs [3–6]. Many approaches to anticancer treatment have had limited success due to cancer robustness. An important challenge is to identify fragilities of cancers as robust biological systems and develop treatment strategies that take advantage of these weak links. Thus, a better understanding of the mechanisms that yield cancer robustness, particularly, functional redundancy, is vital.
Redundancy in cancers occurs at two levels. First, multiple copies of identical cells increase the likelihood of restoration of a tumor after treatment. Second, functional redundancy can be mediated by functionally equivalent but heterogeneous components (known as heterogeneous redundancy). Heterogeneous redundancy is thought to be central to tumor robustness. Although heterogeneity is a well-recognized characteristic of tumors that can lead to drug resistance, the current body of experimental and clinical data that relate to dynamic changes in intratumoral heterogeneity during progression, as well as to responses to various therapeutic strategies, is insufficient [2].
The term 'tumor heterogeneity' means the existence of distinct subpopulations of tumor cells with specific characteristics within a single neoplasm [7, 8]; in particular, surviving subpopulations of cells with metastatic potential after anticancer therapy can lead to tumor recurrence [9–11]. Tumor heterogeneity is a well documented phenomenon [3] as demonstrated by extensive cytogenetic analysis [12, 13]. Furthermore, many tumors are characterized by heterogeneous, often non-random, spatio-temporal distribution of genetically heterogeneous tumor cells [4]. Distinct subpopulations of cells have been isolated from experimental and human neoplasms of every major histological type and location. These subpopulations are heterogeneous for many characteristics, such as morphology, growth rate, metastatic potential, karyotype, antigenicity, immunogenicity, biochemical properties, sensitivity to chemotherapeutic agents and radiation, etc. Genetic heterogeneity is, arguably, a major cause of acquired drug resistance of tumors [14, 15].
The dynamics of host-tumor system, which entails co-evolution under the selective pressure that is imposed by host environments, including antitumor drugs, is highly complex and nonlinear. Thus, to precisely define the conditions for successful therapy, mathematical models are needed. Extensive efforts have been dedicated over many years to mathematical modeling of cancer development and anticancer therapy. Stochastic models that take into account random mutations and cell proliferation proved to be useful in the context of epidemiology and statistical data [16], and for modeling cancer initiation and progression in terms of somatic evolution [17]. Deterministic models of tumor growth have proved valuable as well. Many of these have addressed avascular and vascular tumor growth taking advantage of methods borrowed from physics [18] but some use models from population biology to treat a tumor as a dynamic society of interacting cells [19–21]. A variety of mathematical approaches contribute to modeling cancer progression from different standpoints and take stock of various factors affecting tumor growth [[22] and references therein, [23]]. Combined analysis of tumor growth and anticancer therapies within the framework of mathematical modeling also produced a number of significant results [24, 25].
Inasmuch as tumor heterogeneity is one of the crucial factors in determining possible outcomes of anticancer treatment, it has to be incorporated and investigated in mathematical models. Although heterogeneity of tumor cell populations has been widely studied, there is no general approach that would provide a comprehensive description of intrinsic heterogeneity of tumors and would be amenable to qualitative and quantitative mathematical analysis. The existing mathematical models of anticancer therapy either do not include the effects of heterogeneity [e.g., [26, 27]], or consider finite, usually, small, number of subpopulations, e.g., sensitive and resistant cells or proliferating and quiescent cells [e.g., [28, 29]]. Other models take into account only spatial heterogeneity and do not address the important subject of genetic heterogeneity [e.g., [30–32]], or use individual-based approach and simulation techniques and thus are, practically, not amenable to theoretical mathematical analysis [e.g., [33–35]].
The main goal of the present paper is to introduce a novel approach to model heterogeneity into the field of cancer modeling. We show that heterogeneous models, although still oversimplified, reflect qualitatively new phenomena, some of which are observed in experiments and clinical trials. We present an effective method to analyze these models and examine the predictions that such heterogeneous models can yield.
We illustrate our approach by addressing a complex process that involves both virus-cell interaction and tumor growth, namely, the interaction of the so-called oncolytic viruses with tumors. Oncolytic viruses are viruses that specifically infect and kill cancer cells but do not affect normal cells [36–39]. Many types of oncolytic viruses have been studied as candidate therapeutic agents, including adenoviruses, herpesviruses, poxviruses, reoviruses, paramyxoviruses, and retroviruses [37, 39]. Probably, the best-characterized oncolytic virus, that has drawn much attention, is ONYX-015, an attenuated adenovirus that selectively infects tumor cells with a defect in the p53 gene [38, 40]. This virus has been shown to possess substantial antitumor activity and has proven relatively effective at reducing or eliminating tumors in clinical trials [41–43]. Although safety and efficacy remain major concerns, several other oncolytic viruses acting on different principles, including tumor-specific transcription of the viral genome, have been developed, and some of these viruses have entered or are about to enter clinical trials [37, 44–47]. Recently, synergistic use of immune therapy and oncolytic viruses has shown particular promise in cancer treatment [48].
The oncolytic effect can result from at least three distinct modes of virus-host interaction [37, 39]. The first mode involves repeated cycles of viral replication in the tumor cells leading to cell death and, consequently, to tumor reduction and, potentially, elimination. The second mode involves low-level virus reproduction that, however, results in the production of a cytotoxic protein that causes cell damage. The third mode consists in induction of antitumor immunity by virus infection of cancer cells. Cancer cells possess weak antigens for host immune sensitization. Virus infection causes inflammation and lymphocyte penetration into the tumor, with the virus antigens eliciting increased sensitivity to tumor necrosis factor-mediated killing.
Although the indirect modes of virus cancer therapy based on production of cytotoxic proteins or antitumor immunity might be promising, direct lysis of tumor cells by an oncolytic virus is the current mainstream strategy. Experiments on human tumor xenografts in nude mice have shown that the effect of oncolytic virus infection on tumors can range from no apparent effect, to reduction and stabilization of the tumor load (i.e., the overall size of a tumor), to elimination of the tumor [49]. Complete regression of tumors has been reported also in some patients treated with oncolytic viruses as part of clinical trials [50]. In a previous study [51], we presented a conceptual mathematical model of tumor cells-virus interaction which, depending on system parameter values, exhibits various behaviors including deterministic elimination of the cancer cells. Here, we further examine this model in conjunction with different possible heterogeneities of tumor cells, such as different susceptibility to infection, different death rates of infected cells, and others.
Results
Homogeneous mathematical models (phase-parameter portrait)
In this section, we briefly present the main results of the analysis of a simple conceptual model of virus-tumor interaction [51]; these will be important for the further analysis described in the present work. The model allows for two populations of cells: uninfected tumor cells and infected tumor cells and is an extension of the previous work of Wodarz [52] to include an alternative non-linear functional response for infection rate.
The model, which considers two types of cells growing in the logistic fashion, has the following form:
where X is the size of the uninfected cell population; Y is the size of the infected cell population; r1 and r2 are the maximum per capita growth rates of uninfected and infected cells, respectively; K is the carrying capacity; b is the transmission coefficient (this parameter may also include the replication rate of the virus); and a is the rate of infected cell killing by the virus (cytotoxicity). All the parameters of the model are supposed to be non-negative. Model (1) is subject to initial conditions X(0) = X0 > 0 and Y(0) = Y0 > 0. The concentration of viral particles is not explicitly included; it is assumed that virus abundance is proportional to infected cell abundance [53].
Rescaling model (1) by letting X* (t*) = X(t)/K, Y* (t*) = Y (t)/K, t* = r1t leads to the system
where β = b/r1, γ = r2/r1, and δ = a/r1. In the following analysis, we suppress the asterisks to simplify the notations, but it should be clear that we use non-dimensional parameters and scaled sizes of cell populations, so that X + Y ≤ 1 for any t.
The complete phase-parameter portrait of system (2) is shown in Fig.
1
.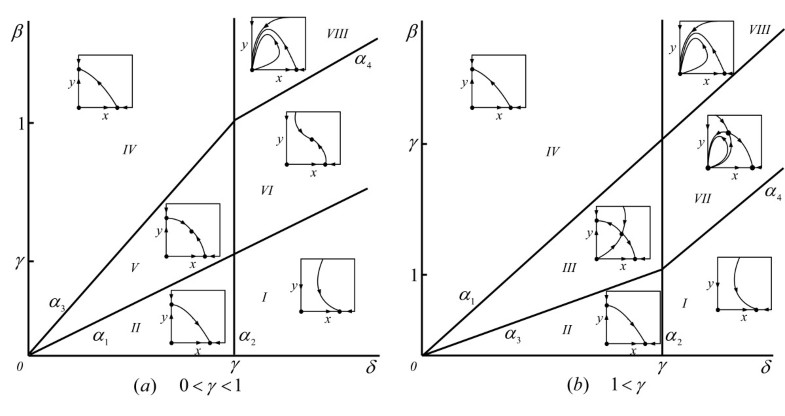 The model (2) exhibits all possible outcomes of oncolytic virus infection, i.e., no effect on the tumor (domains I and II in Fig. 1), stabilization or reduction of the tumor load (domains IV and V), and complete elimination of the tumor (domain VIII). Moreover there are two domains (domains III and VII) where the final outcome crucially depends on the initial conditions and can result either in failure of virus therapy or in stabilization (domain III) and elimination (domain VII) of the tumor.
Discussion and conclusions
We presented a general framework within which to construct and analyze mathematical models of anticancer treatment, with a special emphasis on tumor heterogeneity. Conceptually, this approach is connected to the theoretical considerations of Kitano on cancer robustness [1, 2]. At this initial step of analysis, it appears most important that the mathematical models reproduce important behaviors of tumors at the qualitative level. Using the previously developed model of tumor cell-oncolytic virus interaction [51], we show that qualitatively distinct behaviors that are absent in the homogeneous model appear as natural consequences of tumor and oncolytic virus heterogeneity. For example, our model accounts for cancer recurrence, and the time until reappearance of the tumor crucially depends on the heterogeneity of the transmission coefficient (Fig. 2). It should be emphasized that the effects of the tumor cell heterogeneity are not limited to trivial resistance of a subpopulation of cells to the virus, i.e., recurrence might ensue even when all cells have a non-zero probability to be infected. Another phenomenon missing in the homogeneous model is constant tumor size during a particular period of time (Fig. 4). Heterogeneity in parameters can lead to complex, irregular evolution of the tumor (Fig. 5 and 6). Thus, interpretation of the results of anticancer therapy should take into account the possibility that irregular, quasi-chaotic behavior can be caused not only by random fluctuations but also by the heterogeneity of the tumor and the virus (Fig. 6). All the simulations presented here reveal the effect of the level of heterogeneity on tumor dynamics. The most obvious case is shown in Fig. 7 where different initial variances of parameter distribution lead either to tumor eradication or to logistic tumor growth, i.e., failure of virus therapy.
Analysis of the models proves that tumor heterogeneity increases cancer robustness, in agreement with the theoretical considerations of Kitano [2]. The results presented here further show that, to counter this adverse effect of tumor heterogeneity, it should be possible to employ a heterogeneous population of an oncolytic virus (see model (11) and Figure 7). The interaction of the two non-homogeneous populations, the tumor and the oncolytic virus, may result in complete elimination of the tumor.
We applied a previously developed, general mathematical technique [61, 62] to investigate non-homogeneous models of complex tumor cells-virus interaction. The advantages of this modeling approach are as follows. This approach can account for different types of parametric heterogeneity of the analyzed populations. To infer the consequences of heterogeneity, we use well-known mathematical tools, such as bifurcation analysis, which identifies points of qualitative change in the system dynamics. The theory of heterogeneous populations [61, 62, 65] allows one to reduce the models to systems of ODEs that, in many cases, can be explored analytically or, if this is not possible, can be solved numerically with high precision.
Cancer is an evolving system, and the main evolutionary forces are selection, mutation and random drift. It should be noticed that our approach explicitly examines only selection. The techniques is applied to deterministic systems, and it is our belief that such system are important for modeling purposes, although analysis of extinction phenomena, such as tumor eradication, may require stochastic factors to be considered. The principal obstacle to the validation of these models against empirical data and their use for prediction purposes is the necessity to know the initial distribution of the model parameters. It should be emphasized that knowledge of mean, variance, and any finite number of the moments of the distribution is not sufficient to describe the evolution of the system over indefinite time [62]. The entire distributions have to be known. However, there is a way to bypass this problem. First, knowledge of several first moments is sufficient to estimate tumor evolution over short time spans. Second, to model the evolutionary process, we need to know how the mean parameter values behave with time. Using the theory of heterogeneous populations, we can infer generic properties of these functions and identify them from empirical data [66].
To conclude, the approach developed here allows one to take stock of such a complex aspect of cancer as tumor heterogeneity and apply effective analytical techniques to the analysis of heterogeneous models of tumor evolution. Although, in this study, we analyzed the specific case of a tumor interaction with an oncolytic virus, it is our hope that these techniques will prove useful in other systems that include interaction between tumor cells and anticancer agents.
Reviewers' comments
Reviewer's report 1
Leonid Hanin, Department of Mathematics, Idaho State University (nominated by Arcady Mushegian)
Comments for the authors
The paper deals with mathematical modeling of a novel mode of cancer therapy whereby a tumor is treated with oncolytic viruses that have a selective affinity to cancer cells. The model is couched as a system of coupled differential equations for the sizes of populations of uninfected an infected cancer cells. The main thrust of the work is on introducing parametric heterogeneity and analytic/numerical study of its effects on the dynamics of tumor cell populations. The problems in questions are of significant theoretical and practical interest. The authors suggested a few compelling general ideas, demonstrated a good knowledge of both biomedical and mathematical aspects of the general field, and provided ample references.
However, the paper concerns me on several levels.
1. The model was derived not from a detailed theoretical or experimental study of the underlying biological phenomena but rather from "general considerations." Also, it was not fitted to any set of real data on the sizes of tumor cell populations interacting with oncolytic viruses in vivo or in vitro. Thus, the model lacks biological specificity, and its adequacy has not been established. In particular, is there any strong evidence of the assumed heterogeneity of tumor cell populations with regard to killing action of oncolytic viruses, and does this assumption improve the quality of the model and its predictive power?
Author response: The model was developed to describe qualitative behaviors of the system "tumor cells – oncolytic virus", and we by no means claim that this model should be used for quantitative predictions. The current empirical data is insufficient to obtain robust estimates of the model parameters. These points are addressed in greater detail in our previous paper in this series (Ref. [51]).
The hypothesis that tumor cell populations are heterogeneous with regard to the killing action of oncolytic viruses is a general one, and our model strongly suggests that the assumption of homogeneity (that is, that all the tumor cells behave in the same way under oncolytic virus infection) is an oversimplification. Indeed, there is no strong evidence that tumors are heterogeneous in terms of their response to oncolytic virus infection but this seems highly likely given the well-demonstrated heterogeneity of tumors in other respects, in particular, chemotherapy. We investigate the implications of heterogeneity for the outcome of oncolytic virus treatment and hope that our model stimulates experimental studies in this direction.
2. The way parametric heterogeneity was introduced has a fundamental flaw. Speaking about the distribution x β of the susceptibility parameter β (that is, the rate of virus transmission from infected to uninfected tumor cells) in the population of uninfected tumor cells of size X, the authors assumed that the distribution of β is a function of time t alone. In reality, this distribution depends on the population size X:x β = x β (·, X) or more generally, x β = x β (·, X, t). For example, even in the simplest case of a uniformly distributed β, its density is given by X/|B|1 B and thus depends on X. Omission of the dependence of the distribution of β on X is tantamount to assuming that every first order ODE is of the form y = f(t), where t is independent variable and y is unknown function, on the grounds that for each solution the right-hand side of such an ODE is a function of t. As a result, the model of distributed susceptibility, which in reality is non-linear, is trivialized to a linear model which, naturally, boils down to the time course of the expected value of parameter β. Treatment of the heterogeneity of other parameters (cytotoxicity and virulence) suffers from the same defect.
Author response: This is, in our opinion, the main objection of the reviewer to the subject and conclusions of our work, and the only one with which we completely disagree.
i) We never stated or assumed "that the distribution of β is a function of time t alone"; as a matter of fact, we do not make any explicit assumptions on the distribution dynamics except for the given initial distribution and the form of the model equations. Under the proposed mathematical formalism (Theorem 1 in MA [see Additional file 1]) and equations used to describe the system, we can unambiguously determine the evolution of the parameter distribution given the initial distribution. In particular, we never assumed that the parameter ( β ) is gamma-distributed at any time moment with a time-dependent mean and variance; on the contrary, we suppose only that β is gamma-distributed at the initial moment and prove that then it must be gamma-distributed at any time moment due to the system dynamics, and compute its mean and variance depending on time (Theorem 1 and Example 1, MA [see Additional file 1]).
ii) We emphasize that x β is not a probability density function, that is, its integral equals the total population size and not 1. Theorem 1 and its corollary show how one can calculate the density x β , the total population size X(t), the probability density function x β /X(t) and its moment generation function. To calculate all these quantities we use nonlinear systems ((A.4)–(A.6) in MA [see Additional file 1]) which evidently depend on the current population sizes in a complex way. The same is true for all other parameters and versions of the model.
3. The model formulation contains arbitrary assumptions that are not justified and at times not even explicitly stated:
(a) The authors assume logistic growth of the sizes X and Y of infected and uninfected tumor cell populations, respectively. Why logistic and not Gompertz, which is generally believed to be more adequate?
Author response: This issue was considered in our previous work. In short, it is quite disputable that "Gompertz's growth is generally believed to be more adequate". We chose the logistic law because it is the simplest form whose predictions agree with the empirical data. Moreover, it seems most unlikely that qualitative results change if we use the Gompertz growth law instead of the generalized logistic law.
(b) The interaction between the two populations is assumed to be governed by the term βXY/(X + Y). Why is the infection rate assumed proportional to the relative size Y/(X + Y) of the infected population rather than to its absolute size Y? Is there any theoretical or experimental rationale for such an assumption?
Author response: This issue was discussed in detail in Ref. [51].
(c) The assumption that "transmission coefficient β is the product of the susceptibility of uninfected cells β1 and the virus replication rate β2" (Section Distributed susceptibility ...) is quite problematic because it contradicts the structure of the model. Imagine the virus replication rate is doubled. However, the term βXY/(X + Y) would not necessarily double! Therefore, model (11) is also incorrect. The above assumption would be plausible only if the interaction term in the model were βXY.
Author response: We would like to clarify that the system (11) is correct if the parameter β 2 is attributed to any trait that describes the ability of the virus to infect tumor cells. To justify the use of model (11), we slightly changed the text, in particular, by replacing the term 'virus replication rate' with the more abstract term 'virus virulence' that reflects the general ability of a virus to infect tumor cells. In this setting, the model (11) is correct.
(d) The formula E(t) = E β1 (t) E β2 (t) on p. 17 means that the authors tacitly assumed that parameters β 1 and β 2 , viewed as random variables, are independent. Are they? It seems likely that "virulence" of the virus may affect both virus replication rate β 2 and susceptibility of uninfected cells β 1 .
Author response: Yes, it was assumed that the two parameters are independent. We do not know anything about the dependence between these parameters although it is a natural extension of the model to assume some form of dependence. The independence assumption was chosen to simplify the math. More general situations are also amenable to mathematical analysis given the initial joint distribution (similar to Ref. [62]).
4. Moment generating function M P (λ) of a probability distribution P is generally not defined for all real λ. This brings about artificial difficulties that are not properly accounted for in the paper. Also, why not to deal with the characteristic function instead and avoid these difficulties altogether?
Author response: Importantly, the current parameter distribution is determined through the mgf of the initial distribution, and not through the characteristic function. Indeed, a mgf cannot be defined for all real λ, but this does not amount to "artificial difficulties". We would like to emphasize that, in some cases, the non-existence of the mgf reflects intrinsic and important problems. In brief, in the MA, it is shown that heterogeneous model (A.2) is equivalent to the Cauchy problem (A.4)–(A.5) if the latter has a unique global solution in [0, T). Obviously, this solution does not exist if the corresponding mgf M(λ) does not exist for some λ = q(t), and, consequently, solution of the heterogeneous model does not exist at this t (e.g., there can be a blow-up; for a simple example, see ref. [2]in the MA). This is now mentioned in the text (section on Distributed susceptibility).
5. The authors should draw a careful distinction between mathematical results (in which case they should be proved) and the results of their simulation studies.
Author response: All new mathematical results that are used in the text are now proved in the MA.
6. Bifurcation analysis and phase portraits of the homogeneous model are too sketchy for their validity to be evaluated. The authors should describe the types I-VIII of system behavior in more detail. Are all of them observed in reality? Also, what happens in the case γ = 1?
Author response: Detailed bifurcation analysis of the homogeneous model is presented in our recent publication (Ref. [51]), so we did not perceive it necessary to reiterate the descriptions here.
7. How were parameters for the numerical simulations selected? Are they representative of the outcomes?
Author response: The parameters for the numerical simulations were selected such as to illustrate new dynamical regimes of heterogeneous models which are unobservable in homogeneous settings. The parameters used are representative in the sense that a set of close parameter values yields qualitatively similar results.
8. The content of the appendix provides some mathematical background for the main text but does not seem to support it in more specific ways. In particular, asymptotic analysis that was discussed in the main text was not carried out in the appendix.
Author response: The corresponding changes were made in the main text (section on Distributed susceptibility) and in the Mathematical Appendix)
Reviewer's report 2
Natalia Komarova, Department of Mathematics, University of California-Irvine (nominated by Orly Alter)
The paper by Karev et al "Mathematical modeling of tumor therapy with oncolytic viruses: Effects of parametric heterogeneity on cell dynamics" creates a mathematical framework for studying dynamical systems with distributed parameters. This is used to model treatment regimes of cancer with oncolytic viruses. There, tumor heterogeneity is shown to play an important role. It is demonstrated that, depending on the distribution width of the parameters, very complex behaviors can be observed, including tumor dormancy, tumor recurrence and a reversal of treatment success.
I believe that developing a systematic modeling framework for systems with continuously distributed parameters is very important. I therefore recommend the paper for publication. However, I would like the authors to clarify the following points.
(1) The authors emphasized the importance of the variance of the initial distribution of the heterogeneous parameter. I believe that in this model, there is a characteristic of the initial distribution which is even more important than that. It is the support of the initial distribution of the parameter. Simply speaking, since there are no mutations in the model, knowing the types present in the system initially reveals with certainty what will happen in the end.
In fact, the behavior of the system with a distributed parameter can be predicted qualitatively from the following two pieces of information: (i) the direction of selection and (ii) the support of the initial distribution function. For instance, if the transmission coefficient, beta, exhibits heterogeneity, then we know that (i) cells with a lower beta values will be selected for and (ii) the lowest beta from the initial distribution is given by η. Therefore, we know that eventually the cells with β = η will outcompete the rest, and the dynamics of the system can thus be predicted.
Author response: We agree that the support of initial distribution is an equally important characteristic of the system. While the parameters of the initial distribution together with system dynamics determine the speed with which the final state is reached, the support determines, in the models considered in the text, the final outcome. We added some text to clarify this point.
In general, the assertion that the behavior of the system with a distributed parameter can be predicted given that the direction of selection and the support are known is not valid (although it is true for our particular models). The simplifying fact in our presentation was that the mean parameter values are monotone functions (i.e., we can unambiguously identify the direction of selection). In general, these functions depend on the system dynamics and can be arbitrary (e.g., it is possible to construct a system where they are periodic (Ref. [65])).
(2) Intuitively speaking, the extreme values of the distributed parameter (e.g. η in the gamma-distribution used by the authors) must be responsible for the final outcome of the dynamics, and the width of the distribution should correlate with the speed with which the system attains its final homogeneous state. Is this true? Is this possible to demonstrate?
Author response: The final outcome in our models depends, as correctly stated in Komarova's remark (1), on the direction of selection and the extreme values of the distributed parameters. E.g., if we have a gamma-distribution on [η, ∞), then the value of η determines the final outcome if individuals with smaller parameter values are more fit, but is not essential for the asymptotic system dynamics in the opposite case.
We do not have an analytical solution to the question on correlation between the speed of movement in the parameter space and the width of the distribution. It is generally true, however, that the speed with which the system attains its final state depends on the width of the distribution and on the current parameter values, and the sizes of the cell populations.
(3) The elegant model presented by the authors deals with continuously distributed parameters. In reality, many parameters can only attain a discrete (and small) set of values. It would be very nice to see (and easy to show) how the mathematical analysis should be modified to deal with discrete distributions. Some of the consequences of the analysis may look more intuitive in this case.
Author response: We explicitly indicate in the revised text that the mathematical framework can equally be applied to continuous or discrete distributions. The mathematical analysis does not have be modified (discrete distributions were used, e.g., in (Karev, 2003, Ecol. Model. 160, 23–37). For example, if we assume that the initial distribution of the parameter β that describes susceptibility of uninfected tumor cells is Poissonian with initial mean β0 then, using mgf for the Poisson distribution, we obtain E β (t) = β0 exp(q(t)). The latter expression can be used in system (5)–(6).
(4) I found the mathematical derivation presented in the appendix a little hard to read. It would help if the authors showed that the distribution x(t, β) (normalized) is equal to the distribution exp(β q) p (0, β) (normalized) if the variables x and q satisfy the given equations.
Author response: The proof of Theorem 1 contained some typos which might have led to confusion; this was corrected [see Additional file 1].
Reviewer's report 3
David Krakauer, Santa Fe Institute
In this paper Karev et al extend their earlier work on the dynamical properties of an implicit oncolytic dynamic (virus is not treated and assumed through a separation of time scales to be stationary) to include continuous variation in the viral traits transmission coefficients and cytotoxicity. The model comprises a system of ODEs tracking mean densities of uninfected and infected cells including time varying mean transmissibility and cytotoxicity.
In this more complex model with heterogeneity, the range of dynamical behaviors is expanded, manifesting patterns of tumor recurrence, and quasi-periodic orbits in cell densities. The paper raises interesting questions about the possibility of systematic, positive intervention into such a complex system.
While the distributional approach of this paper is timely and expands the range of model behaviors, it remains a continuous, deterministic treatment and the stochastic implication of rare events stemming from the tails of distributions can not be understood. And I would hypothesize that it is these improbable events that are more typically associated with recurrence expanding from small populations of concealed cells.
Author response: Indeed, stochastic implications of rare random events cannot be understood within the framework of this paper because the models are deterministic. We use a probabilistic distribution to describe the parametric heterogeneity of tumor cells. The tails of distributions considered in the paper show only that there are subpopulations of cells with relatively high or low parameter values, and the proportion of these subpopulations is small. We agree that "improbable events" implicated by Krakauer are important in carcinogenesis, and in cancer recurrence in particular. However, we would like to stress that our model shows that not only such events can lead to, e.g., tumor recurrence, but also existence of small populations of cells whose probability to be infected by an oncolytic virus is relatively small but still essentially non-zero.
A general problem I have with the paper, that will probably diminish its impact, is that no clearly important insights are generated by the model, but rather a range of complex behaviors which probably need further analysis. Since this paper offers qualitative results, I view this as a failing, as the purpose of such models is largely to sharpen intuition. One problem throughout is identifying clearly the source of heterogeneity – is this of viral or cellular origin? In the model this remains ambiguous.
Author response: Obviously, most biological systems are heterogeneous including the population of tumor cells. The whole point of this paper is whether a heterogeneous model allows to describe qualitatively new phenomena in comparison to the corresponding homogeneous model. The models described here possess, e.g., regimes of i) tumor recurrence, ii) transiently constant tumor size, iii) quasi-chaotic behavior. Thus, it seems that this work, actually, does sharpen intuition and even yields results that might not be intuitively obvious. Furthermore, we would like to emphasize that we propose a new modeling approach to deal with parametric heterogeneity, which is computationally and, in some cases, analytically feasible, and which can hopefully be applied to other existing models of ODEs for cancer progression and treatment.
The source of heterogeneity in our models can be of viral or cellar origin. When describing each specific model, we tried to explain possible sources of heterogeneity. For instance, when we deal with distributed susceptibility, the source is cellular. Viral heterogeneity is included in the models through the infected cell population because we do not treat the virus population explicitly. We agree that explicit virus dynamics would improve and clarify the models, but it also would complicate considerably the full parametric analysis of the homogeneous model.
I wonder if the authors could not shorten the paper and really focus on its most important insights. I think that these would include: (1) Increased resilience of tumors stemming from heterogeneity, (2) The increased success of oncolytic treatment with heterogeneous virus (if this is a real result of the model), (3) the impact of variance of heterogeneity on dynamics, (4) the impact of the distribution, (5) the clearly stated implications for therapy.
Author response: We believe that all these issues are addressed in the paper; we do not see how the article could be shortened significantly without losing information.
I also have some specific comments which overlap with those I made in a review of the author's previous paper in this series.
1. I feel that not explicitly treating the virus misses important problems and would make the interpretation of model parameters much clearer.
Author response: As indicated above, we agree but this would make the model substantially less tractable.
2. I am worried about the requirement that complete information about the distributions needs to be known in order to track the means in the ODEs. I am guessing that not only the shape but the form of the distributions could change over the course of infection.
Author response: Formally, to obtain a solution of the system at any time moment, including t → ∞, we have to know the exact form of initial distributions. It should be noted, however, that, to predict the behavior of the system on relatively short time spans, several moments of the distribution might be enough.
The question on the form of distributions can be treated mathematically (for a closely related model, see Ref. [62]. The fact is that a number of important distributions maintain their form over time. For example, if the initial distribution is gamma-distribution, it can be rigorously proved that it will always remain a gamma-distribution with parameters changing with time. The same statement is valid for normal distribution and others. However, there are distributions that change their form. For example, a uniform distribution becomes exponential.
3. The model is strictly speaking ecological as all variants are assumed to be present at t 0 . My understanding is that cancer progresses through mutational events and these are not treated in this model.
Author response: We agree with this remark. Our model does not consider mutations. In our model, all variants are present at the initial time moment, perhaps, with extremely low densities.
4. Typically heterogeneity is spatial across a tissue.
Author response: The question on relation of spatial and parametric heterogeneity is important and interesting. However, in this work, we do not consider the spatial structure.
5. I still feel that a very important aspect of oncolytic therapy is the problem of target-degeneracy leading to infection of non-cancer cells. As these are not treated in this paper I remain suspicious of the efficacy of the complete clearance equilibrium. I think it would be interesting to explicitly include cell heterogeneity in order to treat both cell populations – healthy and cancerous.
Author response: This issue was, actually, addressed in our response to Krakauer's comments on our previous paper (Ref. [51]). There are, indeed, many ways to expand these models. We stuck to a minimal version in order to keep the model within analytic solvability.
Declarations
Acknowledgements
This work was supported, in part, by the Intramural Research Program of the National Library of Medicine at National Institutes of Health/DHHS.
Authors' Affiliations
(1)
National Center for Biotechnology Information, National Library of Medicine, National Institutes of Health, MD, USA
Copyright
© Karev et al; licensee BioMed Central Ltd. 2006
This article is published under license to BioMed Central Ltd. This is an Open Access article distributed under the terms of the Creative Commons Attribution License (http://creativecommons.org/licenses/by/2.0), which permits unrestricted use, distribution, and reproduction in any medium, provided the original work is properly cited.