Erratum to: What can ecosystems learn? Expanding evolutionary ecology with learning theory
Biology Direct volume 11, Article number: 29 (2016)
Erratum
After publication of this article [1], it was noticed that equation 1 incorrectly contained an additional '+' sign. The correct version of equation 1 is included in this erratum.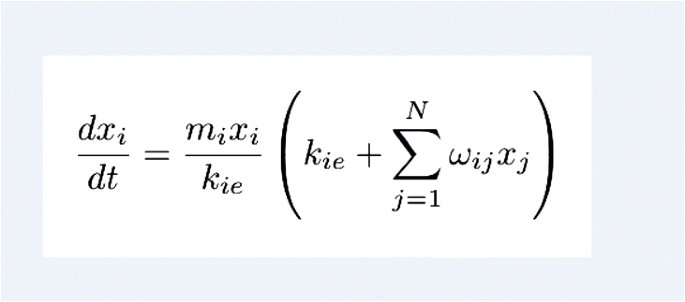 In addition, it was noticed the email address for the corresponding author, Daniel A. Power, is incorrect. This is correctly included in this erratum under the correspondence section.
References
Power, et al. What can ecosystems learn? Expanding evolutionary ecology with learning theory. Biology Direct. 2015; 10:69. doi: 10.1186/s13062-015-0094-1.
Rights and permissions
Open Access This article is distributed under the terms of the Creative Commons Attribution 4.0 International License (http://creativecommons.org/licenses/by/4.0/), which permits unrestricted use, distribution, and reproduction in any medium, provided you give appropriate credit to the original author(s) and the source, provide a link to the Creative Commons license, and indicate if changes were made. The Creative Commons Public Domain Dedication waiver (http://creativecommons.org/publicdomain/zero/1.0/) applies to the data made available in this article, unless otherwise stated.
About this article
Cite this article
Power, D.A., Watson, R.A., Szathmáry, E. et al. Erratum to: What can ecosystems learn? Expanding evolutionary ecology with learning theory. Biol Direct 11, 29 (2016). https://doi.org/10.1186/s13062-016-0132-7
Received:

Accepted:

Published:

DOI: https://doi.org/10.1186/s13062-016-0132-7