Polymorphic toxin systems: Comprehensive characterization of trafficking modes, processing, mechanisms of action, immunity and ecology using comparative genomics
Received: 20 March 2012
Accepted: 31 May 2012
Published: 25 June 2012
Abstract
Background
Proteinaceous toxins are observed across all levels of inter-organismal and intra-genomic conflicts. These include recently discovered prokaryotic polymorphic toxin systems implicated in intra-specific conflicts. They are characterized by a remarkable diversity of C-terminal toxin domains generated by recombination with standalone toxin-coding cassettes. Prior analysis revealed a striking diversity of nuclease and deaminase domains among the toxin modules. We systematically investigated polymorphic toxin systems using comparative genomics, sequence and structure analysis.
Results
Polymorphic toxin systems are distributed across all major bacterial lineages and are delivered by at least eight distinct secretory systems. In addition to type-II, these include type-V, VI, VII (ESX), and the poorly characterized "Photorhabdus virulence cassettes (PVC)", PrsW-dependent and MuF phage-capsid-like systems. We present evidence that trafficking of these toxins is often accompanied by autoproteolytic processing catalyzed by HINT, ZU5, PrsW, caspase-like, papain-like, and a novel metallopeptidase associated with the PVC system. We identified over 150 distinct toxin domains in these systems. These span an extraordinary catalytic spectrum to include 23 distinct clades of peptidases, numerous previously unrecognized versions of nucleases and deaminases, ADP-ribosyltransferases, ADP ribosyl cyclases, RelA/SpoT-like nucleotidyltransferases, glycosyltranferases and other enzymes predicted to modify lipids and carbohydrates, and a pore-forming toxin domain. Several of these toxin domains are shared with host-directed effectors of pathogenic bacteria. Over 90 families of immunity proteins might neutralize anywhere between a single to at least 27 distinct types of toxin domains. In some organisms multiple tandem immunity genes or immunity protein domains are organized into polyimmunity loci or polyimmunity proteins. Gene-neighborhood-analysis of polymorphic toxin systems predicts the presence of novel trafficking-related components, and also the organizational logic that allows toxin diversification through recombination. Domain architecture and protein-length analysis revealed that these toxins might be deployed as secreted factors, through directed injection, or via inter-cellular contact facilitated by filamentous structures formed by RHS/YD, filamentous hemagglutinin and other repeats. Phyletic pattern and life-style analysis indicate that polymorphic toxins and polyimmunity loci participate in cooperative behavior and facultative 'cheating' in several ecosystems such as the human oral cavity and soil. Multiple domains from these systems have also been repeatedly transferred to eukaryotes and their viruses, such as the nucleo-cytoplasmic large DNA viruses.
Conclusions
Along with a comprehensive inventory of toxins and immunity proteins, we present several testable predictions regarding active sites and catalytic mechanisms of toxins, their processing and trafficking and their role in intra-specific and inter-specific interactions between bacteria. These systems provide insights regarding the emergence of key systems at different points in eukaryotic evolution, such as ADP ribosylation, interaction of myosin VI with cargo proteins, mediation of apoptosis, hyphal heteroincompatibility, hedgehog signaling, arthropod toxins, cell-cell interaction molecules like teneurins and different signaling messengers.
Reviewers
This article was reviewed by AM, FE and IZ.
Background
Production and deployment of "chemical armaments" is one of the most common strategies in inter-organismal conflict. Such molecules, namely toxins or antibiotics, are observed at practically every level of biological organization ranging from multicellular organisms like animals and plants, through bacteria, all the way down to intra-genomic selfish elements [1–4]. These molecules span an entire biochemical spectrum from diffusible small molecules (e.g. antibiotics) to some of the largest proteins in the biological world (secreted bacterial toxins)[5, 6]. Beyond their natural roles, these molecules have considerable significance as biotechnological reagents, biodefense agents, therapeutic targets, and therapeutics against numerous disease-causing agents [1, 2, 4, 6, 7]. Traditional toxicology has now been joined by genomics and sequence analysis in uncovering the enormous biochemical diversity across life forms of such molecules and of the systems that synthesize and traffic them. This diversity is seen both in the structure and action of systems involved in synthesis of diffusible antibiotics and proteinaceous toxins [5, 6]. It is becoming increasingly clear that proteinaceous toxins are a common feature of biological conflicts at every organizational level [7]: 1) In antagonistic interactions between different multicellular eukaryotes, such as the castor bean ricin, Aspergillus sarcin and various snake venom proteins [2, 3, 8, 9]. 2) Action by multicellular organisms against their pathogens (e.g. anti-microbial peptide toxins and defensive RNases such as RNaseA and RNase L [10–13]). 3) Action of pathogenic and symbiotic bacteria directed against their hosts (e.g. the cholera toxin and the shiga toxin [4, 14]). 4) Inter-specific conflict in bacteria [15]. 5) Conflict between bacterial sibling strains of the same species, namely contact dependent inhibition systems and related secreted toxins [16–19]. 6) Inter-genomic conflicts between cellular genomes and selfish replicons residing in the same cell (e.g. classical bacteriocins and plasmid addiction toxins [20]). 7) Intra-genomic conflicts between selfish elements and the host genome (restriction-modification systems [21] and genomic toxin-antitoxin systems [22–24]).
Studies in the past decade are pointing to certain unifying themes across the proteinaceous toxins deployed in each of these distinct types of biological conflict. The most prominent theme is the use of enzymatic toxins that disrupt the flow of biological information by targeting nucleic acids and proteins [7]. Thus, several toxin domains are nucleases targeting genomic DNA, tRNAs and rRNAs, nucleic acid base glycosylases, nucleic acid-modifying enzymes, peptidases that cleave key protein targets, and protein-modifying enzymes that alter the properties of proteins, such as components of the translation apparatus [4, 6, 7, 17, 18, 25]. A secondary theme seen across toxins from phylogenetically diverse sources is the presence of domains that disrupt cellular integrity by forming pores in cellular membranes [26, 27]. Genomic analysis has also revealed that the richest source of proteinaceous toxins is the bacterial superkingdom, wherein several systems involved in most of the levels of biological conflict enumerated above are encountered [4, 6, 17, 18, 21, 22, 25].
It is also becoming apparent that inter- and intra- specific and inter- and intra- genomic conflicts in prokaryotes have resulted in an intense arms race with respect to proteinaceous toxins. There is evidence for multiple episodes of escalation of the conflict in terms of the evolution of immunity proteins, followed by alterations in the toxins to evade the action of the immunity proteins [
15
,
17
,
18
,
24
,
28
]. Another major evolutionary theme seen in secreted proteinaceous toxins is the exploration of several alternative secretory mechanisms for their effective trafficking and delivery to potential targets. In particular, bacteria display at least eight distinct secretory mechanisms over and beyond the ancestral Sec (or Type II) system that is shared with the other branches of life (Table
1
). Both the T2SS and alternative secretory mechanisms have been repeatedly coopted for trafficking toxins [
15
,
17
,
18
,
29
,
30
]. In addition to the T2SS, examples of other widely utilized secretory pathways that have been frequently coopted for trafficking of toxins include three distinct systems dependent on ATPase pumps: 1) ABC ATPase-dependent Type I system, which has been adapted for the delivery of the large RTX toxins [
31
]; 2) the FtsK-like ATPase-dependent type VII (ESX) system of Gram-positive bacteria, which has been recruited for delivering several toxins, including those frequently deployed in intraspecific conflict [
17
,
32
,
33
]; 3) the plasmid conjugation apparatus-derived type IV system [
34
], which is also dependent on FtsK-related ATPases [
33
]. On the other hand some of the other alternative secretory mechanisms appear to be primarily utilized in trafficking toxins rather than any other function: 1) The type III system based on the flagellar basal body-like apparatus [
35
]; 2) the two-partner or Type V system which resembles the porins [
36
,
37
]; 2) the type VI [
38
,
39
]; 3)
Photorhabdus
virulence cassette (PVC)-type secretory system [
40
,
41
]. Both T6SS and the PVC-SS utilize caudate bacteriophage tail-derived proteins as an "injection syringe" and distinct AAA + ATPases to recycle the injection apparatus in an ATP-dependent manner after a single use [
39
]; 4) TcdB/TcaC-like export pathway [
42
]; 4) the PrsW-like peptidase-dependent system export system [
43
]. Depending on the secretory pathway, toxins might either be directly injected into target cells (e.g. T6SS delivered toxins) or diffuse into the surrounding medium (e.g. certain T2SS or T7SS toxins) or be anchored on the surface of producing cells to be delivered upon contact with the target cell (e.g. T5SS and certain T2SS, T6SS and T7SS delivered toxins). Additionally, these prokaryotic toxins might also display further adaptations that allow their processing subsequent to their secretion – these include the presence of "pre-toxin domains" that might be sites for proteolytic processing or in-built peptidase domains that cleave off the toxin domain to facilitate its delivery into the target cell [
17
,
20
] (Table
1
).
Table 1
Features of secretion pathways by which polymorphic toxins are exported
| Secretion pathway | Signature N-terminal leader domains or pre-toxin-domains | Signature genes in neighborhood | Processing proteases/repeats in toxin proteins | Phyletic patterns | Additional Notes |
| --- | --- | --- | --- | --- | --- |
| T2SS/Sec-dependent system | Signal peptide | - | Proteases: Caspase, HINT, MCF1-SHE, subtilisin3, ZU54 | In all bacteria | Default pathway for protein export. Might contain MAFB-N (DUF1020), MicroscillaN, APD1, APD2, Inactive transglutaminase |
| | | | Repeats: ALF, ankyrins, β-propeller, RHS, Sel11, TPR1, Tail-fiber2 | | |
| T5SS | N-terminal TpsA-like secretion domain (TPSASD) | FhaB/CdiB coding for porin-like protein | Proteases: HINT Repeats: FilH | α,β,γ,δ,ϵ-proteobacteria, acidobacteria, bacteroidetes/chlorobi, firmicutes5, fusobacteria | The TPSASD domain binds the outer-membrane FhaB/CdiB during the export of the toxin domain |
| | Pre-toxin domains: DUF637(PT637),DUF637-N, PT-VENN | | | | |
| T6SS | VgrG domain, PAAR domain, Hcp1 | ClpV-like AAA + Atpase, MOG1/PspB-like, VgrG, Hcp1, Phage tail/base-plate related proteins | Repeats: RHS | All proteobacteria, acidobacteria, bacteroidetes/chlorobi, firmicutes | Complete T6SS delivered toxins are often typified by a N-terminal PAAR domain |
| Photorhabdus virulence cassette pathway (PVC) | PVC-Metallopeptidase | CDC48-like AAA + ATPase, VgrG, Phage tail/base-plate related proteins | Proteases: Metallopeptidase, Subtilisin, Caspase, MCF1-SHE | Euryarchaeota, α,β,γ,δ,ϵ-proteobacteria, acidobacteria, actinobacteria, bacteroidetes, chlorobi, chloroflexi, cyanobacteria, deinococci, firmicutes, nitrospirae, spirochaetes | |
| | | | Repeats: RHS, tail fiber | | |
| T7SS/ESX/ESAT-6 secretion system | WxG, LxG, LDxD domains | YueA-like FtsK/HerA ATPase, EsaC | Proteases: HINT, Caspase, MCF1-SHE Repeats: RHS, Tail-fiber | Firmicutes, actinobacteria, chloroflexi, other bacterial lineages6 | Toxins exported by these systems may or may not possess repeat domains |
| TcdB/TcaC | A signal peptide followed by a SpvB domain coupled to a C-terminal integrin-like β-propeller domain | TcdB | Repeats : Integrin-like beta propeller, RHS, tail-fiber | Euryarchaeota, α,β,γ,δ-proteobacteria, actinobacteria, bacteroidetes | |
| | | | | Chloroflexi, fibrobacteres, firmicutes, lentisphaerae, spirochaetes | |
| | | | Proteases: HINT, Caspase, ZU5 | | |
| PrsW | PrsW-peptidase domain | | Repeats: RHS | Euryarchaeota, α,β,γ,δ-proteobacteria, actinobacteria Bacteroidetes, chloroflexi, cyanobacteria,deinococci, dictyoglomi, firmicutes, fusobacteria, gemmatimonadetes, spirochaetes, verrucomicrobia | PrsW is a transmembrane peptidase with several transmembrane helices |
| | | | Proteases: PrsW | | |
| Phage DNA packaging system | MuF | MuF, large and small subunits of terminase | Proteases: Papain-like | Euryarchaeota, acidobacteria, α,γ,δ-proteobacteria, actinobacteria, bacteroidetes, chlorobi, firmicutes, fusobacteria, spirochaetes, caudovirales | The toxin is predicted to be packaged into the phage head as in phage transduction systems |
The selective pressures related to the above-described adaptations for trafficking, processing and delivery appear to have been instrumental in shaping the domain architectures of plasmid-encoded bacteriocins and prokaryotic toxins deployed in inter- and intra-specific conflicts [
17
,
20
]. Consequently, most toxin proteins have N-terminal domains involved in secretion and/or cell surface anchorage, central domains involved in adhesion or presentation to target cells and C-terminal domains that bear the actual toxin activity (Figure
1
, Table
1
). These might be occasionally combined with further processing-peptidase or pre-toxin domains [
17
,
18
,
20
]. These stereotypic architectural features strongly distinguish such toxins from those involved in intra-genomic conflicts, such as those from classical toxin-antitoxin systems and restriction-modification systems, even though certain domains with toxin activity might be common across these different systems [
17
,
22
,
28
]. Hence, domain architectural analysis considerably aids in the detection of new toxins involved in inter-organismal conflicts and the delineation of specific domains associated with each of the above-listed trafficking related roles. This has led to an exciting discovery in the past two years, namely the identification and characterization of an extremely widespread system of secreted toxins, primarily involved in intra-specific conflict between related strains of prokaryotes [
16
–
19
]. These toxin systems are found in practically all major bacterial lineages and also a small number of archaea. Toxin proteins of these systems are as a rule multi-domain and display a bewildering diversity in terms of domains possessing toxin activity [
17
,
18
]. An important feature of these proteins is the tendency to vary their toxin domains through a process of recombination that might replace an existing toxin domain by a distinct one encoded by standalone cassettes, while retaining the rest of the protein's architecture (i.e. parts related to trafficking and delivery) intact. As a consequence these toxins might be termed
polymorphic toxins
and encompass the so called contact dependent inhibition (CDI) systems that were recently described in proteobacteria [
17
,
44
,
45
]. Further, these systems typically possess a chromosomally linked immunity protein that helps in protecting cells against their own toxin. These systems might also display several more chromosomally linked or distantly located immunity proteins that could serve as a potential line of defense against toxins delivered by "non-self" strains. The presence of immunity proteins is a key feature that distinguishes the polymorphic toxins from conventional toxins whose primary targets are in distantly related organisms (hence, no "self" immunity is required). Thus, these polymorphic secreted toxins could play a central role in "self versus non-self" or kin recognition in bacteria and thereby have an important role in regulating intra-specific altruistic and cooperative behavior [
17
,
18
].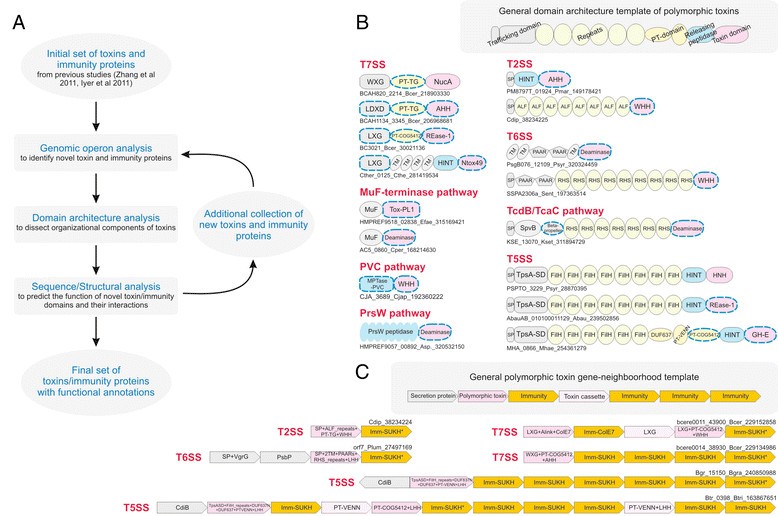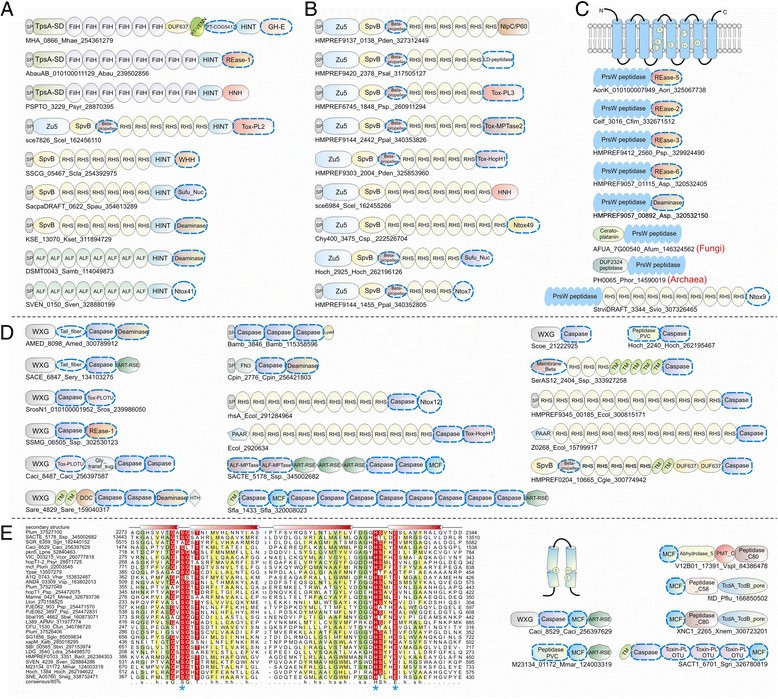 Our studies on the toxin domains of these polymorphic toxin systems have uncovered a remarkable array of nucleases and deaminases that are likely to target different cellular nucleic acids [17, 18]. Our preliminary investigations also uncovered some other toxin domains in these systems with alternative modes of action, such as protein AMP/UMPylating enzymes, ADP-ribosyltransferases and peptidases. Interestingly, we observed that several of the toxin and processing peptidase domains from polymorphic secreted toxins are also present as toxin domains of conventional toxins deployed in inter-specific conflict, such as against eukaryotic hosts by pathogenic or symbiotic bacteria [46–54]. In a similar vein, we observed that both the polymorphic toxins deployed in intra-specific conflicts and toxins used in inter-specific conflict often rely on similar secretory mechanisms, such as the T5SS, T6SS and T7SS [17, 18]. These observations suggested that both types of secreted toxins have been "constructed" in course of evolution from a common pool of domains and consequently possess similarities in their domain architectures. We also observed that several domains seen in secreted prokaryotic toxins and their immunity proteins have been transferred to eukaryotes and their viruses, and have contributed to the provenance of major regulatory molecules in the development of multicellular animals, RNA-editing, DNA-mutagenesis and virus-host interactions [17, 18]. Thus, the evolutionary and functional significance of domains found in prokaryotic toxin systems extends beyond the mechanisms and dynamics of intra-organismal conflict.
Our previous studies on the polymorphic toxins focused on identifying and characterizing the diversity of toxin domains that operate on nucleic acids, in particular nucleases and deaminases, and characterizing some of the most prevalent immunity proteins, such as those with the SUKH and SuFu domains. We also reported a preliminary characterization of the major secretory systems involved in toxin trafficking and processing peptidases. Here, we build on our previous studies to systematically characterize novel domains in polymorphic toxin systems, with a particular focus on those involved in toxin activity, immunity and maturation of toxins. Consequently, we report herein a greatly expanded repertoire of toxin domains and immunity proteins directed against them. Thus, we also considerably extend their structural and mechanistic diversity to include a diverse array of peptidases, ADP ribosyltransferases, glycosyltransferases, kinases, membrane perforators and domains with several other activities. Even in terms of toxin acting on nucleic acids we report numerous previously unrecognized nucleases and deaminases. This expanded repertoire of toxin domains also helps to better understand the commonalities between the polymorphic toxin systems and the classical secreted toxins deployed against distantly related organisms. This comprehensive characterization also provides a handle to investigate the ecological significance of such secreted toxin systems in prokaryotes. Our analysis also uncovered novel features regarding the secretory systems that traffic these toxins. The detailed analysis of these toxin systems and their immunity proteins further pointed to several additional examples of domains from them being acquired by eukaryotes and their viruses. Thereby we greatly widen the contributions of components of these systems to the evolution of several eukaryotic regulatory systems. We present a comprehensive inventory of intra-specific polymorphic toxin systems and related components from toxin systems deployed in inter-specific conflicts. This database is likely to serve as an useful reference for future studies on this enormously significant group of proteins.
Conclusions
The current work is the first comprehensive analysis of the recently discovered polymorphic toxin systems. It builds upon our two earlier studies [17, 18] that first uncovered these systems and revealed that their diversity was much greater than what was suspected in initial experimental studies [44]. In this work we have systematically identified the most prevalent toxin and immunity protein domains and have classified them based on sensitive sequence and structure analysis. This work thereby provides a framework for future studies on this exciting class of toxin systems. By creating an annotated inventory of toxins and immunity proteins it allows for further biochemical characterization of these proteins. In this regard, we offer a number of clear biochemical predictions in terms of the secretory mechanisms, the mode and site of action, enzymatic activities, active sites and possible catalytic mechanisms of toxins and immunity proteins. The systematic collection of toxins also aids their investigation as potential biotechnological and therapeutic reagents – a possibility underscored by the precedent presented by several other related toxins [4, 7]. The pervasive relationship of toxins involved in intra-specific conflict to those used by bacteria in inter-specific conflict, such as toxins directed against hosts, is highlighted in this study. Thus, the results presented here also help in understanding the pathogenesis of numerous plant and animal pathogens, as also the interaction between unicellular eukaryotes and their abundant intracellular bacterial residents. These findings might have considerable significance for our future understanding of the virulence of key pathogens, such as Pseudomonas aeruginosa Legionella, and rickettsiae among other animal pathogens, and Pseudomonas syringae Xanthomonas and Ralstonia among plant pathogens. The toxins characterized here also provide insights regarding the biochemical basis for complex multi-organism interactions, such as the role for Hamiltonella in defense against parasitoid wasps and Photorhabdus in nematode predation of insects[84, 100, 101, 144, 199].
This study offers a platform for understanding certain key ecological aspects of bacterial interactions. Systems characterized here suggest, for the first time, possible molecular determinants for phenomena such as kin versus non-kin discrimination, cooperation and cheating both in the context of biofilms and motile growth. The ideas presented here allow for several testable microbiological hypotheses regarding bacterial conflicts. For example, the proposal regarding cheating in diverse taxa from the oral microbiome and certain soil bacilli can be tested via relatively straight-forward competition experiments. Indeed, such experiments can test our proposal if the polyimmunity loci and proteins facilitate a facultative cheating strategy in interactions between conspecifics. The systematic characterization of these loci also allow for further exploration of the rates of polymorphic transitions of toxins under different conditions and in different ecosystems. Some of these studies might have considerable bearing in human, non-human animal and plant health, because they might help explaining the preferential colonization of bodily niches by certain strains as opposed to others [15, 199]. This might be of considerable value in facilitation of processes such as wound healing and appropriate re-colonization of bodily niches after antibiotic therapy.
The immunity proteins from these systems also offer a means for understanding the two contrasting aspects of the evolution of protein-protein interfaces. Our earlier study had shown the versatility of the SUKH and SuFu domain immunity proteins in interacting with a diverse array of structurally and mechanistically distinct toxin domains [17]. Thus, they join the previously studied scaffolds such as the immunoglobulin domain and LRRs in vertebrate antigen receptors as models to understand how a single structural scaffold can diversify to accommodate an enormous variety in protein-protein interactions [178]. On the other hand, we have also uncovered numerous immunity proteins that are specific in terms of the toxins they counter. Furthermore, a notable majority of these immunity proteins are apparently unique to these systems. This presents them as models for the converse aspect of the evolution of interactions, i.e. how a large number of distinct domains with very specific interfaces for interaction have emerged apparently de novo in these systems. Further investigation of immunity proteins through a combination of structure determination studies and biochemical analysis would be of greatest interest in regard to the evolution of these specific protein-protein interaction capabilities.
Finally, the analysis of the diversification of components from polymorphic toxins and related systems points to a previously underappreciated evolutionary principle. Several toxin, immunity protein, structural modules and secretory components from these systems have a distinct life beyond their locus of provenance, especially in eukaryotic regulatory and defense systems. We have documented that on numerous occasions components from these systems were incorporated into regulatory systems of eukaryotes, and in many cases might have played a major role in the very origin of some of these systems [17, 18]. Thus, these systems appear to be particularly rich sources to draw from for new functional innovation. We attribute this to the consequences of natural selection in systems related to inter-organismal or intra-genomic conflicts. Not surprisingly, such toxin-immunity systems have a large effect on the fitness of organisms [15, 44], thereby escalating an arms race situation. This has resulted in a strong selective pressure for constant diversification of polymorphic toxins and their immunity proteins. Thus, such systems have acted as a "nursery" for innovations in the protein world. Given that such conflicts often extend to the sphere of symbiotic and parasitic interactions with eukaryotes, the latter have access to a "readymade" set of molecular innovations from such systems, which can be recruited to spur the emergence of new interactions in eukaryotic systems. This is consistent with the similar diversification seen in other systems involved in intra-genomic or inter-organismal conflict [5, 127, 196, 215, 216]. These include antibiotic biosynthesis systems which are used in inter-specific conflict, siderophore biosynthesis systems whose diversification helps prevent siderophore-stealing by "cheaters", R-M and TA systems involved in intra-genomic conflict[5, 21, 194, 217]. Indeed, our earlier studies indicated that components from each of these conflict systems have played a major role in contributing components to diverse eukaryotic regulatory systems [127, 196, 215, 216]. Thus, organismal and genomic conflicts being the basis for major molecular innovations, which in turn might facilitate major evolutionary transitions, can be considered a general evolutionary principle.
Methods
As described in the search strategy, protein sequences corresponding to predicted toxins, trafficking, presentation, processing and immunity domains were isolated using diagnostic domain architectures and gene-neighborhood templates, that were initially identified in previous studies [17, 18] (Figure 1). The sequences of representatives of each of the domains from toxins, immunity proteins and associated trafficking components were then used as seeds in iterative profile searches with the PSI-BLAST [218] and JACKHMMER [219] programs that run against the non-redundant (NR) protein database of National Center for Biotechnology Information (NCBI), to identify further homologs. A list of these search-seeds and the residue ranges for each domain is provided in Additional file 1. For most searches, which were used to report the relationships presented in this work, a cut-off e-value of .01 was used to assess significance. In each iteration the newly detected sequences that had e-values lower than the above cutoff were examined for being false positives and the search was continued with the same e-value threshold only if the profile was uncorrupted. The postulated relationships recovered using such iterative searches were further confirmed with other aids such as secondary structure prediction and superposition on known structures, if available. This resulted in the identification of over 250 toxin and immunity domains. Search results for these domains are provided in Additional file 1.
For each toxin or immunity gene, the gene neighborhood was also comprehensively analyzed using a custom Perl script of the inhouse TASS package. This script uses either the PTT file (downloadable from the NCBI ftp site) or the Genbank file in the case of whole genome shot gun sequences to extract the neighbors of a given query gene. Usually we used a cutoff of 5 genes on either side of the query. The protein sequences of all neighbors were clustered using the BLASTCLUST program (ftp://ftp.ncbi.nih.gov/blast/documents/blastclust.html) to identify related sequences in gene neighborhoods. Each cluster of homologous proteins were then assigned an annotation based on the domain architecture or conserved shared domain. This allowed an initial annotation of gene neigborhoods and their grouping based on conservation of neighborhood associations. The remaining gene neighborhoods were examined for specific template patterns typical of toxin-immunity systems. In this analysis care was taken to ensure that genes are unidirectional on the same strand of DNA and shared a putative common promoter to be counted as a single operon. If they were head to head on opposite strands they were examined for potential bidirection promoter sharing patterns.
Multiple sequence alignments of all domains were built by the Kalign [220], Muscle [221] and PCMA [222] programs, followed by manual adjustments on the basis of profile-profile and structural alignments. Secondary structures were predicted using the JPred [223] and PSIPred [224] programs. A comprehensive database of profiles was then constructed using these multiple alignments and was used extensively in the annotation and analysis of protein domain architectures and gene neighborhoods. For other known domains, the Pfam database database [189] was used as a guide, though the profiles were augmented in several cases by addition of newly detected divergent members that were not detected by the original Pfam models. Clustering with BLASTCLUST followed by multiple sequence alignment and further sequence profile searches were used to identify other domains that were not present in the Pfam database. Signal peptides and transmembrane segments were detected using the TMHMM [225] and Phobius [226] programs. The HHpred program [227] was used for profile-profile comparisons to either unify poorly characterized families to proteins with a known structure in the PDB database or to group related families of toxins or immunity domains. Structure similarity searches were performed using the DaliLite program [228]. Phylogenetic analysis was conducted using an approximately-maximum-likelihood method implemented in the FastTree 2.1 program under default parameters [229]. Predicted lateral transfers to eukaryotes were further evaluated for false positives by ensuring they were embedded in contigs or complete chromosome sequences with other genes typical of eukaryotes, comparing exon-intron structure of the genes, studying their phyletic distribution within eukaryotes and comparing the protein distances of the predicted eukaryotic proteins (as measured by bit scores) with bacterial homologs. Structural visualization and manipulations were performed using the VMD [230] and PyMol (http://www.pymol.org) programs. Automatic aspects of large-scale analysis of sequences, structures and genome context were perfomed by using the in-house TASS package, which comprises a collection of Perl scripts. Supplementary material can also be accessed at ftp://ftp.ncbi.nih.gov/pub/aravind/TOXIMM/toximDBsupplementary.html.
Reviewers' comments
Reviewer 1: Dr. Igor Zhulin (Oak Ridge National Laboratory, USA)
I have conflicting views on this paper. On one hand, I have read Introduction, the beginning of Results & Discussion (the authors lost me half through this section though as it become very descriptive and I had a hard time connecting the pieces), and Conclusions with a great interest. The topic is fascinating and the amount of work that has been done is unbelievable. The authors analyzed an enormous amount of data, both published and results of their computational research, and presented not only a catalog of proteinaceous toxin systems, but a multi-scale picture of their roles in various biological processes. On the other hand, it all came at a high price of lacking necessary details regarding computational analyses and focus. I perfectly understand that presenting such a huge amount of information requires sacrifices in some areas, but I do not think that it should be in describing "experimental procedures". It is a generally accepted policy in science that procedures must be presented in a sufficient detail, so experiments can be independently reproduced. This paper, in my opinion, does not fulfill this requirement. The section "Search strategy to identify new toxins and immunity proteins", which serves the purpose of providing such details, gives only a very general description.
Authors' response : We have altered the Material and Methods to provide more extensive details regarding the procedures we followed with respect to sequence and structure analysis. We do not agree with the referee's statement that experimental procedures have been sacrificed. In essence all the sequence and structure analysis was performed using publically available programs, which have been published and are well-known in the computational biology community, if not more widely. In the current version of the Material and Methods we describe these without omission and any reader with access to appropriate computer resources can use the same. We also disagree with the referee's allegation of the lack of sufficient information for independent reproducibility – see below for further details in this regard.
Finally, the length and overall organization of this paper makes it very difficult to follow it through and the lack of page numbers is inexcusable for a manuscript that has 130 of them. Nearly each of the 38 subchapters of this paper has its own introduction and reads as a separate story. As a result, we do have an encyclopedia of polymorphic toxin systems, but its true scientific quality is hard to estimate.
Personally, I would rather see much smaller pieces of this work presented in a concise way with all details of searches and analyses clearly shown. The global view that authors aimed at presenting is much better suited for review papers. Here we have a lot of original work mixed up with a review of literature: the number of references in this paper is higher than in many comprehensive reviews on similar topics. I think the quality of both original work and review suffers from this mix.
The bottom line is that to me this is a paper that reaches very interesting conclusions, but which is very difficult to comprehend in its entirety and some (if not many) of its results cannot be verified (or are very difficult to verify) independently.
Authors' response : We regret the inconvenience caused by the lack of page numbers, which stems from using a PDF reader which provides the page numbers as against a print version. The referee raises three basic issues which we address below-
(i) Length of the article – single long versus multiple short papers: Short articles are useful when a single domain or computational observation needs to be succinctly presented. Indeed, upon our initial discovery of these systems we published two shorter articles outlining just the details of specific aspects of them. However, upon further investigation it became clear that neither those two works nor subsequent experimental studies on these systems really do justice to the magnitude of domain diversity seen in these systems. Unlike many other systems, despite these proteins being around and accumulating in the non-redundant protein database for now more than a decade, there has been hardly any comprehensive study on them. This is testified by the rather rudimentary annotation borne by most of them in protein databases. This being the first such treatment on a long-neglected class of highly represented proteins meant a particularly long paper. Furthermore, the practical aspects of publication meant it was quite infeasible to prepare numerous separate small papers and submit each for peer-review. We realized in course of our study that splitting the individual discoveries into multiple manuscripts would dilute the big picture emerging from these systems. With respect to shorter works being easier to read than a comprehensive manuscript as this we opine that it is largely a matter of taste. It may be noted that referee two, despite finding the length remarkable, commented regarding its easy readability. The apparent self-sufficiency of the sub-sections is primarily to help readers who might be more interested in one or few of toxin or immunity domain families but the text has been edited to minimize redundancy. Hence there is no repetition of material between sections.
(ii) Review versus original paper admixture: We disagree with the referee in saying that it is a mixture of review and original research. The "review" aspect is limited to the introduction and general conclusions, as is typical of any research paper. It should be kept in mind that any kind computational analysis work based on sequence/structure analysis needs to place newly identified domains in the context of what is already known in order to make new functional predictions. This is exactly what we do – this necessitates the mention of previous studies and also precedence of biochemical activities for functional inference. We do not see this as being a mixture of review with new results but merely an aspect of building a functional argument. While there are several domains and ideas presented in this study, we were particular in only emphasizing those that are novel and discovered in this study. In our calculation, ~ 85% of our dataset (that has about 250 toxin and immunity domains) is not found in any domain database. Those that are already present in protein domain databases like PFAM, they are typically listed as domains of unknown function (DUFs) and are need of functional annotation.
(iii) Reproducibility: As noted above, we do not accept the claim that our results are not reproducible. Of course, the ease of reproducibility depends entirely on the time available to one attempting it. We should emphasize that all the computational discoveries reported here use standard sequence/structure analysis techniques laid out in the Material and Methods, as is typical of a paper in this field. Those cases involving more difficult detections we explicitly mention in the paper program used and statistical support for the particular relationship or the Z score cutoffs used by DALIlite for structural relationships. Since we have provided Genbank identifiers (gis) for the prototypical proteins of every group, all the remaining relationships can be reproduced by running profile searches with PSI-BLAST, HMMsearch3, JACKHmmer or HHpred on the Web or locally, either in a unidirectional or transitive fashion. Most importantly we have provided one of the most extensive supplements for a sequence/structure analysis paper -- alignments for each toxin and immunity domain have been provided; hence, obtaining starting points for reproducing searches should not pose any difficulty. The gis of all proteins under consideration are also provided along with an appropriate classification. This allows for independent verification of architectures and operonic associations. In addition to the extensive tables in the body of the article which provide details regarding active sites and phyletic patterns, the data is also provided in the supplement as searchable tables, where readers can browse the data by species, domain, operons, and pathway of secretion. We fear the referee did not peruse the extensive supplement that provides all the material for reproducing the presented analysis. In the revised version we have further improved the presentation of the supplement to improve ease of access to the alignments. We will also upload all the new alignments to protein databases such as Pfam making the material available upon publication to facilitate easy reproduction and use of the presented results.
Reviewer's reponse to above:
I am not persuaded with authors' arguments regarding their description of "experimental procedures".
Let me consider just the first paragraph of Materials and Methods, which is shown below (in italics) in its entirety and is fragmented only by my interjections.
As described in the search strategy, protein sequences corresponding to predicted toxins, trafficking, presentation, processing and immunity domains were isolated using diagnostic domain architectures and gene-neighborhood templates, that were initially identified in previous studies[17, 18](Figure 1). These domains were then used as seeds in iterative profile searches with the PSI-BLAST[217]and JACKHMMER[218]programs that run against the non-redundant (NR) protein database of National Center for Biotechnology Information (NCBI), to identify further homologs.
This is a very general statement, which provides very little detail. Cleary, each PSI-BLAST and JACKHMMER search is carried out not with "domains", but with one concrete protein sequence, which has a name and coordinates of the region that was used as a query.
Authors' response : We concede that the word domain in this context might be confusing for some readers. However, it is should be noted that in this context we obviously imply the amino acid sequence corresponding to a given domain. This point has been emended.
A search is performed against a specific database of a certain size and content. The size of NR database has doubled in less than 3 years and is changing every day. Thus, it is important either to work with a fixed version of NR or to report which version was used in a given search. Here is the excerpt from the authors' own work, which provides a good example of how "experimental procedure" should be described:
"A PSI-BLAST search was initiated with the conserved N-terminal extension of the SGC (human SGC1β, gi: 4504215, region 1–360), using an inclusion threshold of .01, and compositional bias based statistics to eliminate false positives arising due to peculiarities of sequence composition. Both the N- and the C-terminal parts of this extension gave several distinct hits to different bacterial proteins, supporting the presence of two distinct globular domains in this extension. Based on these hits we divided the extension into N- and C-terminal parts and initiated separate PSI-BLAST searches with them. Searches with the N-terminal part of the extension gave significant hits to bacterial proteins of the length 180–195 residues within the first 3 iterations (eg. Mdge1313 from Microbulbifer degradans is detected with an expect-value (e) of 10–4 in the first iteration)…" (LM Iyer, V Anantharaman and L Aravind 2003 BMC Genomics 2003 4:5)". Although some details are still lacking and the NR version was not specified (not that critical for the year 2003), this description is thorough enough to reproduce the steps that were taken during the domain identification process. I regret that ten years later authors think that providing search details is no longer necessary. Once again, I understand the reason for not providing details for numerous searches that they have carried out, and once again I disagree with this position.
Authors' response : We appreciate the referee quoting from a former work of ours. Obviously we have neither forgotten nor changed our philosophy to domain discovery or analysis in the past 8 years. We note that the referee states that he understands why we do not give these details in the same manner as it is done when reporting the discovery of a single/few domains. We should reiterate that when such an analysis is scaled up to hundreds of domainsf providing descriptions as that pasted by the referee would result in an extraordinary and tedious prolixity for most readers (users) of the article. Hence, the report in the actual manuscript focuses on the points of biochemical/biological interest with only a general description of the search strategy for most cases. This does not mean that the issues raised by the referee are inaccessible. They are simply provided in the supplementary material. Herein a reader might find a collection of the actual saved PSI-BLAST searches for all the notable domains described herein. The same files should supply the specifics of the nr database at the point of the run. Furthermore, another file in the supplement provides the query gi with sequence coordinates of all seeds used for the domain-specific searches. Yet another file provides the searches with all the profiles, which we created for this work (either PSI-BLAST or HMM) against the NR database from May 23 rd 2012. The links have been made explicit in the additional file.
Referee's comment resumes: For most searches in which were used to report the relationships presented in this work a cut-off e-value of .01 was used to assess significance.
Let us leave alone the fact that something is missing from this sentence (what were used?) and focus on the main point. This statement means that for some searches a cut-off E value other than 0.01 was used.
Authors' response: This sentence had a typo which we have now corrected and appreciate the referee pointing the same.
FOR WHICH ONES? WHY? No details provided. Furthermore, 0.01 is already a "dangerous" level, when it comes to false positives. The description provided by authors leaves a possibility that some searches were carried out even with a worse E value. It does not automatically mean the results are incorrect, but it does mean that a special care must be taken when considering such relationships and description must be provided.
Authors' response: The .01 cutoff is dangerous only in the hands of the untrained sequence analyst. Obviously we took special care to manually examine every iteration of searches with every domain reported in this study. Thus, we ensured that the new sequences being included are unlikely to be false positives.
Referee's comment resumes: This was further confirmed with other aids such as secondary structure prediction and superposition on known structures, if available. For each toxin or immunity gene, the gene neighborhood was also comprehensively analyzed using a custom Perl script of the inhouse TASS package. The process was carried out iteratively and exhaustively and resulted in the identification of over 250 toxin and immunity domains.
I am guessing that the first sentence refers to assessing the validity of multiple sequence alignments (which is described in the next paragraph). This indeed is a common technical element, which requires no further description. However, the next sentence makes quite a difference. What is meant by "comprehensive analysis of the gene neighborhood"? How many genes in the vicinity of the gene of interest were analyzed? How were they analyzed: by their RefSeq annotation? COGs? Best BLAST hit? Gene neighborhood analysis is a very important element of computational genomics of prokaryotes; however, there is no publically available, published program or even a single, commonly accepted approach on how to do this analysis. Thus, it is important to provide details.
Authors' response: The Material and Methods have emended to include further details on neighborhood analysis.
"The process was carried out iteratively and exhaustively…" Which process? The entire process of domain identification or only the PSI-BLAST searches? I understand how the latter can be done iteratively and exhaustively, but I can only guess what it means with respect to the entire process, and certainly cannot distinguish between these possibilities.
Authors' response: The Material and Methods have emended to remove the potential confusion arising from this statement.
In response to my original critique authors replied that they "do not agree with the referee's statement that experimental procedures have been sacrificed. In essence all the sequence and structure analysis was performed using publically available programs, which have been published and are well-known in the computational biology community, if not more widely". In essence, yes, but in some cases, obviously, no: a custom Perl script of the in-house package… Custom scripts execute specific actions. We do not need to know what the script is, but we certainly do need to know what the action was. "Comprehensive analysis of gene neighborhoods" to me is a prototype example of sacrificing the description of "experimental procedures". Even when it comes to publicly available and published tools, procedure details should be provided. In experimental biology, it is not enough to state that PCR was used to amplify a given gene – exact primers must be provided. Perhaps, this is not the best analogy, but it illustrates the point.
Authors' response: The Material and Methods have been emended to describe the action of the script which in essence provides the details pertaining to the gene-neighborhood analysis raised above.
On the final note, I would like to emphasize that I have an utmost respect for the authors, who have been leaders in the field for many years now, and who produced a series of groundbreaking papers in computational genomics. Without doubts, their results and conclusions are both correct and important. Furthermore, I applaud their decision to submit all domain models to the public repository (Pfam). However, I do disagree with their position on attention to detail in describing "experimental procedures". I can expand on this point substantially; however, this is not the place for such a debate.
Authors' response: We too believe that this is not the place for a general debate on methodology.
Reviewer 2: Dr. Arcady Mushegian (Stowers Institute for Medical Research, USA)
The manuscript by Zhang et al. is a magisterial treatment of a large and heterogeneous group of bacterial complex toxin proteins as well as the immunity proteins that countervail the action of these toxins. It is a comprehensive collection of old and new protein families, genome contexts and phyletic distributions of these important functional modules in prokaryotes, which also crosses over to partially analyze the sequence relationships of secretion systems in bacteria. I have no concerns about the quality of sequence comparison, domain definition and genome context analysis. This is a catalog of novel predicted functions, which can guide the work of experimentalists for years to come. I do have, however, several small concerns about data presentation and some comments that have to do with the broader discussion of bacterial evolution. More specifically:
Authors' response: We thank the reviewer for his positive comments and suggestions.
p. 21–22: a few homologs of multidomain polymorphic bacterial toxins are purported to be present in eukaryotes (e.g. gi 321474287 in Daphnia and Tox-REase-8 in a subset of insects), and it is surmised that they have been horizontally transferred from bacteria. How do we know that these genes are indeed found in the genomes of these eukaryotes, and do not represent endosymbiont DNA or other contamination? Have the genomic contigs been assembled, do these genes display eukaryotic features - e.g., introns?
Authors' response : In our analysis, we were particularly careful in eliminating false assignments of lateral transfer to eukaryotes and used several parameters to decide if the laterally transferred genes were indeed encoded by the eukaryotic species. In the simplest scenario, the presence of introns was indicative of their eukaryotic presence. For example, the gene for gi 321474287 in Daphnia contains 11 introns, whereas most Tox-REase-8 genes in insects at least contain one intron, eliminating the possibility of these genes being contaminants. Other parameters that were considered include: 1) Elimination of sequences that were identical or almost identical to bacterial sequences. In our dataset, none of the proteins assigned as laterally transferred showed any identities or near identities to bacterial sequences; 2) Most proteins assigned as laterally transferred to eukaryotes also showed a presence in more than one eukaryotic species, which further helps in eliminating false lateral transfer assignments. For e.g. Tox-REase-8 is present in crustaceans, insects and placozoans. Similarly, Tox-GHH domains are present in five major lineages of bacteria, while in the eukaryotes they are only found in multiple metazoan species (TCAP domains of teneurins). In response to this comment and to that made by Reviewer 3, we have explained this procedure in more detail in the Materials and Methods.
p. 44–45. The gene neighborhood network shown in Figure 12: I am not sure what it is supposed to visualize. The authors state that the direction of the edges is important, i.e., it shows the 5' to 3' order of genes or protein domains; but the arrowheads are barely visible even in the pdf at magnification 250%, and will not be seen online. In any case, the edge density is so high that the main message seems to be 'anything can link to anything'. The graphs become more sparse when clade-specific connections are shown - this is more interesting, but perhaps visualization would be better if the density of connections is modeled by the edges of different thickness.
Authors' response : We agree with the reviewer that the full view of the domain architectural network was too dense for a detailed view. We have now added a simplified graph next to the central graph that further combines all nodes into metanodes based on their functional type. This simplified graph gives a better view of the follow on connectivities across all toxin polypeptides. For example, it clearly shows that toxin domains detected in this study are almost always at the C-terminus of the protein.
The next several comments have to do with somewhat superficial and inconsistent discussion of relative plausibility of various evolutionary scenarios.
To wit:
p. 46 "The phyletic pattern of this system suggests that it might have emerged inthe proteobacteria-bacteroidetes assemblage (members of the group I bacterial division [183]) followed by transfer to a subset of group II lineages such as negativicutes and fusobacteria." --- Why not the other direction, or ancestral origin followed by gene losses (especially given that these scenarios are discussed later for essentially the same phyletic vectors)?
Authors' response : The above argument is based on parsimony. In this study, we notice a strict correlation between the occurrence of T5SS and the presence of an outer membrane. Most lineages from Group I bacteria (including all proteobacteria and bacteroidetes) contain an outer membrane and also components of T5SS. In contrast, most lineages of Group II bacteria contain only one membrane layer around the cell further encapsulated by a cell wall. Some exceptions include the negativicutes which are a subset of firmicutes that have an outer membrane. Since the ancestral state of the Group I and Group II bacteria can be generally reconstructed as possessing an outer membrane in the former and containing a single membrane layer in the latter, we propose that the T5SS were laterally transferred to the negativicutes and fusobacteria .We have added an additional remarks in this regard in the revised manuscript.
Referee's further response: The explanation is fine in this case, but compare it to the following point-counterpoint.
p. 52–53: "This general rarity of the polymorphic toxin systems is in striking contrast to the general prevalence of the toxin-antitoxin systems across archaea [22]. This distribution, with a dominant presence in most major clades of both group-I and group-II bacteria, suggests that polymorphic toxin systems could have been present in the ancestral bacterium." --- First, what is meant by "this distribution"? My understanding is that "this distribution" includes "general rarity" of polymorphic toxins in archaea. How can rarity of a system in archaea suggest its presence in bacterial stem, as opposed to later invention in bacteria? I suspect that this is mostly unfortunate wording that should be edited. In contrast, my second concern is more fundamental: essentially, any phyletic distribution may be interpreted as 1. ancestral presence of a gene followed by gene losses, or 2. later invention in one clade followed by horizontal transfers to to the other clades; or else 3. some combination of ancestral presence, losses and HGT. To turn these scenarios from mere hand waving to something supported by the evidence, one has to specify the model of gene gain and gene loss more explicitly, or to bring in some auxiliary evidence that favors one of the explanations. I do not see much of this here.
Authors' response : We agree that this section was a bit unclear and we have now revised it. Similar to the previous point, the polymorphic toxin systems that we report in this study are present in all major lineages of bacteria. While there is no denial that extensive lateral transfer of these systems occurs, the presence in the ancestral bacterium with divergence mirroring the evolution of different secretion systems within the bacterial superkingdom is a parsimonious argument. In contrast only a few archaeal "species" contain these systems suggesting that they were probably not present in the ancestral archaeon. Parsimoniously, this suggests that the few archaeal polymorphic toxin systems were acquired from bacterial versions, because alternatively it would require a large number of gene losses in different archaeal linaeges.
Referee's further response: In the previous exchange, the presence of a gene at the root of group I only, but not at the root of group II nor at joint root of I + II, was called "parsimonious". Now, presence at the root of all bacteria is believed to be parsimonious, when the same set of taxa is examined. What kind of parsimony is invoked in each case? (I think I can discern the answer from the next two sentences, but please correct me if I am wrong). The authors appear to understand parsimony as the explanation that requires the smaller number of events. I cannot accept this as an always-preferable explanation, when it does not matter what these events are and how are they counted; in a moderate form, however, we can use parsimony as a criterion of selecting the null hypothesis, i.e., "choose the scenario with the smallest number of events, unless the additional evidence suggests that a more complex scenario has to be considered". I think that, in this case, however, precisely such additional evidence is available in the form of evolutionary estimates of the relative rate of gene gain and gene loss: almost every estimate suggests that on average gene losses are moderately to highly more frequent than gene gains. So, unweighted parsimony will not work in these cases – a scenario with 1:1 gain-to-loss ratio will be actually making an additional assumption of a relative loss rate that is constrained to be lower than what is observed in nature. Everything is then hanging on the word "large" – how large the excess of losses in archaea is, so that this makes the scenario so unlikely?
Authors' response: We agree that the general frequencies of gene loss tend to exceed those of gains. However, with respect to the toxin systems in archaea we are dealing with the following situation: The non-redundant database has representatives from over 225 completely sequenced WGS sequences. Classical polymorphic toxin-like systems are found only in about 15 of them. Thus, there are approximately 15 times the archaeal genomes which lack these as those which have these systems. Approximately more 1/3 rd of the bacterial genomes have at least one such system. Hence, although the referee is right in pointing to the differences in the rates of loss exceeding gain, we believe our original reasoning based on the parsimony argument is a valid one.
Referee's further response:
This is also supported in phylogenetic trees, where the archaeal toxins or immunity domains group with particular bacterial versions.
Is this true for the trees of all families, or only some?
Authors' response: Baring the barnases where the relationship is difficult to ascertain one way or another, consistently the other toxin domains shows the archaeal branches embedded within the bacterial radiation.
p. 53, the following sentence: "However, it should be noted that these genes and cassettes are highly prone to lateral transfer as suggested by the sporadic phyletic distribution of both toxin domains and immunity proteins [17]. Hence, the distribution of these systems might also reflect in part the secondary dispersion of such systems across diverse bacteria by lateral transfer." --- Essentially, this is the same as to say that inheritance of any genetic element may be either vertical or horizontal. So?
Authors' response : While the sentence might on the surface appear trivial but needs to be seen in light of the earlier comment on the polymorphic toxins being inferred present in the stem of the bacterial superkingdom. While that inference can be made based on the distribution of the toxins and their corresponding secretion systems, we intended to provide a more realistic picture (the above sentences), lest it be taken that their evolutionary history was predominantly vertical since their emergence early in bacterial evolution.
Referee's further response : Once again, in the exchange regarding the statement on p. 46, the inference was that certain toxin was present in the step of proteobacteria + Bactoroidetes, but not in the stem of all bacteria. I suppose the scenarios are really different for different toxins – can this be made more explicit?
Authors' response: The toxin distributions in bacteria are certainly affected by lateral transfer so we cannot be certain of the inference of particular toxin in the common ancestor. Nevertheless, based on the differential distributions, we can tentatively propose that some of the widespread versions, such as the barnase, HNH and deaminase domain toxins might have been present in the stems of the major bacterial clades such as those uniting the group-I bacteria or group-II bacteria.
p. 53: "Certain patterns of distribution of polymorphic toxin systems appear to transcend phyletic boundaries… 1) the hyperthermophiles, which are often chemoautotrophs, from both bacteria and archaea show a strong tendency to lack such systems." --- this seems to be the case of multiple losses in bacteria, possibly favored by similarity in the habitats, and possibly ancestral absence in archaea. Ecological adaptations like this 'transcend phyletic boundaries' more or less by definition - is this the point?
Authors' response : While adaptations directly related to an ecological niche are indeed obvious in terms of transcending phyletic boundaries, this is not necessarily the case with inter-organismal conflict systems, which do not directly relate to the ecological niche. Since we nevertheless found correlations between these systems and ecology, we felt it would be useful to point them out. This would help understanding the more subtle effects of ecology of a species on their interactions with conspecifics and other organisms.
Referee's further response: The correlation has been observed between hyperthermophily and lack of polymorphic toxins. As the authors imply, this may in fact be the correlation between chemoautotrophy and lack of toxins – or is it? Which effects here are gross, and which are subtle? Could it be, for example, that hyperthermophily is generally correlated with reduced repertoire of all kinds of secreted proteins, which would be more easily destabilized and inactivated by adverse environment outside the cell?
Authors' response: We agree that the point raised by the referee regarding temperature affecting protein stability and thereby placing a selective constraint on the number of toxins could be in principle a valid alternative explanation. However, beyond certain compositional and length distribution differences the total number of secreted and membrane proteins in hyperthermophiles do not appear to be significantly different from other organisms (e.g. Nilson et al. Proteins. 2005 Sep 1;60(4):606–16.) Hence, we are not certain if this explanation might be more relevant than autotrophy, which additionally accounts for the comparable situation in photosynthetic autotrophs.
p. 56: in the case of oral microbiomes, I am not sure how some species were assigned to 'biofilm-forming' category and others to 'cheaters' - I think that at least some species in the latter category are biofilm-forming in their own right.
Authors' response : As pure cultures, all these species are likely to form biofilms, but the oral environment is a mixed population of diverse bacterial species, and it is well known that oral biofilms are comprised of mixed bacterial species (Paster BJ et al. Bacterial diversity in human subgingival plaque, ref 198). In this context, we hypothesize that the number of toxin and immunity domains predicts how a species will interact with another one during the formation of a mixed biofilm.
Reviewer 3: Dr Frank Eisenhaber (Bioinformatics Institute, Singapore)
I agreed to be a reviewer when reading the author list only to find out that MS is by far the longest that I have ever seen as reviewer in my life. Despite of the initial horror and of the impressive length, the text is a fine reading - both as a research paper and as a review of this specific field. One would not think to shorten it by a page. The thoughts and results are plausible (there is no hope to repeat the calculations even partially). There is considerable care for the detail throughout the text, figures and additional files (except for very minor things such as ref. 144 appearing incomplete).
I find the generous addition of supplementary information especially notable.
Possibly, this will be of greatest benefit for people creating annotation pipelines and sequence databases. For practical purposes, the authors might think to add archives with all the individual alignments in single files and domain models in several formats such as the HMMR2, HMMER3, etc. ready made.
I think that the work is a welcome addition to the scientific literature.
Authors' response : We thank the reviewer for his positive comments and suggestions. A more user-friendly supplementary file is now provided with the alignments of the toxins and immunity domains as separate files in a zipped format. We will additionally upload all alignments to protein domain databases such as Pfam, so that researchers can access them more easily. Ref. 144 has been updated in the revision.
Declarations
Acknowledgements
The authors' research is supported by the intramural funds of the US Department of Health and Human Services (National Library of Medicine, NIH).
Authors' Affiliations
(1)
National Center for Biotechnology Information, National Library of Medicine, National Institutes of Health, Bethesda, USA
(2)
Departamento de Microbiologia, Instituto de Ciências Biomédicas, Universidade de São Paulo, São Paulo, Brazil
Copyright
© Zhang et al.; licensee BioMed Central Ltd. 2012
This article is published under license to BioMed Central Ltd. This is an Open Access article distributed under the terms of the Creative Commons Attribution License (http://creativecommons.org/licenses/by/2.0), which permits unrestricted use, distribution, and reproduction in any medium, provided the original work is properly cited.