Purine biosynthesis in archaea: variations on a theme
Received: 4 June 2011
Accepted: 14 December 2011
Published: 14 December 2011
Abstract
Background
The ability to perform de novo biosynthesis of purines is present in organisms in all three domains of life, reflecting the essentiality of these molecules to life. Although the pathway is quite similar in eukaryotes and bacteria, the archaeal pathway is more variable. A careful manual curation of genes in this pathway demonstrates the value of manual curation in archaea, even in pathways that have been well-studied in other domains.
Results
We searched the Integrated Microbial Genome system (IMG) for the 17 distinct genes involved in the 11 steps of de novo purine biosynthesis in 65 sequenced archaea, finding 738 predicted proteins with sequence similarity to known purine biosynthesis enzymes. Each sequence was manually inspected for the presence of active site residues and other residues known or suspected to be required for function.
Many apparently purine-biosynthesizing archaea lack evidence for a single enzyme, either glycinamide ribonucleotide formyltransferase or inosine monophosphate cyclohydrolase, suggesting that there are at least two more gene variants in the purine biosynthetic pathway to discover. Variations in domain arrangement of formylglycinamidine ribonucleotide synthetase and substantial problems in aminoimidazole carboxamide ribonucleotide formyltransferase and inosine monophosphate cyclohydrolase assignments were also identified.
Manual curation revealed some overly specific annotations in the IMG gene product name, with predicted proteins without essential active site residues assigned product names implying enzymatic activity (21 proteins, 2.8% of proteins inspected) or Enzyme Commission (E. C.) numbers (57 proteins, 7.7%). There were also 57 proteins (7.7%) assigned overly generic names and 78 proteins (10.6%) without E.C. numbers as part of the assigned name when a specific enzyme name and E. C. number were well-justified.
Conclusions
The patchy distribution of purine biosynthetic genes in archaea is consistent with a pathway that has been shaped by horizontal gene transfer, duplication, and gene loss. Our results indicate that manual curation can improve upon automated annotation for a small number of automatically-annotated proteins and can reveal a need to identify further pathway components even in well-studied pathways.
Reviewers
This article was reviewed by Dr. Céline Brochier-Armanet, Dr Kira S Makarova (nominated by Dr. Eugene Koonin), and Dr. Michael Galperin.
Keywords
AICAR
Active Site Residue
Archaeal Genome
Integrate Microbial Genome
Purine Biosynthesis
Background
Purines are key components of all living cells on earth, required for energy metabolism and biosynthesis of RNA and DNA. Purine biosynthesis pathways were first described in the 1950's and 1960's [1–3] and represented a central force in the development of the field of biochemistry. For decades, the story of purine biosynthesis seemed mostly complete, with only a few new enzymes added to the pathway [4–6]. However, with increased study of archaea and the availability of archaeal genomes, it became clear that the purine biosynthesis pathway in many archaea included several unique enzymes [7, 8].
The accepted purine biosynthesis pathway (with known variations) is shown in Figure
1
. There is complete conservation of the intermediates of purine biosynthesis from phosphoribosyl pyrophosphate (PRPP) to 5-phospho-β-D-ribosylamine (PRA), with the exception of N
5
-CAIR (N
5
-carboxyaminoimidazole ribonucleotide), which is bypassed in eukaryotes. The enzymes catalyzing each step, however, are more variable, with four common nonhomologous enzyme substitutions known across the three domains. Intriguingly, the archaea manifest all four of the known nonhomologous substitutions in this pathway, with evidence (discussed in this paper) for an additional two substitutions still to be identified.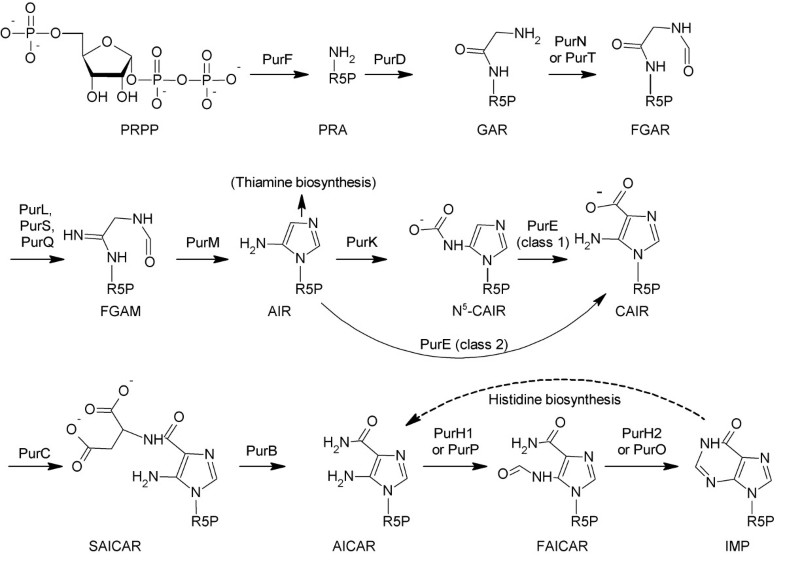 The de novo purine biosynthesis pathway from PRPP to IMP includes one branch, to thiamine biosynthesis, and one alternate input, from histidine biosynthesis. Thiamine biosynthesis uses AIR (aminoimidazole ribotide) as a substrate. Thus, the first four enzymatic steps of the pathway are not truly committed to purine biosynthesis, but serve both purine biosynthesis and thiamine biosynthesis. The interaction between the histidine pathway and purine biosynthesis is less easily diagrammed. ATP (an end-product of purine biosynthesis or obtained by salvage) reacts with PRPP, followed by a ring-opening reaction that opens the purine ring, leading to production of aminoimidazole carboxamide ribonucleotide (AICAR), which can be formylated and then cyclized to re-form the purine ring. Thus, provided that the final two steps of the de novo purine biosynthesis pathway are functional, histidine biosynthesis will result in no net loss or gain in purines. Due to the desirability of reclaiming the AICAR, we expect to find at least the final two steps of the de novo purine pathway present whenever the histidine biosynthesis pathway is present.
The availability of full genome sequence data for numerous archaeal species allows the comparative study of the enzymes involved in de novo purine biosynthesis. We used the Integrated Microbial Genome system (IMG) to curate open reading frames (ORFs) on the basis of high similarity to an experimentally characterized gene or enzyme in another species (ideally as a bidirectional best hit [9]). The presence of nearby gene candidates for the same biochemical pathway supported the annotations through "guilt by association" [10]. Although several metabolic pathway reconstructions are available elsewhere [11, 12], a genomic analysis of the purine biosynthesis pathway of the archaea in the depth and breadth presented here is not otherwise available. Below, we describe our findings upon inspection of each genome and discuss these findings in the context of previous experimental data.
The ever-increasing pace of genome sequencing means that genomes will increasingly be annotated by automated or semi-automated processes. This paper serves as a case study of the errors possible in the largely automated gene annotations present in IMG. As purine biosynthesis is relatively well-understood, our findings represent a best-case scenario, with increased likelihood of problem annotations in pathways that have been less well-studied.
Results and Discussion
We identified a complete or nearly complete set of the genes necessary for purine biosynthesis in 58 of the 65 species studied. However, 25 of these suspected purine biosynthesizing species lacked a gene candidate for either glycinamide ribonucleotide (GAR) formyltransferase or inosine 5'-monophosphate (IMP) cyclohydrolase. As each of these 25 species lacked just one gene in the pathway, we believe that these species do synthesize purines, and that further work will reveal novel pathway variants. The gene candidates for each of the purine biosynthetic steps are listed in Additional File
1
, with a summary of findings in Figures
2
and
3
.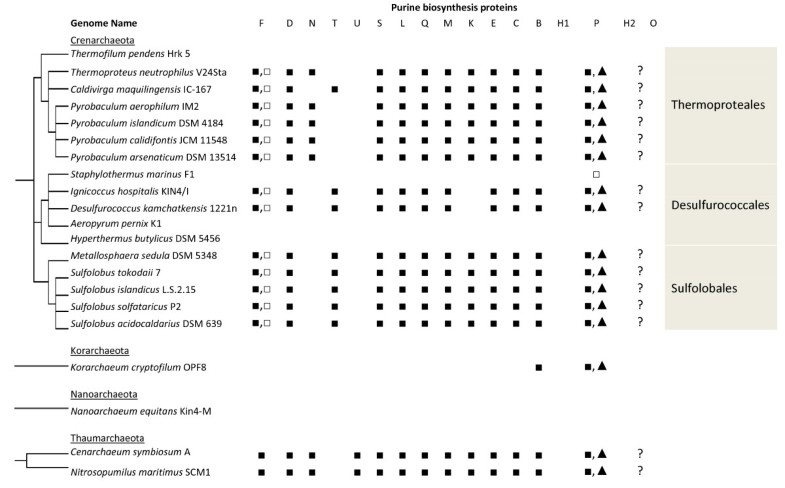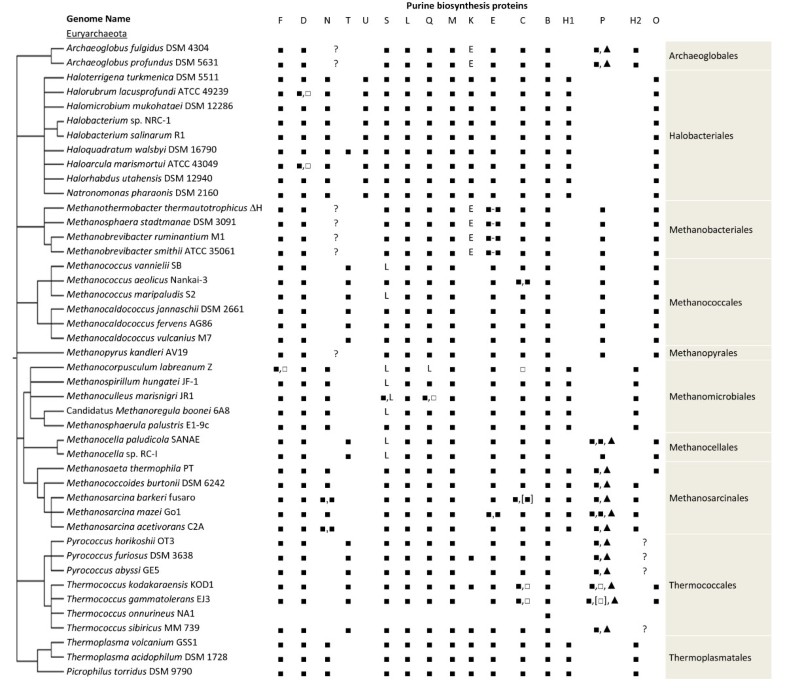 We identified at least one organism with apparent redundancy (either two similar copies of the same gene or two different genes for the same step) in five out of eleven steps in the pathway. Redundancy was especially common in the AICAR formyltransferase assignments. Only in the case of the purB and purM genes could we assign exactly one gene from each purine biosynthesizing organism to the necessary function. Specific findings for each biosynthetic step are discussed below.
Conclusions
Although we were able to identify a candidate gene for most of the necessary biosynthetic steps in the purine biosynthesis pathway in most of the organisms studied, a number of questions remain. An IMP cyclohydrolase enzyme has not been identified for any of the Crenarchaeota nor for a subset of the Thermococcales. A GAR formyltransferase is similarly missing in seven of the Euryarchaeota studied.
A number of duplicate genes (especially purF and purP) have been identified, but a biochemical or regulatory explanation for these duplications has not been established. Widespread duplication implies some selective advantage, particularly when it appears in organisms with relatively small genomes. Although an isolated case of duplication in closely related species (such as purN in M. barkeri and M. acetivorans) may be a random occurrence, gene duplications that occur across a range of less-related species merit further investigation, as they presumably serve a specific function in the organisms that have retained them.
We generally observed the same pattern of gene distribution across sequenced organisms in the same order, but more distantly related organisms exhibit phylogenetic patterns not entirely consistent with accepted archaeal phylogeny. For instance, we observe orders within both the Euryarchaeota and the Crenarchaeota that have purT and others orders that use purN. Likewise, within the Euryarchaeota, we have orders that have purO and purP, bifunctional purH, a single domains of purH with either purO or purP, and those that have purP but neither purH2 nor purO. If we accept that the archaeal phylogeny is largely correct, the implication of this distribution pattern is that the last archaeal common ancestor contained a complete purine biosynthesis pathway, with numerous gene loss or gene transfer events occurring. The distribution of genes is largely consistent with Makarova and coworkers' conservative estimate of the gene content of the last archaeal common ancestor [69], although we suspect that the last archaeal common ancestor had at least one GAR formyltransferase (PurN and/or PurT), with patchy loss or gain to produce the pattern presently observed in the Crenarchaeota and Euryarchaeota.
Finally, we must ask: Can humans improve upon automated annotations? As shown in Table 1, the majority of gene product names and E. C. numbers assigned in IMG for predicted proteins involved in purine biosynthesis are correct, despite many having been assigned by automated or semi-automated processes. However, there is room for improvement, especially in the case of multiple-domain proteins, which were susceptible to under-annotation, with the protein assigned the name and E. C. number for only a single domain, and over-annotation, with some proteins assigned names and E. C. numbers for domains that were not present.
We also detected problems with names and E. C. numbers assigned to predicted proteins that were similar to known enzymes but that lacked the active site residues believed to be required for function. These annotations were especially suspect in organisms containing two candidates for a particular enzyme, with both candidates typically being assigned the same enzyme name. Assignment of a highly specific enzyme name to a predicted protein that neither contains the expected active site nor is the bidirectional best hit for that enzyme is questionable at best. Assignment of specific functions based on low quality evidence carries the risk that future annotations will propagate that name to an entire subclass of proteins without the named activity. We believe that the subsystems approach [12], with expert annotators (whether computers or humans) working on specific pathways across a number of genomes can substantially improve the quality of gene annotations.
Methods
Organisms
Fully sequenced, non-draft archaeal genomes available in IMG (as of May 2010) were considered. Organisms studied are listed in Tables 1 and 2. Gene codes used in Additional File 1 and throughout the paper are the locus tags available through IMG [70]. The analysis was further limited to the single M. maripaludis, Sulfolobus islandicus, and S. solfataricus cultivars listed in Figures 2, 3 and Additional File 1.
Identification of gene candidates
Except where otherwise noted, gene candidates were identified using the BLAST search tool provided through the Joint Genome Institute's IMG site http://img.jgi.doe.gov, with results limited to the selected fully-sequenced archaea. Known purine biosynthesis enzymes from E. coli, B. subtilis, or characterized archaeal enzymes (such as M. jannaschii PurP and PurO) were used as input sequences for the BLAST searches. Where the archaeal sequences were only distantly related to the starting enzyme sequences, sequential BLAST searching was performed to identify additional gene candidates. Sequence alignments produced with IMG's built-in Clustal tool or with ClustalX, version 2.0.12 [71], were inspected manually for added or missing domains and conserved residues.
The DNA sequences flanking the purF-like genes Mthe_0230 and CENSYa_1910 were retrieved from the UCSC Archaeal Genome Browser [72] and translated after problems with the predicted protein sequence available through both this source and IMG were detected.
Phylogenetic trees
The amino acid sequence of MJ0136 was used to identify PurP-like sequences using IMG's BLAST tool, as described above. Sequences were aligned with ClustalX, version 2.0.12 [71], followed by removal of regions of low sequence conservation and dubious alignment using SeaView [73]. Phylogenetic trees were generated from the aligned sequences using PhyML [74, 75] with the JTT substitution model, an estimated proportion of invariable sites, and an estimated gamma distribution parameter. Bootstrapping was performed using 100 data sets, generated with the same parameters. Phylogenetic trees were drawn from the PhyML output using Dendroscope [76]. Phylogenetic trees are provided in Additional File 2. Sequence logos were created with WebLogo [77].
Error analysis
We evaluated the "Gene Product Name" as exported from IMG's gene cart and any E. C. number exported as part of the gene product name for discrepancies between these assignments and our manual curation. We classified a Gene Product Name as erroneous when it clearly applied to a different enzymatic reaction. Minor typographical errors were not considered errors in this analysis. Gene symbols were evaluated when they were not blank and did not duplicate the locus tags. Because it was not possible to distinguish between typographical errors and true errors in the gene symbol field or E.C. number, any discrepancy in these fields was counted as an error. Other fields containing enzyme names and E. C. numbers available in IMG were not considered in the error analysis. Additional details of the error analysis are available in Table 3.
Reviewer comments
Reviewer #1: Dr. Céline Brochier-Armanet, Aix-Marseille Université, France
In their paper, Brown et al. present an exhaustive and in-depth investigation of the purine biosynthesis pathway in Archaea. Starting from experimentally-characterised enzymes they identified homologues in 65 archaeal genomes using best-reciprocal blast hits and a "guilty by association" strategy. The authors show that 58 archaea harbour a nearly complete purine biosynthesis pathway suggesting that only slight variations occurred from a canonical pathway that was present in the ancestor of Archaea. Moreover, they highlight the absence of important enzymes in some genomes harbouring a nearly complete purine biosynthesis pathway suggesting that some enzymes have been replaced in some genomes by non-homologous enzymes or that some steps of the pathway are bypassed. Based on this analysis the authors have re-annotated some genes and identified new putative enzymes.
I think that this contribution is of great interest to the community working on the archaea and more generally to microbiologists. However, I have a few general comments on the manuscript. My main concern is that the paper is not easy to read because of the important amount of information/data presented. Unfortunately this may discourage non-specialist readers despite the interest of the subject.
For instance, the paper would have benefited from a longer introduction presenting current knowledge on purine biosynthesis in the three domains of life and its connection with histidine biosynthesis. In the current version of the manuscript the pathway is only presented progressively along the result/discussion section. In fact, without minimal starting information about the pathway the reading of the results section is very hard. Moreover a brief overview of the archaeal phylogeny (illustrated by a reference phylogenetic tree) must be provided to the readers that are not familiar with the archaeal domain (Tables 1 and 2 are not sufficient).
Author's response
We thank the reviewer for these helpful comments. We have expanded the introduction, hopefully improving the accessibility of the manuscript to non-specialist readers. We have also added a taxonomy-based phylogenetic tree to Figures 2, 3, to give the reader some indication of the relationships between these organisms.
Second, I think that systematic phylogenetic investigation of each enzyme would have been of great interest. Indeed, if the presence of each enzyme in most archaeal genomes may suggest a vertical inheritance of this pathway from the last common ancestor of this domain, it would have been interesting to have a better picture of the duplication, loss and horizontal gene transfer events that have affected the evolutionary history of these genes. For instance, this would allow discriminating between the two types of purE, determining if purO and purP have been co-transferred with purC in the two thermococci that harbour two copies of purC, determining precisely the origin of purU in Halobacteriales and Thaumarchaeota, etc. Therefore I encourage the authors to provide phylogenetic trees of the mainly discussed enzymes as figures and to provide other phylogenetic trees as supplementary material. This would provide a more precise picture of the evolution of this pathway and greatly increase our knowledge of archaeal evolution.
Author's response
We have added phylogenetic trees for all proteins in Additional File 2, along with some further discussion of these trees in the manuscript body.
Third, the paper lacks of a few illustrations summarizing the main results. For instance, the authors should map the identified enzymes on a reference archaeal phylogeny in order to provide a synthetic overview of their results. Similarly, a figure showing the genomic organisation of genes involved in purine biosynthesis would surely be appreciated by the reader (see for instance (Desmond et al. 2007)).
Author's response
We have made the recommended addition of a phylogenetic tree to Figures 2, 3. We have not produced figures showing genomic organization due to the difficulty of showing up to 18 genes (many not located in operons) for 65 organisms in any printable format.
Reviewer #2: Dr. Kira S. Makarova, NIH, NLM (nominated by Dr Eugene Koonin, NIH, NLM)
This paper presents a detailed description of proteins involved or thought to be involved in purine biosynthesis in archaea. After reading the paper I have an impression that this is meant to be a guideline for annotation of these proteins in archaeal genomes. This guideline comes from one of the most competent group of researchers in the field of archaeal biochemistry and therefore their description of these proteins is absolutely accurate and the paper will be very helpful for correction of automatic pipelines for protein annotation. This being said I would rather suggest the authors instead of writing a separate paper for a particular pathway to develop and maintain a database of the enzymes involved or implicated in archaeal central metabolism (and publish it in a NAR database issue). Such a database could be directly linked to the annotation pipelines and considerably improve the future genome annotation or reannotation of the previously submitted genomes.
Author's response
We thank the reviewer for her kind comments about our accuracy and for additional very helpful comments that have improved this manuscript. A database focused on archaeal metabolic pathways is an interesting alternative, although a database just for purines strikes us a bit too specialized to be generally useful. To some extent, the proposed database would duplicate the information already available, such as in SEED and NMPDR. One of us (CAS) is working to get our new and corrected annotations into IMG.
I do not find useful the report about the number of errors in the enzyme annotation - it is a well-known problem. As the understanding, that the best annotations are produced manually by experts. On the other hand it is quite hard to find a formal approach to analyze and compare scientifically the number of errors since there is no common rules for genomes annotation, no widely-accepted "golden standard" to compare with and the fact that even the results of manual annotation still depend on the parameters of sequence similarity detection procedure and a database content, not even mentioning the constantly changing status of the knowledge in the field. Thus in this respect the whole part of the paper concerning these errors can be only considered as an opinion.
Author's response
We agree that there is some opinion in determining what is an error in the absence of experimental characterization. We have added more explicit information to the manuscript about what we counted as an error. Even in the presence of experimental characterization, there is the question of what to do with negative results. Is the enzyme inactive because it is being tested for the wrong function, or simply because it needs another protein partner to exhibit measurable activity? We believe that the presence of obvious errors in a major database on a "well-understood" pathway merits further discussion, even if differences in error calling will of course result in different percentages.
I also had a hard time to understand from the abstract what was exactly the focus (if any) of the paper or do authors believe that they report results of any original research (if so what it is?). Since I consider this paper as an annotation guideline I am hesitant to ask authors to justify scientifically (meaning the reconstruction of phylogenetic trees for all the genes in question and comparison of maximum likelihood estimates of alternative evolutionary scenarios) some conclusions from the abstract like, for example: "The patchy distribution of purine biosynthesis in archaea is consistent with a pathway that has been shaped by horizontal transfer, duplication, and gene loss", which I would do for a paper reporting an original research result.
Author's response
As described above, we have provided more information on the phylogeny of these proteins as Additional File 2. We hope you will agree that careful (re-)annotation of a pathway of this size and with this level of variability is a substantial undertaking. This work is, indeed, more descriptive than most manuscripts. We hope it will serve the community by identifying parts of the pathway that merit experimental characterization and also enzymes whose annotation is not well-supported and thus might be reasonably tested for novel functions for which an enzyme candidate has not been proposed.
Reviewer #3: Dr. Michael Galperin, National Center for Biotechnology Information, NIH
This reviewer provided no comments for publication.
Acknowledgements and funding
CAS was supported by a grant from the Jeffress Memorial Trust, J-870, and by a Cottrell Single Investigator Research Award, 19885. AMB and SLS received summer support from a Roanoke College Bondurant Scholarship. RHW was supported by a National Science Foundation grant, MCB-0231319.
Authors' Affiliations
(1)
Department of Chemistry, Roanoke College, Salem, USA
(2)
Department of Biochemistry, Virginia Polytechnic Institute and State University, Blacksburg, USA
(3)
Department of Cell and Molecular Physiology, University of North Carolina at Chapel Hill, School of Medicine, Chapel Hill, USA
Copyright
© Brown et al; licensee BioMed Central Ltd. 2011
This article is published under license to BioMed Central Ltd. This is an Open Access article distributed under the terms of the Creative Commons Attribution License (http://creativecommons.org/licenses/by/2.0), which permits unrestricted use, distribution, and reproduction in any medium, provided the original work is properly cited.