Energetics and genetics across the prokaryote-eukaryote divide
Received: 13 March 2011
Accepted: 30 June 2011
Published: 30 June 2011
Abstract
Background
All complex life on Earth is eukaryotic. All eukaryotic cells share a common ancestor that arose just once in four billion years of evolution. Prokaryotes show no tendency to evolve greater morphological complexity, despite their metabolic virtuosity. Here I argue that the eukaryotic cell originated in a unique prokaryotic endosymbiosis, a singular event that transformed the selection pressures acting on both host and endosymbiont.
Results
The reductive evolution and specialisation of endosymbionts to mitochondria resulted in an extreme genomic asymmetry, in which the residual mitochondrial genomes enabled the expansion of bioenergetic membranes over several orders of magnitude, overcoming the energetic constraints on prokaryotic genome size, and permitting the host cell genome to expand (in principle) over 200,000-fold. This energetic transformation was permissive, not prescriptive; I suggest that the actual increase in early eukaryotic genome size was driven by a heavy early bombardment of genes and introns from the endosymbiont to the host cell, producing a high mutation rate. Unlike prokaryotes, with lower mutation rates and heavy selection pressure to lose genes, early eukaryotes without genome-size limitations could mask mutations by cell fusion and genome duplication, as in allopolyploidy, giving rise to a proto-sexual cell cycle. The side effect was that a large number of shared eukaryotic basal traits accumulated in the same population, a sexual eukaryotic common ancestor, radically different to any known prokaryote.
Conclusions
The combination of massive bioenergetic expansion, release from genome-size constraints, and high mutation rate favoured a protosexual cell cycle and the accumulation of eukaryotic traits. These factors explain the unique origin of eukaryotes, the absence of true evolutionary intermediates, and the evolution of sex in eukaryotes but not prokaryotes.
Reviewers
This article was reviewed by: Eugene Koonin, William Martin, Ford Doolittle and Mark van der Giezen. For complete reports see the Reviewers' Comments section.
Keywords
Genome Size
Lateral Gene Transfer
Metabolic Power
Eukaryotic Evolution
Energetic Constraint
Background
We used to think that if we knew one, we knew two, because one and one are two. We are finding that we must learn a great deal more about 'and'. Sir Arthur Eddington (1882-1944)
The origin of the eukaryotic cell was a unique event
There is little doubt that all known eukaryotic cells share a common ancestor that arose only once in four billion years of evolution. Common traits range from the conserved position of many introns [1], to the structure of nuclear pore complexes [2], to complex traits such as syngamy and two-step meiosis [3]. It is implausible that all of these shared properties arose by lateral gene transfer (which is inherently asymmetric in mechanism) or convergent evolution (which implies that traits like intron position are dictated by selective constraints, rather than historical contingency). Common ancestry is much the most parsimonious explanation.
However, a single ancestor is perfectly consistent with multiple origins if all 'protoeukaryotic' lines arising later were driven to extinction by fully-fledged eukaryotes already occupying every niche, and if all earlier protoeukaryotes were displaced by modern eukaryotes (or fell extinct for some other reason). This cannot be addressed phylogenetically, as any phylogenetic evidence for their existence is lost. Nor is the fossil record any help. It is hard to distinguish between eukaryotic and prokaryotic microfossils let alone prove the existence of extinct lines of protoeukaryotes. While asserting the unprovable existence of extinct lines of eukaryotes is unsatisfying, if not unscientific, extinction is commonplace, and the argument seems, on the face of it, irrefutable.
But there are several reasons to doubt that prokaryotes have repeatedly given rise to more complex 'protoeukaryotes', which were ultimately all driven to extinction by modern eukaryotes that came to occupy every niche. The periodic mass extinctions of plants and animals, followed by evolutionary radiations of hitherto suppressed groups, are not characteristic of microbial evolution-such radiations explore morphological, not metabolic, space. Moreover, large animals and plants generally have tiny populations in comparison with microbes, and cannot acquire life-saving genes by lateral gene transfer, making animals and plants much more vulnerable to extinction. The continuity of global geochemical cycles over three billion years [4] shows that no major prokaryotic group has been driven to extinction, not even methanogens and acetogens, the most energetically tenuous forms of life. The abundance of apparently parallel niches [5] suggests that extinction is not the rule. Archaea, once believed to be restricted to extreme environments such as hydrothermal vents and salt flats, are common in temperate oceans [6], whereas eukaryotes, long thought to be excluded from extreme environments by their delicate constitutions, are in fact abundant in anoxic conditions [7] and in rivers contaminated with heavy metals [8]. Picoeukaryotes compete directly with prokaryotes in many environments [9], yet neither group has fallen extinct. Extinction seems too facile an explanation to account for fact that all complex life on Earth shares a common ancestor that only arose once. If indeed many other independently arising lineages of protoeukaryotes all fell extinct, more persuasive reasons are needed than simple displacement by more competitive modern eukaryotes.
The existence of a diverse group of morphologically simple eukaryotes that occupy an intermediate niche between prokaryotes and more complex protists refines this point. Described as archezoa by Cavalier-Smith in the 1980s [10, 11], the group was seen as primitively amitochondriate protoeukaryotes, living fossils of the prokaryotic-eukaryotic transition [12, 13]. Genetic and morphological studies, however, revealed that all known archezoa possessed mitochondria in the past, and lost them via reductive evolution to specialised organelles called hydrogenosomes and mitosomes [14–17]. This is significant in terms of extinction. There are at least 1000 species of simple protist that lack mitochondria, yet all of them evolved by reductive evolution from more complex ancestors, rather than evolving 'up' from more simple prokaryotes. Considered purely in terms of chance, the likelihood of this is around one in 10300 against. Allowing for independent phylogenetic origins on a more realistic 20 separate occasions, the probability is still one in a million. This pattern is unlikely to be chance. Either there was a competitive advantage to reductive evolution (but if so, why should complex aerobic protists displace anaerobic specialists by becoming more like them?) or there was heavy selection against prokaryotes evolving greater morphological complexity. That seems to be true.
Prokaryotes show no tendency to evolve greater morphological complexity
Despite their metabolic virtuosity, living prokaryotes are barely distinguishable from 3-billion year old microfossils in their morphological appearance [18]. At a molecular level there is no obvious reason for this limitation: bacteria made a start up every avenue of complexity, but then stopped short. There are prokaryotic examples of straight chromosomes [19], DNA recombination [20], multiple replicons [21], introns and exons [22], extreme polyploidy [23], nucleus-like structures [24], internal membranes [25], giant size [26], dynamic cytoskeleton [27], predation [28], parasitism [29], intercellular signalling [30], endocytosis [31], even endosymbionts [32, 33]. What prokaryotes lack is the characteristic eukaryotic accumulation of all of these traits at once, typically in much larger cells with complex internal compartments and intracellular transport networks, all encoded by genomes that range freely from bacterial size up to scores of Gigabases, even in protists [34]. The absence of real morphological complexity in bacteria is plausibly ascribed to the dominant mode of prokaryotic evolution: prokaryotes are streamlined by selection for small genomes and fast replication, quickly losing unnecessary genes, and frequently acquiring new genes from the metagenome, when needed, by lateral gene transfer [35, 36].
But why are eukaryotes not equally subject to heavy selection for streamlining? Some are, certainly, but many are not, and most eukaryotic streamlining appears to be secondary. Population geneticists ascribe the accumulation of genes in eukaryotes to reduced purifying selection in small populations [37]; but if so, why don't smaller populations of prokaryotes accumulate larger genomes for exactly the same reasons? If the constraint was circular chromosomes [38] why didn't bacteria with straight chromosomes and multiple replicons become complex? If phagocytosis was the critical step [39, 40], what stopped wall-less prokaryotes with an incipient capacity for endocytosis (protein uptake) and dynamic cytoskeletons from evolving true complexity? This is ultimately a question about the nature of natural selection. If traits such as the nucleus, phagocytosis and meiotic sex evolved by natural selection acting on ordinary mutations in large or small populations of prokaryotes, and each step offered an advantage, then why did the same traits not evolve repeatedly in prokaryotes, as did the eye [41] in eukaryotes? As noted already, there is no reason to suppose that such protoeukaryotes should have been driven to extinction by more competitive modern eukaryotes; rather, prokaryotes just seem to have no proclivity to explore morphological space.
Eukaryotes originated in an endosymbiosis between prokaryotes
The fact that all eukaryotic cells either have, or once had, mitochondria, means that the acquisition of mitochondria by some host cell was at the very least an early event in eukaryotic evolution. And large scale, genome-wide phylogenetic studies [42–46] suggest that an endosymbiosis between prokaryotes might well have been the singular event that broke the eternal loop of prokaryotic simplicity.
There is little doubt that the ancestor of the mitochondria was a free-living bacterium, probably most closely related to α-proteobacteria [47] (whatever they were 1.5-2 billion years ago), but its metabolic capabilities are uncertain and disputed [48]. However, given the ubiquitous phylogenetic distribution of anaerobic mitochondria and hydrogenosomes across all the eukaryotic supergroups [49], the most parsimonious answer is that the mitochondrial ancestor was a metabolically versatile, facultatively anaerobic bacterium, perhaps similar to Rhodobacter [50].
The identity of the host cell is even more contentious [
51
,
52
]. Most large-scale genomic analyses point to a
bona fide
prokaryote, an archaeon of some sort [
42
–
46
], albeit not falling clearly into any modern group, so again its metabolic capabilities are unknown. It is therefore difficult to reconstruct the relationship between the endosymbiont and host cell by phylogenetics alone. A common argument against this scenario (an endosymbiosis between two prokaryotes) is that one prokaryote could not have gained entry to another except through phagocytosis. This argument is refuted by two known examples of prokaryotic cells living within other prokaryotes [
32
,
33
] (Figure
1
)--plainly it is possible, even if extremely uncommon. Indeed, the very improbability of such an event helps to explain the unique origin of eukaryotes [
53
]. (It should also be noted that endosymbionts are also known in fungi, despite the fact that fungi are no more phagocytic than bacteria [
54
].)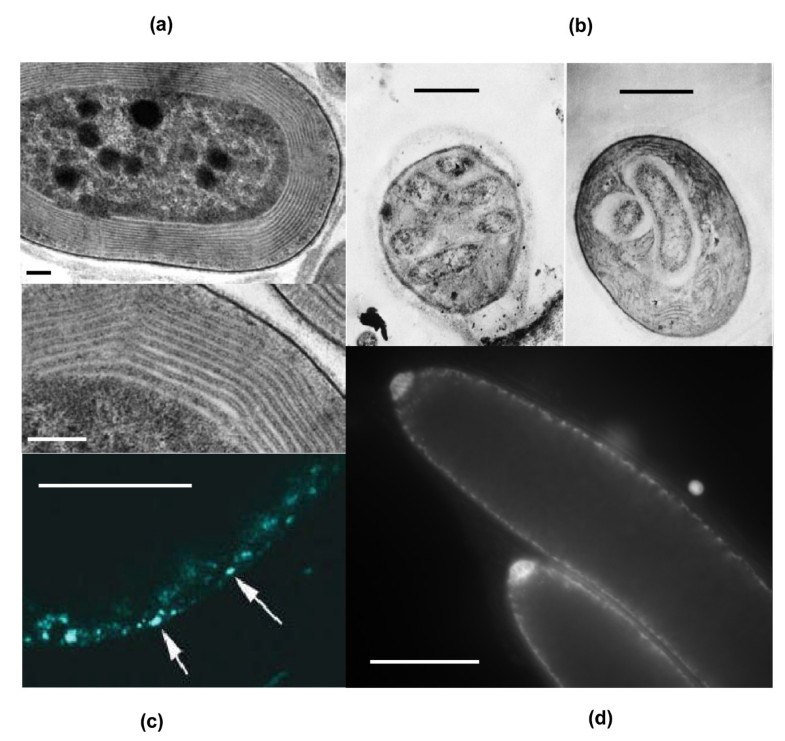 Because phylogenetics cannot presently constrain the identity of either host cell or endosymbiont, it cannot give a clear insight into eukaryogenesis--the crossing of that deep gulf between prokaryotes and eukaryotes. One cell inside another cell may have broken the eternal prokaryotic loop, but this situation is far removed from the morphological complexity of even the simplest eukaryotic cell. Is it possible to gain an insight into what happened next without the aid of phylogenetic reconstruction?
Cell fusions best explain the accumulation of eukaryotic traits
Any hypothesis for the origin and evolution of eukaryotes must explain why prokaryotes show little tendency to evolve morphological complexity; why the Last Eukaryotic Common Ancestor, LECA, was morphologically complex; and why no true evolutionary intermediates exist, despite the niche being viable, and indeed filled with thousands of simple protists [
10
,
11
]. Prokaryotes and eukaryotes both speciate profligately, meaning that genetic variation falls into innumerable discrete clusters, which correspond to species as defined by Darwin and elaborated by Mallet [
55
]. Despite this universal tendency to vary and diverge, there was no successful speciation across the prokaryote-eukaryote transition. That is to say, there are no surviving evolutionary intermediates--no 'early branching' species, equivalent to the discredited archezoa, despite the great evolutionary distance crossed. If the arguments marshalled here are correct, the trigger, or starting point, for eukaryogenesis was an endosymbiosis between prokaryotes: a prokaryote within a prokaryote, lacking a nucleus or any of the other signature eukaryotic traits. In contrast, LECA was recognizably eukaryotic, with a nucleus, straight chromosomes, introns and exons, a cell cycle, meiosis and mitosis, dynamic cytoskeleton, motor proteins and intracellular transport mechanisms, endomembrane systems and mitochondria. All of these traits apparently evolved in a population of cells that never diverged to form a successful early-branching species. There are no evolutionary intermediates with a nucleus but no endoplasmic reticulum, or mitochondria but no nucleus, or a dynamic cytoskeleton but no meiosis. Over this long evolutionary distance, the prokaryote-eukaryote transition, the tree of life is neither a branching tree nor a reticular network, but what amounts to an unbranching trunk (Figure
2
).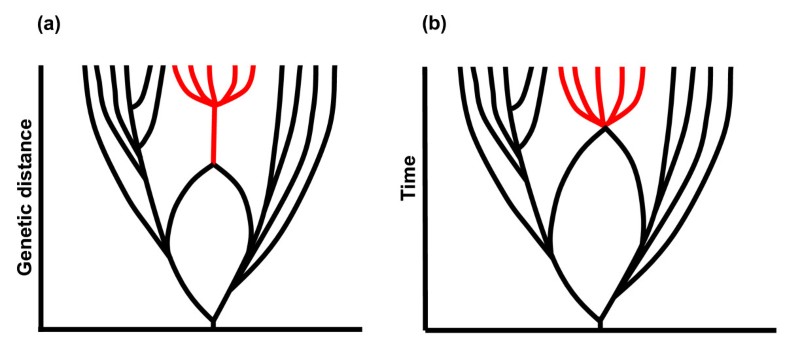 Only certain forms of inheritance could begin to explain such a trunk. Being inherently asymmetric, lateral gene transfer surely cannot explain the universality of eukaryotic basal traits: it is far more likely to give rise to the pattern that is actually seen in prokaryotes, in which different species possess different traits, and none possesses them all. But reciprocal sex (or some form of cell fusion) can readily explain the accumulation of eukaryotic traits. If so, then sex must have arisen very early in eukaryotic evolution, as is borne out by phylogenetic analyses [56–58]; but here this is a logical inference, not an observation.
Likewise, the evolution of eukaryotes must have been rapid, in a small population. If the population had been large, the individual cells should have been successful (stable and viable) and should have become structured in space. Spatial structuring of stable populations should have led to divergence and speciation, at least some of which ought to have permanently occupied the 'archezoan niche' (that filled by morphologically simple, 'primitive' eukaryotes). They did not, despite the viability of the niche, so the population must have been small. For similar reasons, evolution had to be fast. If the pace of evolution was slow, the individual cells should have been successful (stable and viable) and so should have become structured in time and space: they should have undergone speciation. The fact that they did not again implies instability. Finally, the requirement for sex also implies that the population was small; large stable populations should speciate, as indeed happened immediately after the crystallization of LECA, with a near-immediate radiation of the eukaryotic supergoups [2]. These surmises are consistent with calculations based on intron density, which also suggest a tight bottleneck at the origin of eukaryotes [59].
It is thus likely that eukaryotes evolved from a small population of prokaryotes with endosymbionts: unstable, rapidly evolving, protosexual cells. These circumstances enabled the ubiquitous acquisition of traits, but for some reason, unlike bacteria, there was little selection pressure to lose them again.
Mitochondria solve the riddle of eukaryotic origins
I shall argue in this paper that a singular event--the acquisition of mitochondria--transformed the selection pressures acting on the prokaryotic host cell. Mitochondria and specifically mitochondrial genes, enabled the surface area of bioenergetic membranes to be increased over several orders of magnitude, which in turn permitted expansion of the host cell genome capacity over several orders of magnitude [34]. That lifted the ceiling on prokaryotic genome size, eliminating the selection pressure to lose genes, but did not drive the accumulation of genes; it was permissive, not prescriptive. Two factors did drive the expansion of eukaryotic genomes, and I shall argue that both were linked to the bombardment of DNA from the mitochondria to the host cell: first, the host cell acquired bacterial genes by standard nonhomologous recombination without any requirement to lose them again; and second, the bombardment of mitochondrial DNA produced a high mutation rate, which was offset by cell fusion and masking with new genes--the origin of sex.
Conclusions
All complex life on Earth is eukaryotic, and eukaryotes arose just once in four billion years of evolution, via a singular endosymbiosis between prokaryotes. The acquisition of bacterial endosymbionts by a prokaryotic (archaeal) host cell is an extremely rare occurrence, albeit there are known examples in walled prokaryotes in the absence of phagocytosis [32, 33]. Cytoplasmic inheritance of endosymbionts is the only mechanism able to solve the scaling problems faced by prokaryotes expanded to eukaryotic genome size and cell volume. Prokaryotes can be expanded to eukaryotic volume via extreme polyploidy [23], but cytoplasmic inheritance is strictly necessary for energetic expansion, as it alone enables the loss of the vast majority of endosymbiont genes, while retaining the few genes needed to maintain control over oxidative phosphorylation across a wide membrane area [34]. This extreme genomic asymmetry is in fact diagnostic of eukaryotes, and enabled the expansion of both bioenergetic membrane surface area and genome size over several orders of magnitude.
This bioenergetic expansion was permissive, not prescriptive. The actual increase in eukaryotic genome size was mainly driven by the bombardment of genes and introns from endosymbionts, which caused a high mutation rate, breaking the circular prokaryotic chromosomes into straight eukaryotic chromosomes [111]. Cell fusions and genome doublings were made feasible by a combination of the loss of the cell wall (no longer needed in the presence of a dynamic intracellular cytoskeleton) and relief from the heavy prokaryotic selection pressure to lose genes and DNA. By masking mutations and enabling a functional cell cycle, cell fusions and genome doublings laid the foundations of the eukaryotic sexual cell cycle. The major side effect of the protosexual cell cycle was the accumulation of all basal eukaryotic traits in a single population, giving rise to the LECA, utterly different in its genetic and morphological makeup to all known prokaryotes. The perspective developed here explains why the eukaryotic cell arose just once in 4 billion years of evolution; why there are no surviving evolutionary intermediates between prokaryotes and eukaryotes; why eukaryotes are morphologically complex and share many common traits; and why reciprocal sex arose in eukaryotes but not in prokaryotes. All these unexplained features of the prokaryote-to-eukaryote transition unfold in effortless inference as highly plausible consequences of an endosymbiosis between prokaryotes.
Declarations
Acknowledgements
I would like to thank Bill Martin, George Zhang and Mike Murphy for valuable discussions, and Ana Hidalgo, Don Braben, Frank Harold and John Allen for helpful comments on the manuscript. I am indebted to the UCL Provost's Venture Research Fellowship for funding.
Authors' Affiliations
(1)
Department of Genetics, Evolution and Environment, University College London, London, UK
Copyright
© Lane; licensee BioMed Central Ltd. 2011
This article is published under license to BioMed Central Ltd. This is an Open Access article distributed under the terms of the Creative Commons Attribution License (http://creativecommons.org/licenses/by/2.0), which permits unrestricted use, distribution, and reproduction in any medium, provided the original work is properly cited.