The struggle for life of the genome's selfish architects
Received: 25 August 2010
Accepted: 17 March 2011
Published: 17 March 2011
Abstract
Transposable elements (TEs) were first discovered more than 50 years ago, but were totally ignored for a long time. Over the last few decades they have gradually attracted increasing interest from research scientists. Initially they were viewed as totally marginal and anecdotic, but TEs have been revealed as potentially harmful parasitic entities, ubiquitous in genomes, and finally as unavoidable actors in the diversity, structure, and evolution of the genome. Since Darwin's theory of evolution, and the progress of molecular biology, transposable elements may be the discovery that has most influenced our vision of (genome) evolution. In this review, we provide a synopsis of what is known about the complex interactions that exist between transposable elements and the host genome. Numerous examples of these interactions are provided, first from the standpoint of the genome, and then from that of the transposable elements. We also explore the evolutionary aspects of TEs in the light of post-Darwinian theories of evolution.
Reviewers
This article was reviewed by Jerzy Jurka, Jürgen Brosius and I. King Jordan. For complete reports, see the Reviewers' reports section.
Keywords
Transposable Element
Long Terminal Repeat
Cluster Regularly Interspaced Short Palindromic Repeat
Transposable Element Insertion
Transposable Element Sequence
Background
For a century and half, from the publication of "On the Origin of Species by Means of Natural Selection, or the Preservation of Favoured Races in the Struggle for Life" by Darwin [1] to the present day, thinking about evolution has not drastically changed, but it has itself "evolved" by taking on board new insights, and all the fresh data arising from the last 30 years of molecular biology [2]. This review focuses on the changes that have resulted from advances in our knowledge about the biology of transposable elements.
At the time Darwin published his Origin of Species, chromosomes, DNA, genes, and heredity mechanisms were all totally unknown. There was considerable progress in all these domains during the 20th century, which corresponds to the golden age of genetics. From Mendel to Watson and Crick, via Morgan and Weismann, Darwinian theory has evolved and successively integrated the laws of inheritance (neo-Darwinism), and then biometric, populational, ecological concepts (the modern synthesis, established between the 1930s and 1940s by Fisher, Wright, Haldane, Dobzhansky, Mayr, and Simpson among others), and finally the molecular dimension (Kimura's neutral evolution theory, Pauling and Zuckerkandl's molecular clock concept). However, the core of Darwin's theory has never really been successfully challenged.
The second part of the 20th century was dominated by a fresh and powerful discipline, molecular biology, which claimed to explain the nature of life. This was dominated by a central dogma, which was rooted in the chromosomal theory of heredity, and the deciphering of the structure of DNA. The genome was envisaged as a stable structure consisting of DNA, from which switchable genes would transfer the genetic information necessary for the development or the survival of the organism to the relevant proteins. This idea held sway for many years, before it too was revealed to be an oversimplification of how genetic information is transferred [3].
At the onset of this exciting period, around 1944 at Cold Spring Harbor, the brilliant maize geneticist Barbara McClintock was using cytogenetic tools borrowed from Drosophila techniques, and was patiently investigating an odd phenomenon of chromosome breakage and fusion. Her painstaking observations and rigorous experiments led her to postulate the existence of a locus with a controlling element that was able to modify the expression of a gene at another locus. Subsequently she found that there were in fact several of these controlling loci, which were normally in a silent state, but which could occasionally be activated following genomic stress, such as a double-strand break. Moreover, the controlling locus was able to change its chromosomal location. She called this system Ac/Ds (for Activator/Dissociation), and designated the associated phenomenon of relocation "transposition". The first transposable element (TE) had been discovered, thus providing both the very first evidence of the impact of TEs on gene regulation, and the first indication of TE regulation by the genome.
From incredulity to inescapability
The history of TEs is much shorter than the history of the theory of evolution: it is less than 70 years since Barbara McClintock first reported the existence of controlling elements. However, even though her discoveries were rigorously supported by experimental data it took much longer for McClintock's findings to gain acceptance than it had for Darwin's theory. Basics of Darwin's theory relied on common sense, and it was clearly its implications for evolution and the origin of the human species that aroused his virulent detractors. McClintock discovered transposable elements at a time dominated by the idea of genetic stability, which appeared to be essential for transmission to descendants, and for the conservation of species characteristics. The concept of genetic stability had emerged after Mendel's laws, and was later reinforced by discoveries such as the structure of DNA, and the regulation of bacterial genes. The established view of a static genome seemed to be unquestionable. Her work aroused a reception that may have been less hostile than that of Darwin's detractors, but her work was not understood, and gave rise to incredulity, rejection and sarcasm [4]. This lasted for several years and indeed decades, until the identification of similar elements in other genomes [5] began to win round the wider scientific community. Eventually the transposition of DNA fragments was demonstrated using the tools of molecular biology. In 1983 Barbara McClintock was finally awarded with the Nobel Prize for her discovery of transposable elements.
It is now no longer possible to ignore TEs. The impact of TE-derived sequences in regulating genes needs no further proof. Everyone accepts that genomes are quite flexible or plastic entities, that they are riddled with TEs, and that TEs affect both gene regulation and the composition and structure of the genome. The depiction of the genome as a linear succession of genes and the dogma of its stability have been replaced by a dominant view of a functional genome as a complex network of genetics, epigenetics, and cell interactions, in which TEs and other structural or functional elements are involved. 25 years after McClintock's Nobel Prize, have we fully embraced the full extent and diversity of the influence of TEs, notably in genome evolution?
The astonishing properties of jumping genes
TEs possess two main characteristics that distinguish them from other genomic components. They are mobile, so able to change their genetic environment, and by doing this they also change the genetic environment of the locus into which they insert. Since they have the intrinsic ability to multiply during the transposition process, they are almost inevitably repeated, with a virtually unlimited copy number, restricted only by the carrying capacity of their environment i.e. the genome. Hence they are simultaneously part of the genome and independent entities living their own life within the genome, in a way that reminds Dawkins' selfish gene [6].
How can TEs be integrated as a major evolutionary factor in Darwinian theory? How do TEs influence genome evolution, and how does genome evolution influence TEs? Do they exploit the genome? Are they exploited by the genome? Are they parasites of the genome or part of it? What would evolution and life have been like without them? The answers are complex, because the interactions between TEs and their host genomes are complex. In this review we attempt to propose some clues to the answers to these questions. Some of the properties described below show how TEs fit in with the most recent developments in evolutionary theory.
1 - TEs are a major factor in evolution because they are an important source of variability
Mutations caused by TEs are diverse, ranging from small-scale nucleotide changes (i.e. excision footprint) to large chromosome rearrangements, including epigenetic modifications. Although TEs are mobile, the nucleotide (or epigenetic) changes resulting from their transposition can persist, being transmitted through generations and through populations.
2 - TE insertions are subject to natural selection
In a population, deleterious insertions (i.e. ones that reduce the host's fitness) will tend to be eliminated, whereas neutral and advantageous effects may be maintained, as are some other polymorphisms/mutations. This selection process occurs in the context of competition between individuals (genomes), but of course TE-associated genetic variation is also subject to other evolutionary forces, such as genetic drift or migration.
3 - TEs multiply independently within the genome and consequently evolve more or less independently of the genome
In addition to this competition between individuals or genomes harboring TEs, competition also exists between TE copies that inhabit the same genome. TEs that are able to produce more copies have better chance of invading the genome and the population than those that rarely duplicate. Hence the dynamics of TEs includes two levels: an intra-genomic level, and an intra-population one. Furthermore, TEs frequently generate defective copies that behave like parasites towards the autonomous copies. Hence population genetics and ecological principles can be applied to a TE population within a genome. From this point of view, TE copies can be viewed as analagous to individuals, TE families to species, and genomes to ecological niches. Non-autonomous elements are assimilated to parasites. TEs can also occasionally transfer horizontally from one species to another. From the ecological point of view, horizontal transfer (HT) corresponds to the colonization of a new ecological niche. For the TEs, it constitutes another way to ensure survival.
4 - TEs are involved in close interactions with the genome
Numerous long-standing and complex interactions have developed between TEs and host genomes, as a result of an arms race or of molecular domestication. Epigenetic phenomena may have evolved from ancient defense mechanisms set up by the genome to defend itself against foreign DNA (viruses or TEs). TEs may have evolved auto-regulation processes in order to limit the deleterious effects of uncontrolled transposition bursts. Genomes may have recurrently recruited TEs, parts of TEs, or TE-derived enzymatic or structural functions for its own purposes, drawing primary materials and ready-to-use tools from the numerous sequences comprising the TE.
The original vision of TEs as genome parasites was rather simplistic. In fact, TEs participate in the construction and evolution of the genome to an extent that would have seemed unbelievable until recently. TEs survive in the genome, feed on the genome, and feed the genome. TEs are probable an essential, long-standing part of the genome. This may contribute to their virtual ubiquity (with very few exceptions) among living beings.
Evolution of the genome in a sea of TEs
Although Darwin had no idea about what constituted the support of heredity, he fully recognized the importance of variability as the raw material of natural selection. It was a long time before connections could be established between continuous variation in a population, the discrete characters Mendel used to demonstrate the laws of heredity, and mutations (as defined by de Vries) as progenitors of new varieties. After these solid bases had been established, even McClintock could probably not imagine that the complex phenomena she was studying, which clearly defied the Mendelian laws, would later turn out to be such a key element in genome evolution.
Evolution of the TEs embedded in the genome
While the impact of TEs on the genome has been the focus of many studies, only a few have looked at the impact of the genomic environment on TE evolution. The dynamics of TEs are usually inferred from population genetics, and the use of analytical or simulation models, and there are few experimental studies or biological data [201]. An emerging approach is exploring this issue from an ecological point of view, looking at TEs as individuals living in the genome [202]. Finally, comparative genomics may also be used to help us to understand the evolution and dynamics of TEs.
TE dynamics are influenced by several parameters
1 - The accepted hypothesis (transposition is balanced by selection or self-regulation)
It is widely accepted that the evolution and dynamics of TEs are governed by a balance between transposition and selection [203]. It is assumed that transposable elements are slightly deleterious and decrease host fitness, and so tend to be eliminated, whereas the transposition process tends to increase the genomic copy number, in a purely selfish manner. Different models suggest that TE purifying selection result from deleterious insertions within genes, from deleterious ectopic exchanges responsible for genomic rearrangements [204–206], or from a poisoning effect of TE activity [203, 207]. Selfishness derives from the fact that TEs are able to replicate more rapidly than the host genome [38, 91]. Although both forces clearly do apply, there is no need to reach this equilibrium to explain the persistence of TE over very long periods of time [208]. First, sudden changes disrupting the equilibrium are recurrently observed (transposition bursts, variable deleterious effects). Secondly, other non-adaptive forces must also be considered (see below). Third, TEs have evolved as thousands of different families, each with its own history. The extant TE diversity is probably only a small part of the total historical diversity, and the persistence of some TEs and the disappearance of some others are in themselves non-adaptive and rely, at least in part, on stochastic mechanisms. This means that the evolutionary history of TEs can be explained without necessarily involving long-term, stable copy number equilibrium.
2 - Effects of population size, host demographic history, and genetic drift
The effective population size (Ne) is described as having an important impact on the evolution of genome architecture [209, 210], including TE diversity and polymorphism. According to Lynch and Conery's hypothesis, selection is less effective at purging TEs in small populations, because genetic drift is stronger as the effective population size Ne decreases [210]. Again, the model assumes that TEs have a slightly deleterious effect, which is confirmed by several analyses, including that of Pasyukova et al. [211] estimating that on average a TE insertion decreases the fitness of an individual by 0.4%. A recent population genetics study of several TEs in plant populations of which the demographic history is known suggested that TEs diversity is influenced by demographic factors such as bottlenecks and population size fluctuations [212]. Another example comes from the invasive Drosophila simulans species, in which the level of the mariner element activity increased as the migration distance increased, probably as a result of repetitive bottlenecks [213]. However, simulation studies suggest that genetic drift is a significant force in eliminating TEs from small populations [208].
3 - Effects of recombination and of reproductive mode
The invasive properties of TEs include their abilities to multiply within one genome and to spread within the population. This is of prime importance for newly arrived TEs, which are initially present in just a few copies in a few individuals, and that have to invade both the genome and the population, but also for TEs that are already established in a species. Hence the reproductive mode is an important factor influencing TE dynamics.
TEs have been described as sexually-transmitted parasites [214]. Indeed the model predicts the inability of TEs to invade species in the absence of sex: an element arriving in the genome of an asexual individual would be able to invade this genome, but not to colonize genomes of other lineages during zygote formation. Moreover, the loss of sexuality of a species already containing TEs may lead to the progressive loss of the TEs, or at least of TE activity, because TE proliferation would cause extinction of the lineage due to detrimental effects [215]. At most, copy-number equilibrium may be attained under certain specific conditions (infinite population and no excision at all). However, in small populations, the TE load leads to extinction, while in larger populations genomes could get rid of the TEs [216].
All these predictions appear to be difficult to demonstrate in nature. Among eukaryotes, the bdelloid rotifers correspond to well-established, ancient, asexual organisms. However, the search for TEs in these species has led to the discovery of several families of Class-I and -II elements [217, 218]. The hypothesis suggested is that the presence of TEs results from repeated horizontal transfers [219]. Moreover, TEs appear to be severely confined to specific chromosomal compartments [218]. Ancient asexual haploids are probably best represented by prokaryotes. When compared to eukaryotes, overall they carry a smaller load of mobile elements, which may be explained by enhanced selection due to haploidy and small-sized genomes. However, most prokaryotes nevertheless contain IS elements. In addition to any benefits they may carry (antibiotic resistance, genome plasticity), their persistence could result from a rapid turnover, with frequent horizontal transfers offsetting rapid losses through selection [220].
Asexuality represents the most extreme situation, but nature is full of species with sexual behavior that is somewhere between full asexuality and obligate out-crossing sexuality, notably if we consider their recombination ability. Hence, differences in the ability TEs to invade or to maintain itself in a population are also to be expected between selfing or out-crossing sexual species [221].
Reduced genetic exchanges (as in selfing populations) leads to greater variation in TE copy number, and thus to stronger natural selection forces [214]. When the effect of selfing was analyzed in different selection models, contrasting results were observed, with negative correlations between the copy number equilibrium and selfing rate in the transposon insertion model (heterozygous or homozygous) [222], but positive correlations in the ectopic exchange model [206, 223]. Under self-fertilization (autogamy), genetic exchange is limited and ultimately results in a high level of homozygosity. Langley et al [205] suggested that TEs could accumulate in regions with low levels of recombination. This is observed for the heterochromatic regions (pericentromeric, telomeric). At the population level, effective recombination (including deleterious ectopic recombination) is thought to be reduced in highly homozygous (highly selfing) species. Charlesworth et al. [224, 225] suggest that more abundant TEs may therefore be allowed in selfing species, a hypothesis that is still controversial [see also [135, 226]]. Furthermore, as proposed by Wright and Schoen [206], recessive mutations caused by TEs have more impact on homozygous genomes, leading to stronger selection against TEs. Therefore contradictory findings may be expected, depending on the relative importance of deleterious effects of insertions or ectopic exchange on the overall host fitness [223].
Simulations confirm that in the insertion model, the chance that a TE will invade a genome is drastically reduced when selfing increases, because of the reduced genetic exchange and reduced effective population size. Moreover, under conditions in which molecular domestication events can occur, such events appear to be delayed. Finally, when the adaptive insertion rate is low, TE activity displays a cyclical pattern, with a higher periodicity than under out-crossing conditions (TS Boutin, A Le Rouzic and P Capy, unpublished data). Comparative studies have also been performed in real selfing and out-crossing species. In nematodes, as in Arabidopsis, it was found than insertions were less polymorphic and segregated at higher frequencies in selfing species, which would be compatible with a relaxed selection in selfing species, population size reduction or reduced transposition rate [227, 228].
The TE lifecycle
The emergence of TEs in a naive genome may have two origins. The first, and perhaps the most frequent origin, is the horizontal transmission (HT) of an active copy into the germ line. This phenomenon is frequent in prokaryotes, and the mechanisms of transfer are known (conjugation, transformation, and transfection). In eukaryotes, such transfers seem to occur far less frequently, and their mechanisms remain unknown. It is quite possible that one or several intermediates, including bacteria, viruses, or parasites, could be required [229]. However, whatever the mechanism, the TEs must reach the germline.
Comparisons of HT frequency show clearly that significant differences exist between the main superfamilies. Recently, Loreto et al. [229] estimated that among the 98 HTs described in Drosophila, 51% involve DNA transposons, 44% LTR retrotranposons and 5% non-LTR retrotransposons. Quantitative estimations cannot be provided for other species, but several cases of HT have been reported in mammals and tetrapods [230], in bdelloid rotifers [231], and in plants [232].
The alternative hypothesis of TE origin is the de novo emergence or re-emergence of autonomous sequences as a result of recombination between inactive copies. While there is less supporting evidence for this, it has been demonstrated that ectopic recombination between different copies of the same family or copies from different subfamilies can occur. For instance, it has been shown that some of the TEs described in yeast as Ty1/2 elements are in fact hybrids between Ty1 and Ty2 [233]. More recently, Sharma et al. [234] reported new elements resulting from repeated recombinations that may occur during the hybridization of sympatric species and polyploidization. Similarly, Marco and Marin [235] showed the emergence of a new Athila lineage as a result of recombination between distantly-related copies. In all these cases, this is not a de novo emergence; it is rather a re-emergence of autonomous copies from non-autonomous or dead copies.
As soon as a new element appears in a naive genome, it has to face a new challenge since there is generally a single copy, in a single individual, in a single population. To avoid being lost, this copy must invade the population and the genome. The transposition rate estimated from several natural populations, laboratory strains and for several types of elements is about 10-4 transpositions/copy/generation. If we apply this rate to a newly arriving copy, this copy would almost systematically be lost. Therefore, two scenarios for a successful invasion have been proposed. First, either a high rate of new elements arriving by HT or recombination, or a high transposition rate of the initial copy i.e. close to 10-1 or 1, according to the model prediction [236]. Of course, such a transposition rate cannot be maintained for long without risk to the population. Therefore, regulation of the transposition rate can be expected to occur rapidly. This could result from self-regulation by the TE or host regulation [203].
After the successful initial invasion of the genome and of the population, it becomes difficult to lose an element. Thus, it is important to follow the TE dynamics both in the genome and in the species. In most of the models published in the 1980s and 1990s, it was assumed that the copy number of an element had to reach an equilibrium (see [201]). However, most of these models failed to take the impact of mutation on TE activity into consideration. When this effect was included in the model, it could be shown that it is almost impossible to reach a long-term equilibrium, and several dynamic outcomes can be observed, including the loss of the active or trans-mobilizable copies, or the domestication of a copy.
TE competition and the ecology of the genome
With the exception of a few species, a genome does not normally contain only one type of TE. For a given family, several types of copies with differing levels of activity can be detected, including inactive copies. This is clearly demonstrated by analyses of a large number of genomes involved in sequencing projects. Since this situation is observed for almost all TEs, several questions arise: Is there any competition between different families, or between different types within the same family? Can an equilibrium resembling an Evolutionary Stable Strategy (ESS) be reached by these TEs in a genome? Can we apply models of population biology to the dynamics of TEs in a genome?
In the last few years, it has been assumed that the genome can be viewed as an ecosystem in which TE copies are considered as individual members of a species [
202
,
237
,
238
]. In such an analogy, autonomous and non-autonomous copies of the same family are competing entities rather than belonging to the same "species". In any case, the resources are produced by autonomous or truncated copies that have kept an intact ORF. These resources correspond to the transposition machinery like the transposase for the Class II elements, and can be used both by autonomous copies and by
trans
-mobilizable non-autonomous ones. Simulations and analytic models both provided TE cyclic dynamics due to the competition between active and non-autonomous copies, which are similar to the prey-predator dynamics described by Lotka and Volterra in population biology [[
238
], see Figure
3
and Additional file
1
]. In such a context, non-autonomous copies can be viewed as parasites of autonomous copies, providing a nice illustration of how a genome can be viewed as an ecosystem. This cyclical pattern may be disrupted by changing any of the parameters of the system, leading occasionally to the loss of one or other of the elements. Hence TE interactions within a family should probably not be considered to constitute an ESS (Evolutionary Stable Strategy). Furthermore, it must be stressed that transposition bursts may occur [
239
–
242
], and that these sometimes reflect perturbations that can lead to long-term changes in TE content.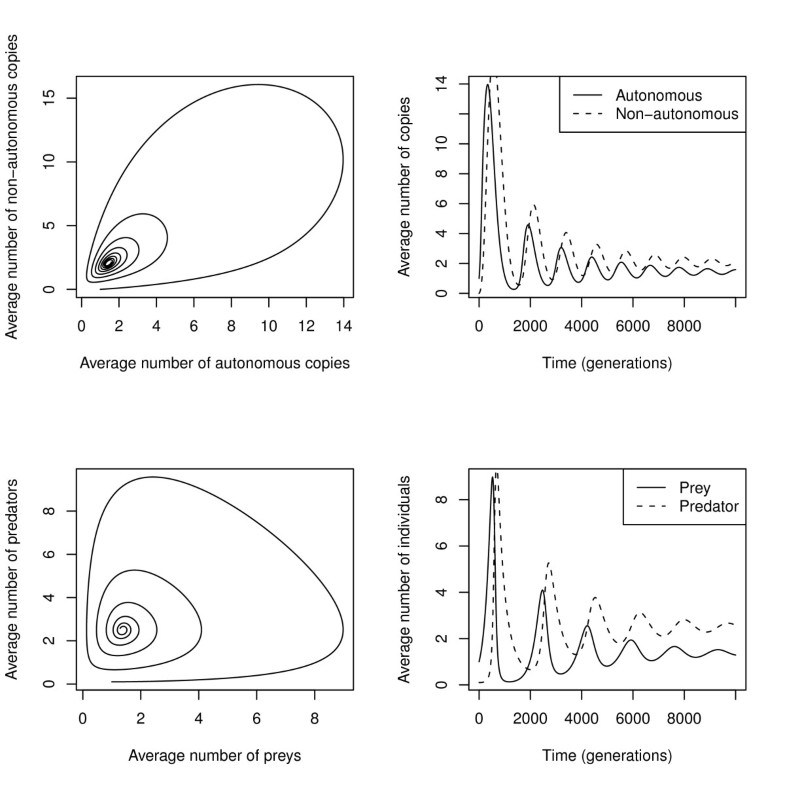 In addition, several families may coexist in a single genome. TE interactions have been poorly studied in cases where trans-family mobilization is not possible. However, it looks likely that if the genome is considered as an ecosystem, its "biotic capacity" is probably restricted. In other words, the expansion of a given family could have an impact on the dynamics of another family, reflecting a struggle for survival between TE families similar to that which occurs between species sharing the same ecological niche.
Concluding remarks
The genomic and post-genomic eras have unraveled the importance of TEs in genome evolution. The early suspicions, including McClintock's predictions, turn out to be true: TEs do indeed play a significant role in gene evolution, at least in some species, in gene regulation, and in the genomic response to stress. A number of isolated examples are now seen to reflect a general rule. At the time of McClintock's work, TEs, which she called controlling elements, were considered to be part of the genome. Today, they are perceived as being independent of the host carrying them, although more intricate relationships have been revealed: a large fraction of the genome is now known to be implicated, molecular domestication has occurred, TEs are directly implicated in the formation of regulatory and coding sequences, play direct and indirect roles in key cell processes, and have responsibility for lateral gene transfers, at least in prokaryotes.
During the last decade, the numbers of known TE families has grown, as has the number of examples of TE domestication, and the rhythm of publications on TEs has quickened.
Methods for identifying transposons have changed considerably over this time. Fortuitously discovered to begin with, TEs were then searched for using various methods, including transposon trapping, and are now mainly identified as repeated sequences with particular features within sequenced genomes, or through protein homology, with the help of various and numerous programs and databases. Still more recently, new superfamilies, and completely new types of mobile element have been discovered [18, 19]. The explosion of metagenomic and genomic sequences make the identification of all TEs a costly and challenging task. The use of bioinformatics, with sophisticated and efficient detection programs is a crucial element in attempting to provide a comprehensive survey of TE diversity and evolution.
Technical progress now makes it possible to trace the history and dynamics of TEs within a genome, and grasp both the influence of TEs on genome specificity and the influence of the genome on TE evolution. The dichotomic view of TEs as either parasites or necessary beneficial entities is resolving towards a unified view, in which these are two aspects of the same process, which merge to form a continuum [39]. TEs and genomes have probably been in constant contact since life began, and this cohabitation has had repercussions on the evolution of both partners. Hence it is not surprising to discover that TEs have beneficial effects since parasitic elements and genome sequences have mixed for so long.
However, some of the old questions remain unanswered, while new questions have arisen: the horizontal transfer of TEs appears to be a major step in TE evolution and propagation. In eukaryotes, this phenomenon is rare, and its mechanism (or vector) still unknown. Continued investigations in this field and careful analysis of the findings must be pursued.
The epigenetic component of genome functionality has been the focus of intense interest in the biology community in recent last years, and this has replaced TEs centre-stage. However, TE-genome relationships within the epigenetic dimension are far from having been deciphered, and still require intense research.
TEs are parasitic by definition and like parasites, TE expansion depends on interactions with the host, i.e. the genome. This part of the TE biology remains to be explored, since the vision of TEs as competing individuals, or species, within their ecological niche, the genome, or struggling with their own parasites (non-autonomous elements) is rather new. Addressing this poorly investigated aspect will be facilitated by the availability of the genomes of several individuals per species within few years.
Reviewers' comments
Reviewer 1
Jerzy Jurka, Genetic Information Research Institute
This reviewer provided no comments for publication
Reviewer 2
Jürgen Brosius, University of Muenster
This is a review on the impact of TEs on the evolution of genomes and genes including their regulation and epigenetic phenomena. Unlike many previous reviews, parts of the present one explore the (potential) significance of TEs from different angles and hence make it a worthwhile read. At the same time, the manuscript still carries the burden of past and present misunderstandings or ambiguities concerning TEs.
1) One of the difficulties to write a general review on all classes of TEs, is the fact that they are very different from each other, especially when comparing DNA transposons (class II) that usually operate in the cut and paste mode and class I TEs that operate in a copy and paste mode via an RNA transcript. Although this is discussed beginning on page 7, perhaps for the reader it would be easier to mention it at the onset. As an aside, few class I elements are transposABLE elements as, after integration into the genome most copies are not able to produce additional copies because they are dead on arrival. Especially, SINEs are rarely being transcribed because they lack the necessary flanking regions for autonomous transcription while LINEs are mostly truncated. An interesting exception is a small nucleolar RNA (snoRNA)-derived class of SINEs in Platypus that often maintains the ability to be co-expressed and processed into distinct RNAs when retroposed into introns of RNA polymerase II genes [1]. Nevertheless, in most cases a better description would be transposED elements for class I TEs.
Authors' response: In this manuscript, we used a classical terminology to describe transposable elements. "Transposable elements" are generally defined as sequences able to promote their own mobility and/or duplication in genomes, but in practice this definition largely extends to all TE-derived sequences, even if they have lost this autonomy. Consequently, non-autonomous copies (such as SINEs or MITEs) are generally considered as transposable elements (even if they are phylogenetically unrelated to the corresponding autonomous element), as well as totally inactive TE-derived pseudogenes, even if these are not actually "transposable". On the opposite, retroprocessed sequences that are not repeated (but just happened to be reverse-transcribed accidentally) are not considered as transposable (perhaps "transposed" here would fit). Although non-homologous, "transposable elements" and their derived sequences thus constitute an unambiguous group of sequences, characterized by their distribution in genomes (they are the middle repetitive fraction of the genome DNA), their evolutionary properties, and their "ability to transpose", where "transpose" stands for both "copy and paste" and "cut and paste" mechanisms.
Reviewer's response: Good point! Use "classical" for a term that is imprecise and not quite correct and you are off the hook. An admittedly extreme would be the "classical view" of the sun revolving around the earth. Reviews often address readers outside the field. Imprecise terminology leads to misconceptions that are difficult to purge. Hopefully readers will get as far as this section. Were I not familiar with this research topic, I would have been confused about much of the content concerning class I elements including the following statement from the background section (despite the attempt for clarification in the last sentence):
"1 - TEs are a major factor in evolution because they are an important source of variability. Mutations caused by TEs are diverse, ranging from small-scale nucleotide changes to large chromosome rearrangements, including epigenetic modifications. Although TEs are mobile, the nucleotide (or epigenetic) changes resulting from their transposition can persist, being transmitted through generations and through populations."
With respect to class I TEs, it is not the DNA that is moving but the RNA. RNA is transcribed from the DNA and then reverse transcribed and integrated. Neither master copy(ies) from which the RNA is originating nor the numerous integrated cDNAs do not move once integrated into their respective loci (except by genomic rearrangement as for any piece of DNA). If these class I TEs weren't absolutely sedentary, they could not be used as reliable phylogenetic markers as mentioned in this review under the heading "From mutations and (epi)-genetic variation to genetic novelty and adaptation". Actually, the first publication on the phylogenetic potential of retroposed elements (Alus) came from A. Dugaiczyk's laboratory: Ryan, S. C., and A. Dugaiczyk. 1989. Newly arisen DNA repeats in primate phylogeny. Proceedings of the National Academy of Sciences USA 86:9360-9364. N. Okada's laboratory perfected the approach to solve many interesting phylogenetic questions. This effort is summarized in the following review: Shedlock, A., K. Takahashi, and N. Okada. 2004. SINEs of speciation: tracking lineages with retroposons. Trends in Ecology and Evolution 19:545-553. Perhaps, part of the discrepancy stems from the DNA-centric majority view versus my RNA- centric view (see also comments 3 and 11).
Another point: I do not see how TE insertions cause small-scale nucleotide changes. Those changes are at least as large as the TE, i.e., at least 70 nt plus direct repeats.
Authors' response: If one considers mobility or transposability as the ability to excise, then we agree that Class I are neither mobile nor transposable. But if one considers mobility or transposability as the ability for a DNA segment to be inserted at a new position, then, Class I element are TEs. It seems that this last definition is more universally used. On what, in our opinion, should be considered as TEs, see comment 11.
Small-scale nucleotide changes occur when Class II elements excise. Usually the initial sequence is not exactly restored after double strand break repair. This is referred to as the excision footprint (added in the text).
2) The title of the manuscript already contains two terms that require qualification. First of all, non-autonomous TEs are not necessarily selfish. In theory, any RNA (including messenger RNAs) can be retroposed [2]. Some, however, are reverse transcribed and retroposed in a highly efficient manner by the machinery of autonomous TEs (e.g., LINEs) and hence give rise to thousands, up to a million copies in a genome. Of course, one could argue that some of the frequently retroposed RNAs do not have cellular functions any longer, but evolved structures that tricks the machinery of autonomous TEs into using them as templates [1]. Even though the RNAs might have lost (original) function, genes encoding such RNAs survive, not necessarily at its original genomic locus, but fortuitously due to the sheer number of copies generated. As a consequence, a few of them are bound to integrate into a genomic locus that permits autonomous transcription [3]. This is probably the case with Alu elements that survived in some form or another from the beginning of mammalian radiation up to now. Such a mode of persistence is documented, for example, by the presence of Alu subfamilies that were active at different times in primates. Of course, one cannot rule out a cellular function of some Alu RNAs at this juncture. The second problematic term is "architects" which implies foresight and planning. Perhaps, the term "agents" would be less ambiguous. In a similar vein, perhaps one should stay clear of the term "create" or similar (used elsewhere in the text).
Authors' response: In theory, there is indeed a stage where a non-selfish sequence (as e.g. the ancestor of Alu elements) starts, for some reason, to be amplified by an autonomous copy. However, genome-level selection will take place very rapidly, and among all amplified copies, the one that have a slight "superparasitism" advantage will become more frequent than the others, and the original ancestors will be outnumbered. Since there is no reason why the mutations favoring transposition would maintain the original cellular function, the probability for a sequence to be both selfish-DNA and "altruistic DNA" at the same time remains infinitesimal. The same infinitesimal (at the evolutionary scale) transition period exists when a functional copy inserts in a site where it brings some selective advantage, the copy being both potentially selfish and useful. A similar unstable stage probably also exists when species evolve from e.g. parasitism to symbiosis, but does not preclude an operational classification between two non-exclusive categories. As in remark #1, the issue is probably linked to the fact that "selfish", in the same way as "transposable", generally also qualifies derived sequences that are not by themselves "selfish" or "transposable", but exist because their direct ancestors were selfish and/or transposable.
Although the reviewer's remark about the use of the term "architect" is formally exact, we note that similar stylistic effects are common in the literature (Mattick (2001) "Non-coding RNAs: the architects of eukaryotic complexity" EMBO reports 2, 11, 986-991), and our feeling was that our "selfish architects" could not be understood in a different way than e.g. Dawkins' blind watchmaker. Potentially misleading occurrences of "create" were removed from the text, and we believe that this comment published along with the article will prevent misinterpretation of the title.
Reviewer's response: Concerning the infinitesimal probability for a sequence to continue to be both selfish-DNA and "altruistic DNA" at the same time, BC1 RNA is a counter example. It arose in a common ancestor of rodents via retroposition of a tRNA, has a function in the central nervous system and is the master copy of thousands of ID repetitive elements generated over long time periods. However, as the authors stated above, a few rare integrated copies that happened not to be transcriptionally silent, became master copies of additional sub-families of ID repeats [reviewed in ref. [2], given at the end of this section]. Once more, for class I TEs, it would be the RNA that is selfish, not the bookkeeping DNA [7], just as the RNA of an RNA virus would be selfish and not the integrated genomic DNA copy. On the other hand, DNA transposons (class II) might be considered selfish DNA.
Authors' response: This is indeed a nice counter example. Retroposition ability and cellular function may be both present because the gene is in a transitional stage before retrotransposition ability be lost, or because both reside on the same sequence in the gene (the non-tRNA part).
3) For most investigators, evolutionary considerations begin with the last common ancestor (LUCA) with RNA, protein and DNA already in place. A look at the RNA world and major evolutionary transitions [4], especially those from the RNP world to modern cells with DNA as bookkeeper, provides some scenarios to questions [5–8] such as: "Are we able to understand why they [TEs] are here, and why they are still here?". This also should qualify the statement, "the Central Dogma could not be questionable". See ref. [2], Figure 3.
Authors' response: the reference to the Central Dogma was indeed unnecessary here, and we have reformulated this sentence. In order to address a remark from reviewer 1, most open questions were reformulated, so that we could not directly refer here to the origin of DNA.
4) "TEs possess two main characteristics that distinguish them from classical genes...". One should remind the reader that some TEs are not genes. LINEs and LTR elements are more like small operons and thus harbour at least two genes. Furthermore, most SINEs or mRNA-derived retrocopies are not true genes but inactive pseudogenes (SINEs with extremely high copy numbers).
Authors' response: Of course, we wanted to refer to non-TE sequences. This sentence was changed into "... from other genomic components".
5) The sentence " the core of Darwin's theory was never really questioned" needs qualification. Perhaps, the authors mean that it was never questioned in the scientific community. Even that would be inaccurate, see refs. [9–12].
Authors' response: This sentence was indeed misleading, we meant that it was never successfully challenged. This was fixed in the revision.
6) There are earlier references (in addition to refs. [34, 35] concerning "TE as major actors of diversity" [13–15].
Authors' response: The Kidwell and Lisch (1997) reference seems well adapted here since they review the effects of all classes of TEs in both animals and plants. The second reference illustrates through several examples the involvement of epigenetics in TE-induced phenotypic variations.
7) "homologues of the three proteins involved in RNAi (ARG family, DICER and RdRP) can be found in all supergroups"
What is meant by "supergroups" major clades perhaps?
Authors' response: Eukaryotes are divided in 6 clades called supergroups (Rhizaria, Chromalveolates, Archaeplastidae, Opisthokonts. Amoebozoa and Excavates. The very same term is used in the cited reference, and elsewhere to refer to these 6 clades.
8) When discussing the CRISPR elements, it should be mentioned that the small RNAs were acquired from invaders, such as phages. The acquisition of these elements even resembles something akin to Lamarckism [16].
Authors' response: We gave a little more details on these very interesting CRISPR elements. Contrary to Koonin and Wolf 2009, we are however a bit reluctant to qualify this process as "Lamarckism" (Lamarck's theory, which was a general framework to explain evolution, cannot be validated by rare observations in which Darwinian evolution has led to a system superficially similar to Lamarck's wrong model of evolutionary change).
9) "First they [TEs] can bring sequences in regulating, coding or intronic regions. Those sequences may trigger useful functional changes (expression pattern, alternative splicing, transcription initiation and termination), by the presence of particular motifs or their physico-chemical properties [see [144] as a recent example]. Second, they can bring coding sequences, which modify the initial sequence and create new genes. Concerning "coding sequences" I do not see much difference between "first" and "second", once you bring TEs into coding sequences, they usually have to be coding or they would destroy the ORF.
Authors' response: Indeed, the second point was already included in the first, and has been removed.
10) "The full domestication is the most extreme case in which the totality of the coding region is used to ensure the new function." True, but one should find smaller contributions of fragments of TE-derived genes (this is mentioned only in the legend to Figure 2). For example as novel (alternative) exons oder contributing new termini to existing proteins, just as mRNA-derived retrocopies do [17].
Authors' response: This is what we meant by "extreme case". We refer to the less extreme cases two paragraphs later, "In numerous other cases, the domestication concerns only a part of the TE protein [...]". Here, the domain function is exapted. Smaller contributions are mentioned in the next part, which depicts exaptation of TE sequences (and not TE protein function). In some cases, exapted sequences become part of a coding region.
11) "While first examples of TE domestication and cooptation appeared as the exception (although of prime importance in regard to the function), the recent and numerous data prove that this is actually a recurrent phenomenon in genome history. Since the beginning, genomes regularly feed on TEs," and "TE and genome have been in constant contact since probably the beginning of life and such promiscuity has had repercussions on the evolution on both partners." Genomes ARE transposed (RNA) elements [5–8, 18].
Authors' response: In this paragraph, we refer to transposable elements, and not to other sequences retroprocessed accidentally. We think that "transposition" is too specific to be applied to any kind of reverse-transcription event.
Reviewer's response: There is not much difference between class I transposable elements (retroposons) and other retroprocessed sequences. Once more, the key to the difference lies in the properties of the RNA: some are more others less efficient templates for retroposition. Where do you draw the line: One hundred retrocopies of a tRNA are retropseudogenes and one thousand copies of a tRNA or tRNA-like RNA are SINEs?
Authors' response: The copy number is clearly not the good criterion to decide whether a sequence is a TE or not. The property to be efficiently retroposed is crucial, and must not depend on the environment, meaning that basically, RNA produced from any intact retroposed copy must keep the ability to be reinserted.
12) page 25, Exploiting TE sequences
A discussion about the persistence of exapted TEs in short evolutionary branches (gain and loss of exapted TEs e.g., in primates) [19] and long evolutionary branches (e.g., constitutive expression of exapted TEs in deep mammalian branches) [20] should be added.
Authors' response: This discussion on the long-term persistence of domesticated sequences is indeed interesting, and is now mentioned in the manuscript. However, it is also important to consider that there is no strong evidence that TE-derived exons behave in a different way than new coding sequences from different origins, and that this could simply reflect the "average" fate of genetic novelties in genomes.
Reviewer's response: Agreed, there should be no difference between TE-derived novel exons and those from anonymous genomic sequences [8], because even the latter are ancient TEs who are not discernible anymore, due to mutations over long time periods [6, 18]. Actually, most if not all genomic DNA is TE-derived, which would return us to evolutionary transitions following the RNA and RNP-worlds [5, 6].
13) Page 32, TE competition and ecology of the genome
For marsupials, Nilsson et al. could show an overlapping activity of RTE and LINE mobilized SINE elements along a single phylogenetic marsupial branch. The parallel activity of the two different retropositional systems was further supported by detecting frequent nested insertions of RTE in LINE mobilized elements and vice versa [21].
Authors' response: There is indeed no doubt that several TE families can be active simultaneously in genomes. Reciprocal transpositions in inserted copies is a strong piece of evidence that this was the case in the marsupial lineage, and such a coexpression is regularly observed in modern insect species. The missing information, however, remains the degree of interaction between these families: do they use the same resources, do they fight the same regulation mechanisms? So far, it is not clear whether co-invading TE families are competitors, commensals, or mutualists.
14) An additional earlier reference for the role of TE-derived genes in placenta formation should be cited [22].
Authors' response: The literature has been updated.
Reference:
[1] Schmitz J, Zemann A, Churakov G, Kuhl H, Grützner F, Reinhardt R, Brosius J Retroposed SNOfall--a mammalian-wide comparison of platypus snoRNAs. Genome Res 18:1005-10.
[2] Brosius J (1999) RNAs from all categories generate retrosequences that may be exapted as novel genes or regulatory elements. Gene 238:115-34.
[3] Brosius J (2003) The contribution of RNAs and retroposition to evolutionary novelties. Genetica 118:99-116.
[4] Szathmáry E, Smith JM (1995). The major evolutionary transitions. Nature 374: 227-32.
[5] Brosius J (2003) Gene duplication and other evolutionary strategies: from the RNA world to the future. J Struct Funct Genomics 3:1-17.
[6] Brosius J (1999) Transmutation of tRNA over time. Nat Genet 22:8-9.
[7] Brosius J (2005) Disparity, adaptation, exaptation, bookkeeping, and contingency at the genome level. Paleobiology 31(2 Suppl):1-16.
[8] Brosius J (2005) Echoes from the past--are we still in an RNP world? Cytogenetic Genome Res. 110: 8-24.
[9] Kellogg, Vernon L. (1907) Darwinism To-Day. A Discussion of Present-Day Criticism of the Darwinian Selection Theories, Together with a Brief Account of the Principal Other Proposed Auxiliary and Alternative Theories of Species-Forming" Henry Holt and Company, New York.
[10] Hull, David L. (1983) Darwin and his Critics. The Reception of Darwin's Theory of Evolution by the Scientific Community. University of Chicago Press, Chicago, ISBN 0-226-36046-6
[11] Mayr, Ernst (1991) One Long Argument. Charles Darwin and the Genesis of Modern Evolutionary Thought. Harvard Univiversity Press, Cambridge, ISBN 0-674-63905-7
[12] Woese CR (2004) A new biology for a new century. Microbiol Mol Biol Rev 68:173-86.
[13] Brosius J (2001) Retroposons--seeds of evolution. Science 251:753.
[14] Brosius J, Gould SJ (1992) On "genomenclature": a comprehensive (and respectful) taxonomy for pseudogenes and other "junk DNA". Proc Natl Acad Sci USA 89:10706-10.
[15] Brosius J, Tiedge H (1995) Reverse transcriptase: mediator of genomic plasticity. Virus Genes 11:163-79.
[16] Koonin EV, Wolf YI (2009) Is evolution Darwinian or/and Lamarckian? Biol Direct 4:42.
[17] Baertsch R, Diekhans M, Kent WJ, Haussler D, Brosius J (2008) Retrocopy contributions to the evolution of the human genome. BMC Genomics 9:466.
[18] Brosius J (2009) The fragmented gene. Ann NY Acad Sci 1178:186-93.
[19] Krull M, Brosius J, Schmitz J (2005) Alu-SINE exonization: en route to protein-coding function. Mol Biol Evol 22:1702-11.
[20] Krull M, Petrusma M, Makalowski W, Brosius J, Schmitz J (2007) Functional persistence of exonized mammalian-wide interspersed repeat elements (MIRs). Genome Res 17:1139-45.
[21] Nilsson MA, Churakov G, Sommer M, Van Tran N, Brosius J, Schmitz J (2010) Tracking marsupial evolution using archaic genomic retroposon insertions. PloS Biol 8:e1000436).
[22] Mi S, Lee X, Li X, Veldman GM, Finnerty H, Racie L, LaVallie E, Tang XY, Edouard P, Howes S, Keith JC Jr, McCoy JM. Syncytin is a captive retroviral envelope protein involved in human placental morphogenesis. Nature. 2000 Feb 17;403(6771):785-9.
Reviewer 3
I. King Jordan, School of Biology, Georgia Institute of Technology
In this manuscript, Hua-Van et al. present a fairly extensive review of the interactions between transposable elements and their host genomes. The review emphasizes the numerous ways that transposable element derived sequences have influenced the structure, function and evolution of genomes and tries to reconcile these influences with classical (neo-)Darwinian evolutionary theory. The review is distinguished by the fact that it deals with two perspectives on transposable elements that are usually treated separately: the impact of the transposable elements on their host genomes and the function and evolution of the elements themselves. This paper makes a nice contribution to the field of transposable element biology and also fits well with the recent series of papers that Biology Direct has published dealing with current perspectives on Darwinian evolutionary theory.
Much of what is covered in this review has been treated elsewhere previously. Nevertheless, it is both timely and useful to have much of this material presented together in an evolutionary framework. Some of the newest and most relevant material is on the relationship between transposable elements, RNA interference and epigenetic phenomena. From my admittedly biased perspective, this represents the single most important contribution of this review. But this is an area of investigation that is changing rapidly, and I would urge the authors to consult some of the most recent literature on transposable elements and epigenetics to deepen this part of the manuscript. With all apologies for being self-serving, our own lab has recently published a couple of reviews on these topics: (Jordan IK and Miller WJ 2009 Genome defense against transposable elements and the origins of regulatory RNA in Genome Dynamics and Stability Lankenau and Volff (Eds) 4: 77-94 and Huda A and Jordan IK 2009 Epigenetic regulation of mammalian genomes by transposable elements in Ann NY Acad Sci 1178: 276-284). In addition, we have also recently shown that transposable element mediated epigenetic effects on host genomes may not be confined to repressive epigenetic modifications, as emphasized in this review, but also by activating modifications that are recruited to transposable elements in the vicinities of host genes (Huda A et al 2010 Epigenetic histone modifications of human transposable elements: genome defense versus exaptation in Mobile DNA 1:2). There are a couple of other recent papers that are directly related to this topic - and this list is by no means exhaustive - that the authors may wish to have a look at (Rebollo R et al. 2010 Jumping genes and epigenetics: towards new species in Gene 454: 1-7 and Lisch D 2009 Epigenetic regulation of transposable elements in plants Annu Rev Plant Biol. 2009;60:43-66).
Authors' response: This part has been reorganized to integrate this aspect and update citations.
I agree strongly with the authors' sentiment that transposable elements play critical roles in genome structure, function and evolution. However, some caution is warranted in order to avoid overstating the case. For example, the statement in the abstract that "...since Darwin's theory, transposable elements are maybe the discovery that has changed the most our vision of (genome) evolution." is somewhat overwrought considering that Darwin lacked even the most basic concept of the molecular mechanisms of heredity or any notion whatsoever of what constituted a genome. Indeed, the authors point this very fact out in several places in the manuscript. Thus, they may wish to be more circumspect when placing the impact of transposable elements into the context of evolutionary theory and genome evolution as a whole.
Authors' response: The concerned sentences have been reformulated
The statement in the introduction that "the core of Darwin's theory was never really questioned." (page 4) is factually inaccurate. The core of this theory has been, and continues to be, continually questioned at a fundamental level. It may be more accurate to state that the core of theory has never been successfully challenged or over-turned.
Authors' response: We agree with this remark and changed the sentence accordingly.
The authors' imply that biologists were reluctant to accept McClintock's discovery of transposable elements because it did not fit with the 'Central Dogma' (Introduction page 4). But the Central Dogma is a concept from molecular biology that came later, and while the discovery of mobile genetic elements made by McClintock clearly challenged prevailing ideas about how static the genome was, it did not directly address or contradict the Central Dogma. Further on in the same section the Central Dogma is referred to as depicting 'the genome as a linear succession of genes'. Again, the linear 'beads-on-a-string' concept of a static genome is distinct from the Central Dogma.
Authors' response: The confusion between the central dogma and the static genome dogma has been clarified.
The authors point out an important concept that the evolutionary dynamics of transposable elements occur at two levels: intra-populational, based on the competition between individual organisms, as is the case for static host genes, and intra-genomic based on the competition between individual element copies. This is indeed a critical aspect of transposable element evolution that impacts how the elements affect their host genomes. However, they then go on to posit a third conceptually distinct level based on horizontal transfer. It is well known that elements may be particularly prone to horizontal transfer between species, but it is not clear how and whether this phenomenon entails a third distinct level of transposable element evolutionary dynamics.
Authors' response: This third level become apparent only when an analogy with an ecological concept is considered, which was not clearly stated. The intra-genomic competition may be compared to competition between individuals for the same resource in a unique ecological niche. A TE family in one genome corresponds then to a population. The intra-populational level represents a metapopulation in which TE populations mix by a kind of migration process triggered by sex. By analogy, horizontal escape toward a new genome can be viewed as new ecological niche colonization and represents the extreme case of migration with foundation of a new isolated population and ultimately allopatric speciation. (In comparison a static host gene (allele) will not use the intra-genomic level to expand). We agree that the ability to transfer horizontally does not impact the TE dynamics at the species level, but provides only new seeds for TE expansion in the living world as a whole. The idea has been reformulated, hopefully with more clarity.
The authors often refer to the conflicting, and seemingly dichotomous, notions of transposable elements as genomic parasites versus the creative or adaptive contributions that the elements make to their host genomes throughout the manuscript. However, these two concepts are not mutually exclusive. In a very nice review on this topic (Kidwell MG and Lisch D 2001 Perspective: transposable elements, parasitic DNA, and genome evolution in Evolution 55:1-24), the authors nicely lay out the idea that transposable elements do not exclusively occupy extreme positions on either end of this dichotomy. They hold, rather, that transposable elements can best be considered as occupying a variety of positions on a dynamic continuum from extreme parasitism to obligate mutualism. This kind of more nuanced perspective would add nicely to the evolutionary role of transposable elements presented here.
Authors' response: We agree with the view of Kidwell and Lisch. However we cannot deny that TE are intrinsically selfish, which was our starting point to further pinpoint facts that actually support other TE-host relationships. The concerned parts have been modified to erase the impression of too clear-cut views.
Apparently the manuscript was written by a non-native English speaker and it has numerous grammatical errors. The authors should proof the manuscript closely for these and other language related issues or enlist a native English speaking colleague to help with this. For instance, the last sentence in the abstract that reads 'The review attaches to explore ...' does not make sense. The presence of many errors of this kind has the unfortunate effect of obscuring the important message of the manuscript as well as the authors' unique perspective on transposable elements.
Authors' response: The revised text was corrected by a native English speaker.
Abbreviations
TE:

transposable element
RT:

reverse transcriptase
LTR:

long terminal repeat
LINE:

long interspersed transposable element
PLE:

Penelope-like element
SINE:

short interspersed transposable element
TIR:

terminal inverted repeat
IS:

insertion sequence
MITE:

miniature inverted transposable element
ICE:

integrative and conjugative element
Tn:

composite transposon
LGT:

lateral gene transfer: HT: horizontal transfer/transmission
SNP:

single nucleotide polymorphism
S/MAR:

scaffold/matrix attachment region
MULE:

Mutator-like element
RIP:

repeat-induced point mutation
RNAi:

RNA interference
TGS:

transcriptional gene silencing
PTGS:

post-transcriptional gene silencing
ncRNA:

non-coding RNA
siRNA:

small interfering RNA
miRNA:

microRNA
piRNA:

PIWI-interacting RNA
rasiRNA:

repeat-associated small interfering RNA
dsRNA:

double-stranded RNA
VRS:

virus RNAi silencing
TFBS:

transcription factor binding site
CRISPR:

clustered regularly interspaced short palindromic repeats
R/M:

restriction/modification
RdRP:

RNA dependent RNA polymerase
ESS:

Evolutionary Stable Strategy
Declarations
Acknowledgements
We thank Monika Ghosh for reviewing the English text.
Authors' Affiliations
(1)
Laboratoire Evolution, Génomes, Spéciation, CNRS UPR9034/Université Paris-Sud, Gif-sur-Yvette, France
Copyright
© Hua-Van et al; licensee BioMed Central Ltd. 2011
This article is published under license to BioMed Central Ltd. This is an Open Access article distributed under the terms of the Creative Commons Attribution License (http://creativecommons.org/licenses/by/2.0), which permits unrestricted use, distribution, and reproduction in any medium, provided the original work is properly cited.