On origin of genetic code and tRNA before translation
Received: 14 September 2010
Accepted: 22 February 2011
Published: 22 February 2011
Abstract
Background
Synthesis of proteins is based on the genetic code - a nearly universal assignment of codons to amino acids (aas). A major challenge to the understanding of the origins of this assignment is the archetypal "key-lock vs. frozen accident" dilemma. Here we re-examine this dilemma in light of 1) the fundamental veto on "foresight evolution", 2) modular structures of tRNAs and aminoacyl-tRNA synthetases, and 3) the updated library of aa-binding sites in RNA aptamers successfully selected in vitro for eight amino acids.
Results
The aa-binding sites of arginine, isoleucine and tyrosine contain both their cognate triplets, anticodons and codons. We have noticed that these cases might be associated with palindrome-dinucleotides. For example, one-base shift to the left brings arginine codons CGN, with CG at 1-2 positions, to the respective anticodons NCG, with CG at 2-3 positions. Formally, the concomitant presence of codons and anticodons is also expected in the reverse situation, with codons containing palindrome-dinucleotides at their 2-3 positions, and anticodons exhibiting them at 1-2 positions. A closer analysis reveals that, surprisingly, RNA binding sites for Arg, Ile and Tyr "prefer" (exactly as in the actual genetic code) the anticodon(2-3)/codon(1-2) tetramers to their anticodon(1-2)/codon(2-3) counterparts, despite the seemingly perfect symmetry of the latter. However, since in vitro selection of aa-specific RNA aptamers apparently had nothing to do with translation, this striking preference provides a new strong support to the notion of the genetic code emerging before translation, in response to catalytic (and possibly other) needs of ancient RNA life. Consistently with the pre-translation origin of the code, we propose here a new model of tRNA origin by the gradual, Fibonacci process-like, elongation of a tRNA molecule from a primordial coding triplet and 5'DCCA3' quadruplet (D is a base-determinator) to the eventual 76 base-long cloverleaf-shaped molecule.
Conclusion
Taken together, our findings necessarily imply that primordial tRNAs, tRNA aminoacylating ribozymes, and (later) the translation machinery in general have been co-evolving to ''fit'' the (likely already defined) genetic code, rather than the opposite way around. Coding triplets in this primal pre-translational code were likely similar to the anticodons, with second and third nucleotides being more important than the less specific first one. Later, when the code was expanding in co-evolution with the translation apparatus, the importance of 2-3 nucleotides of coding triplets "transferred" to the 1-2 nucleotides of their complements, thus distinguishing anticodons from codons. This evolutionary primacy of anticodons in genetic coding makes the hypothesis of primal stereo-chemical affinity between amino acids and cognate triplets, the hypothesis of coding coenzyme handles for amino acids, the hypothesis of tRNA-like genomic 3' tags suggesting that tRNAs originated in replication, and the hypothesis of ancient ribozymes-mediated operational code of tRNA aminoacylation not mutually contradicting but rather co-existing in harmony.
Reviewers
This article was reviewed by Eugene V. Koonin, Wentao Ma (nominated by Juergen Brosius) and Anthony Poole.
Keywords
Genetic CodetRNA MoleculetRNA AminoacylationAnticodon LoopAcceptor Stem
Background
Genetic Code refers to a nearly universal assignment of triplets (codons) of nucleotides (nts) to amino acids (aas), linking hereditary entities to the functional blocks of life (Figure
1A
). In practice, this codon-to-aa assignment is realized through the agencies of 1) the code adaptor molecules of transfer RNAs (tRNAs) with a codon's complementary replica (anticodon) and the corresponding aa attached to the 3' end, and 2) aminoacyl tRNA synthetases (aaRSs), the enzymes that actually recognize and connect proper aa and tRNAs (Figure
1B
and
1C
).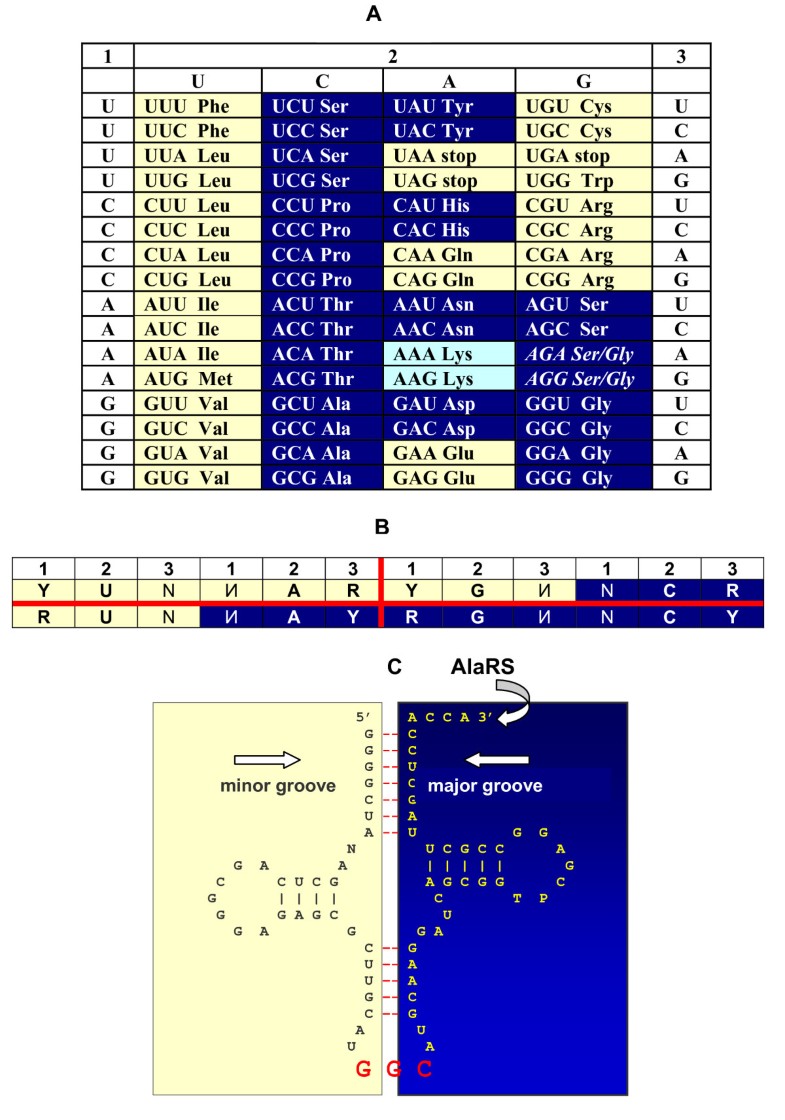 Unraveling the origin of the genetic code and translation machinery is an inherently difficult problem [1]. On one hand, the system that unifies the nt and aa languages must necessarily be highly optimized. On the other hand, the events shaping the genetic code took place long time ago, and due to the relative compactness of the extant genetic code, many alternative scenarios for its origin are conceivable (and have been put forward).
Furthermore, the very existence of the two languages (with the code being a translational intermediary) implies an evolutionary motivation. This is a great challenge to evolutionists, even at the most abstract conceptual level of reasoning. When seeking, for example, the arguments for perhaps the most fateful transition in life history - from ribozymes to enzymes [2] - we cannot simply fall back on the truism that proteins are more efficient and versatile catalysts than RNAs. Indeed, proteins constitute a final product in the long chain of reactions performed by the very complex coding and translation machinery. The very complexity of the translation system inevitably suggests it has been shaped gradually ([3] see also [4–7]). However, the natural selection works strictly "in the present moment", right here and right now, just like a first-aid ambulance [8] - lacking the foresight of potential future advantages [2, 7]. By contrast, any advantage of proteins over ribozymes could have materialized only in the very end of the ribozymes-mediated multi-step coding and translation processes. Therefore, just as with any case of step-by-step evolution towards a more complex system, there should be an evolutionary rationale behind each intermediate step. As far as the coding and translation system is concerned, it would seem logical to start with separating the two "origins" - origin of the code, and origin of translation [9–11]. Moreover, because life never evolves with foresight, we inevitably arrive to the hypothesis that the code emerged before translation - in response to the needs of the RNA world (ibid).
The detailed treatment of the pre-translational origin of the genetic code is a whole separate topic that will be reviewed elsewhere (Szathmáry and Rodin, in preparation). In this report, we consolidate our arguments for the "pre-translational" code
via
a closer analysis of:
1.

The fundamental veto on "foresight evolution"

2.

The recently updated library of direct RNA-aa binding sites --- possibly pointing at the earliest "(stereo chemical) era" in the history of the genetic code [12], and

3.

Some features of the genetic code per se (Figure 1A), as well as its adaptors (tRNAs) and implementers (aaRSs).
Conclusions
Recently, we have pointed out that probably long before the origin of translation the genetic code had already fixed such a fundamental (and, one would think, translation-ineradicable) feature as the tripletness of coding words [20, 24]. The present analysis of aa-binding sites in selexed RNA aptamers allows us to make an even stronger conclusion: the degeneracy of 1st position in anticodons (3rd position in "future" codons) also appears to have originated before translation.
This conclusion questions many dogmas of the code and translation origins, including the almost commonly shared view that the code shaping was driven by minimization of translation errors and, in general, the code structure reflects its coevolution with tRNAs and aaRSs. Not completely denying such translation-motivated coevolution, we would like to accentuate the reverse causality. The very logic of tRNA evolution from a short ancestor to the eventual functionally sophisticated cloverleaf-like molecules might have been dictated by the "RNA-aa binding: a stereochemical era for the genetic code" [12]. Consistent with this are our model in which the coding triplet and DCCA 3' end for aminoacylation are present from the very beginning (Figure 5) and previous findings: the dual complementarity [18, 20, 35] as an indirect evidence of ancestral anticodon duplication [51, 74, 75], and the subcode for two modes of tRNA recognition by hypothetical aminoacylating ribozymes (Figure 1B) [19, 36]. Apparently, the sub-code for two modes of RNA aminoacylation could be implemented for primordial 11 nts-long palindromes, i.e. extremely early - in response to increasing catalytic and other challenges of the RNA world.
The bias to codon(1-2)/anticodon(2-3) tetraplets in aa-binding sites of RNA aptamers may point to a fundamental interlink between the primordial RNA operational code (hence the genetic code itself) and a chiral selection of its components. Indeed, in model ribooligonucleotides-assisted aminoacylation of RNA minihelices, selection of L-amino acids was determined by a pre-selected D-ribose [76–78]. With a fascinating mirror symmetry, the artificial L-ribose-based RNA system exhibits the clear opposite preference of D-amino acids (ibid). One would then enquire: What if the chiral-mirror RNA world with L-ribose and D-amino acids is just the codon(2-3)/anticodon(1-2) biased? The mirror selexed RNA aptamers could provide an answer.
It should be noted that, in principle, the hypothesis of pre-translational origin of the genetic code is consistent with the hypothesis of its shaping in coevolution with amino acids biosynthesis proposed in [79, 80] and extended in [81]. Indeed, if the advanced RNA life did have widely used amino acids (for example as cofactors of ribozymes [9–11]), then it seems reasonable to assume that to some extent the earliest shaping of the genetic code in general, and the order of entering of amino acids into coding in particular, could recapitulate their biosynthetic pathways.
The stereochemical affinity between aa and the anticodon-containing aa-binding sites in selexed RNAs does not preclude, of course, further optimization of codon-to-aa assignment. Very telling in this regard is the sparseness of triplet usage in aa-binding sites [12]: usually for each aa there is only one significantly preferable anticodon (e.g. see Figure 3). Consistently, for most of amino acids the number of anticodons is less than that of codons. This fact points, yet again, to primacy of anticodons, and not codons, in the genetic code origin. Obviously, the repertoire of codons was filled out later, perhaps together with minimization of translation errors in synthesis of very first proteins, such as heat shock proteins, "RNA chaperones" [4, 5] and proto-aaRS enzymes ([18–20, 22, 24, 82–86], however, see [7]). And yet, the current analysis shows that the core of the genetic code might have emerged much earlier, certainly before translation.
We propose here a new model of stepwise, Fibonacci process-like elongation of a tRNA molecule from just two (triplet and quadruplet) motifs to a 76 nt-long cloverleaf (Figure 5). Importantly, the earliest part of the molecule, the acceptor arm, already contains the primordial anticodon/codon pair. This means that the two concepts - the pre-translational code and the more ancient operational code of tRNA aminoacylation preceding the classic code for reading mRNAs - may tell actually one and the same story, rather than two different ones. Accordingly, we repeatedly emphasize that the hypothesis of primal stereo-chemical affinity between aas and anticodons (or codons) [12, 16], the hypothesis of coding coenzyme handles for amino acids [9, 10], the hypothesis of tRNA-like genomic 3' tags suggesting that tRNAs originated in replication [87–89], the hypothesis of the proto-ribosome having served originally a role in RNA replication with the help of primordial tRNA molecules delivering trinucleotides [4, 5, 45–47] - all four evidently pre-translational - and the hypothesis of the ancient RNA operational code, most likely ribozymes-mediated and pre-translational as well [26], do not contradict but, on the contrary, strongly support each other.
To conclude, our retrospective analysis of aa-binding sites in RNA aptamers and the "proto-anticodon → cloverleaf" model of tRNA growth add to the fundamental premise: Translation without code does not make sense, but code without (and before) translation does.
Methods
The common ancestor of acceptor arms (Figure 4) was reconstructed from the phylogenetic trees of Bacteria, Archaea and Eukarya as detailed in [20]. A combination of manual sequence alignment, Neighbor-Joining phylogenetic tree reconstruction method with Tamura-Nei distances and manual Parsimony-based ancestral state reconstruction was used.
The selected amino acid binding sites, comprising 337 independently derived sequences (18,551 nucleotides in total) directed at eight amino acids, are described in [12]. The curated sequence libraries are available directly from Yarus et al [12].
The statistical significance of over- or under-representation of anticodon/codon triplets was ascertained using chi-square or similar (G-test, exact binomial) two-sided statistical tests.
Reviewers' comments
Reviewer's report 1
Eugene V. Koonin, National Center for Biotechnology Information, National Library of Medicine, NIH, Bethesda, USA
Reviewer Comments
This manuscript addresses arguably the most fundamental and most difficult problem in the study of the origin of cells: the steps leading to the emergence of the translation system. Any informed discussion of this fundamental enigma is of interest, and this is particularly true of this exceptionally well written and thoroughly referenced manuscript. I find it equally evident that the decisive breakthrough remains elusive, and even the direction in which one should proceed to find it is less than obvious. So does this analysis take us a step closer to a (the) solution?
In their discussion, Rodin et al. proceed from the unassailable conclusion that p-aaRS must have been preceded by r-aaRS at the early stage of evolution to an analysis of the well known data on aptamer recognition of amino acids, in the hope of elucidating remnants of the primordial code. Here they make a very good observation that explains the superficially puzzling representation of both codons and anticodons in the aptamers selected for binding Arg, Ile and Tyr: the codons for these amino acids are self-complementary palindromes in positions 1-2 (eg, CGN for Arg), so it is not surprising that, as long as (say) the codon is over-represented in the aptamer, so will be the anticodon. This I believe solves a "pseudo-puzzle" in the aptamer data. They then continue with the discussion of the other type of palindromic relationship between codons and anticodons: codon positions 2-3 vs anticodon positions 1-2. The conclusion for Arg is that "when for the same amino acid, arginine, we find in its RNA-binding sites a cognate, but not-CG-containing, triplet, it appears to be the anticodon, not codon". And overall: "Anticodons, not codons, are more often significantly over-represented in aa-binding sites of the RNA aptamers". There is also another, more subtle pattern that comes out of the aptamer analysis: "For amino acids encoded by dinucleotide-palindrome-containing triplets, their binding sites in RNA aptamers "prefer" the codon(1-2)/anticodon(2-3) motifs over the codon(2-3)/anticodon(1-2) ones in spite of their seemingly perfect symmetry". The primary conclusion, of course, is that the 3rd base of the over-represented triplet in aptamers is more important in aptamer-amino acid recognition, so the recognition is anticodon-based rather than codon-based. The meta-conclusion is that this recognition is a relic of the putative primordial, pre-translational code.
I am afraid I am rather skeptical of this entire line of reasoning - above all, because the aptamer data are weak, with the possible exception of only two amino acids, and these amino acids (Arg and Ile) are not the simplest ones or those that are generally thought to be primordial. I am just not convinced that the aptamer data are relevant at all. What is more, assuming there is some signal there, I am not sure it has anything to do with either codons and anticodons. The authors themselves are very emphatic on the statements that the primordial code had nothing to do with translation, and indeed, the classic results on specific aminoacylation of the CCA-arms (refs. [25, 26]) do suggest the existence of a primordial operational code that might have had nothing to do with the present one.
The rest of the paper is a rather involved discussion of the potential relics of the pre-translation stages in the tRNA structures, in part, recapitulating the previous publications of the authors. The idea with the Fibonacci-like iterative process of tRNA evolution is of course very elegant and numerologically appealing but the entire scheme is quite speculative.
So does this paper report progress in our understanding of the origin and evolution of translation and the code? It is hard to give a 'yes' or 'no' answer. The paper ends with the overall conclusion that "Translation without code does not make sense, but code without (and before) translation does". I think this is good logic. I also applaud with the authors' approach of combining many different lines of evidence in approaching this formidable evolutionary puzzle. However, my overall position is that we still have not developed the right way to approach this problem, so all current scenarios are likely to be wrong in most details. In this situation, what matters is the quality of the discourse, and in this respect, the current paper will be helpful to any researcher interested in the problem.
Authors' Response
We have greatly appreciated the reviewer's comments and critique; our response is structured in the following three sections:
I. On the general relevance of aa-binding RNA aptamers data to the problem of the genetic code origin
Just like the singularity point in the origin and evolution of universe, the actual start of bilingual life (with nucleic acids, proteins and genetic code in between) was, is, and probably will always remain obscure. In such an "agnostic" (in Huxley's meaning) situation, one of the very few intellectual pursuits that a theoretician could afford to accept as not being hopelessly speculative would be to examine, by all conceivable means (including in vitro experiments with aa-specific RNA aptamers), the crucial "key-lock vs. frozen accident" alternative. Naturally, in vitro selection of RNA aptamers (aimed at an increasingly more specific recognition of a particular amino acid) has little, if anything, in common with shaping of the genetic code that actually took place in early evolution. Apparently, the real code developed stepwise following the classic scheme of gene duplications with subsequent specifications, regardless of whether it have started with a very specific stereo-chemical "key-lock", a true "frozen accident", or possibly something in between --- a "frozen stereo-chemical accident" ([16] see also [10]). In contrast, SELEX experiments of the Yarus type always start with an absolutely random RNA sequence. But if so, then the excesses one observes in selexed aa-binding RNA sites --- excess of cognate anticodons in general, and excess of anticodon (2-3)/codon(1-2) tetraplets in particular --- are all the more impressive.
II. More on excess of anticodons in aa-binding sites of RNA aptamers
Logically, if we accept that p-aaRSs must have been preceded by r-aaRSs, then we have to face the problem of interaction between a particular aa and its cognate r-aaRS, and this, in a nutshell, is the proverbial problem of the genetic code origin. Specifically, a whole cluster of interrelated questions arises, the most important (in our estimation) ones being: (1) was this interaction absolutely random, or stereo-chemically selective (at least weakly), and (2) did this interaction have anything in common with the real genetic coding?
The similarity of aa-binding sites in RNA aptamers independently selexed for a given amino acid casts doubt on the randomness. Moreover, the significant excess of cognate anticodons within these sites strengthens the hypothesis of underlying stereo-chemical preference. The RNA aptamer data are statistically compelling in this regard (see also the detailed analysis in [12]), and the question one might ask is rather how to account for this striking level of significance by any other means?
Previously, one of us (ES) has formulated this precisely: logic dictates the hypothesis of direct interactions between RNA and amino acids in the emerging RNP life, but corresponding binding sites may not have anything to do with the current cognate triplets [9]. In this case, the codon/anticodon triplets would have been an early operational code of sorts (in a sense that they would have been symbolic/conventional, rather than iconic). Then, of course, we should be able to demonstrate some other sequences being specific binders. The experiments, first suggested in [90], are now known as Yarus type SELEX experiments; our analyses thereof have revealed anticodonic "predominance", and so we tentatively conclude that early coding was, so to speak, iconic and anticodonic.
Two of us (SNR and ASR), just like the Reviewer 1 (and for similar reasons), initially also made light of the stereo-chemical hypothesis until (1) revealing the sub-code for two modes of tRNA recognition by aaRSs (Figure 1B), and (2) noticing that the puzzling confusion-prone simultaneous presence of codons in aa-binding sites of selexed RNA aptamers might have been simply a hitch-hiking by-product of the anticodon-targeted selection (discussed in this paper). We feel that this observation is in fact more important than a mere resolution of the persistent but superficial puzzle --- and it certainly increases the significance of RNA aptamer data in the context of the problem of genetic code origin. In principle, the complementarity of codons and anticodons means that there is no difference whether it is the former or the latter that will prevail in aa-binding sites of RNAs. However, the fact that it is actually the latter (and we present not one but many independent pieces of evidence in support of the anticodon's prevalence) tells us a lot about the consistency of the primacy of anticodons (by origin) with logically necessary primacy of coding. As a matter of fact, it is mildly ironic that the aa-cognate triplets in mRNAs were named "codons" (ensuring their complements in tRNAs being named "anticodons"). Strictly speaking, it would make more sense to flip the terms --- if anticodons did emerge first, as the aa-specific triplets in ribozymes of the primordial RNA life (perhaps long before amino acids were recruited into translation), they deserve to be named "codons". Consequently, triplets in mRNAs would become "anticodons" (thus reflecting their origin as complementary copies of aa-specific triplets).
III. On primordial amino acids, operational code and sub-code for two modes of tRNA recognition by putative r-aaRSs
Aminoacylation of a tRNA molecule from two, major and minor grove, sides (Figure 1C) is supposed to be a very ancient feature of life. By complementary transformation of the genetic code table (Figure 1B), we have revealed its internal "yin-yang" pattern (a sub-code of sorts) that minimizes errors of tRNA recognition by putative r-aaRSs for complementarily encoded amino acids [19, 36]. This sub-code implies primacy of anticodons in the genetic code origin, but for simplest ("primordial"?) amino acids such as Ala and Gly, recognition of their proto-tRNAs by putative r-aaRSs might have been more acceptor- than anticodon-targeted, i.e. associated with the ancient operational code rather than the classic one (see [20] for details of this seeming "paradox"). Importantly, we do stress that in actuality there is no "paradox" here, and that in general the primordial code most likely had little, if anything, to do with translation (but, of course, not with coding per se). Quite the opposite, in a series of papers [18–20, 35, 36] we pursued the idea (and consolidated the data in support of showing) that (1) the primordial code was actually operational (and only operational), but nevertheless (2) these two codes - operational code of tRNA aminoacylation embodied mostly in the acceptor stem [25, 26] and the classic code associated with anticodons by which cells are reading mRNAs during translation - might have had a common ribozymes-implemented ancestor [18–20, 35, 36]. If so, classic experimental results of proper specific aminoacylation of tRNAs truncated to mini- or even micro-helix [25, 26] and in vitro selection of aa-specific RNA aptamers [12] complement rather than exclude each other --- which is one of the leitmotifs of the present paper.
As far as Ala, Gly or any other (presumably) primordial amino acids are concerned, at this time we are not aware of any reports stressing not the excess (or deficiency) of their cognate anticodons (codons) in aa-binding sites of RNA aptamers, but rather the successful selection of such RNA aptamers at all. Thus, it remains unclear whether such excess in fact exists; further, more refined, experimental attempts with selection of RNA aptamers for such amino acids would be most welcome.
Reviewer's report 2
Wentao Ma, College of life sciences, Wuhan University, P.R. China, nominated by Juergen Brosius.
Reviewer's report 3
Anthony Poole, Stockholm University, Stockholm, Sweden
Reviewer Comments
This paper is a wonderful piece of detective work that at the same time synthesizes many separate observations and theories on the origin of the genetic code and tRNAs. I really found nothing in here that requires substantial comment or clarification, other than to say it is a thoroughly interesting read - real food for thought. The analysis of results of amino acid binding sites in vitro selected RNA aptamers is thorough, and the Fibonacci process-inspired model for the evolution of tRNAs is truly insightful and thought-provoking. Perhaps one of the most interesting points of this process is that it yields a very precise stepwise model wherein tRNAs can converge independently from unrelated short RNA aptamers that bind amino acids upon a common length (and structure), ultimately containing both operational and genetic codes.
Authors' Response
We are very grateful to Reviewer 3 for this encouraging, succinct and yet precise formulation of what we have actually set out to achieve when writing the manuscript.
Abbreviations
aa:

amino acid
nt:

nucleotide
tRNA:

transfer RNA
p-aaRS:

protein aminoacyl-tRNA synthetases
r-aaRS:

putative ribozymic precursors of protein aminoacyl-tRNA synthetases
R purine (G or A):

Y pyrimidine (C or U)
D:

base-determinator
d:

base complementary to D
SAS:

Sense/Anti-Sense in frame coding of two proteins from complementary strands of the same gene.
Declarations
Acknowledgements
Partial support of this work has generously been provided by the Hungarian National Office for Research and Technology (NAP 2005/KCKHA005), by the Hungarian Scientific Research Fund (OTKA, NK73047) and the eFlux FETOPEN project (225167). The work has also been supported by the COST Action CM0703 on Systems chemistry. SNR holds the Susumu Ohno Chair in Theoretical Biology and this work was supported in part by the Susumu Ohno endowment.
Authors' Affiliations
(1)
Human Genetics Center, School of Public Health, University of Texas, Houston, USA
(2)
Collegium Budapest (Institute for Advanced Study), Budapest, Hungary
(3)
Parmenides Center for the Study of Thinking, Munich/Pullach, Germany
(4)
Institute of Biology, Eötvös University, Budapest, Hungary
(5)
Department of Molecular and Cellular Biology, Beckman Research Institute of the City of Hope, Duarte, USA
Copyright
© Rodin et al; licensee BioMed Central Ltd. 2011
This article is published under license to BioMed Central Ltd. This is an Open Access article distributed under the terms of the Creative Commons Attribution License (http://creativecommons.org/licenses/by/2.0), which permits unrestricted use, distribution, and reproduction in any medium, provided the original work is properly cited.