Phylogenetic and regulatory region analysis of Wnt5 genes reveals conservation of a regulatory module with putative implication in pancreas development
Received: 6 February 2010
Accepted: 4 August 2010
Published: 4 August 2010
Abstract
Background
Wnt5 genes belong to the large Wnt family, encoding proteins implicated into several tumorigenic and developmental processes. Phylogenetic analyses showed that Wnt5 gene has been duplicated at the divergence time of gnathostomata from agnatha. Interestingly, experimental data for some species indicated that only one of the two Wnt5 paralogs participates in the development of the endocrine pancreas. The purpose of this paper is to reexamine the phylogenetic history of the Wnt5 developmental regulators and investigate the functional shift between paralogs through comparative genomics.
Results
In this study, the phylogeny of Wnt5 genes was investigated in species belonging to protostomia and deuterostomia. Furthermore, an in silico regulatory region analysis of Wnt5 paralogs was conducted, limited to those species with insulin producing cells and pancreas, covering the evolutionary distance from agnatha to gnathostomata. Our results confirmed the Wnt5 gene duplication and additionally revealed that this duplication event included also the upstream region. Moreover, within this latter region, a conserved module was detected to which a complex of transcription factors, known to be implicated in embryonic pancreas formation, bind.
Conclusions
Results and observations presented in this study, allow us to conclude that during evolution, the Wnt5 gene has been duplicated in early vertebrates, and that some paralogs conserved a module within their regulatory region, functionally related to embryonic development of pancreas. Interestingly, our results allowed advancing a possible explanation on why the Wnt5 orthologs do not share the same function during pancreas development. As a final remark, we suggest that an in silico comparative analysis of regulatory regions, especially when associated to published experimental data, represents a powerful approach for explaining shift of roles among paralogs.
Reviewers
This article was reviewed by Sarath Janga (nominated by Sarah Teichmann), Ran Kafri (nominated by Yitzhak Pilpel), and Andrey Mironov (nominated by Mikhail Gelfand).
Keywords
Regulatory Module
Transcription Start Site
Transcription Factor Binding Site
Endocrine Pancreas
Insulin Produce Cell
Background
Wnt
genes have undergone a rapid structural and functional change in a surprisingly short period of time, <100 million years ago (MYA; 1). In particular, the
Wnt5
gene has been found to be duplicated in those species arisen in evolution later than the divergence time of jawed vertebrates (gnathostomata
)
from the lineage of agnatha, including hagfish and lampreys, nearly 560 MYA [
1
,
2
]; see also Figure
1
). Indeed species belonging to
protostomia
invertebrates (
Drosophila melanogaster) deuterostomia
invertebrates
(Ciona intestinalis)
and to the class of agnatha vertebrates (
Petromyzon marinus
), were found to have one
Wnt5
gene, while gnathostomata vertebrates have two, namely
Wnt5a
and
Wnt5b
. These genes encode growth factors, known to be implicated in several developmental and tumorigenic processes [
3
,
4
]. Forsooth, it has been shown that Wnt5a signaling determines the migration of insulin-positive cells during murine pancreatic morphogenesis [
5
]. Moreover, an abnormal formation of pancreas in early embryos of mice occurred after over-expression of
Wnt5a
[
6
]. Finally, after induction of the key transcription factor (TF) for endocrine pancreas specification, the Neurogenin3 (NGN3), an altered expression level of
Wnt5a
in murine embryonic pancreas progenitors was detected [
7
], whereas that of
Wnt5b
remained unaltered [
8
].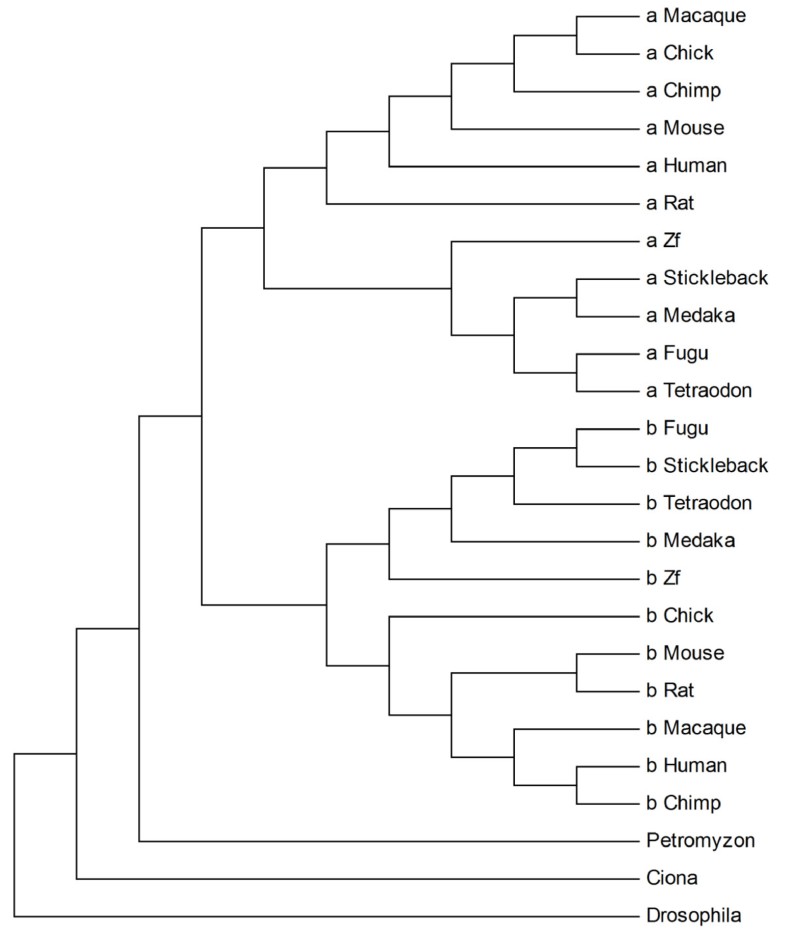 A previous study [5] showed that in some species carrying both Wnt5 paralogs only one participates in cell migration events during the endocrine pancreas development. More explicitly, they showed that in early mice embryos Wnt5a expression guides the migration of islet cells in order to properly form the endocrine part of pancreas, while in zebrafish embryos, the Wnt5 signalling is required for the proper migration of insulin producing cells during pancreas development [5]. However, previous studies aiming to establish the function of Wnt5 genes, observed that, despite the similarity in expression pattern between zebrafish ZfWnt5 and murine Wnt5a during pancreatic development [9–12], the former was found to be characterized by a higher amino acid sequence similarity to that of the mouse Wnt5b [3].
Taking into account the importance of Wnt5 genes during development of pancreas, in relation to shifting roles between paralogs, we decided to conduct a phylogenetic and an in silico comparative regulatory region analysis of Wnt5 genes. Our data confirmed that the duplication of the Wnt5 gene, including also its upstream region, has occurred at the divergence time of gnathostomata from agnatha. Additionally, within this region we identified a conserved regulatory module binding trans regulators annotated to be related to pancreas development.
Conclusions
In this study, phylogenetic and regulatory region analyses of Wnt5 genes were conducted. A special feature of the phylogeny in our work is the inclusion of Lamprey, the only living representative of the agnatha (jawless), with known genome, from which all jawed vertebrates diverged [40]. The phylogenetic analysis confirmed that in those species arisen after the divergence time of gnathostomata two Wnt5 paralogs exist, whereas in the agnathon Petromyzon (P. marinus) and the representatives of protostomia (D. melanogaster) and deuterostomia (C. intestinalis) invertebrates, only one (see Figure 1). This is explained by a duplication event which has occurred at the evolutionarily time that gnathostomata diverged from agnatha (before 560 MYA; 1, 2).
Finally, the comparative regulatory region analysis allowed the identification of a conserved region, where many TFs, annotated to participate in pancreas formation, bind and regulate Wnt5 expression. The presence of these binding motifs, which cluster inside this regulatory region, might explain the implication of the corresponding Wnt5 paralog into the processes enlisted necessarily for the pancreatic cells subtypes' differentiation. Providing the fact that the Wnt5 gene is a member of the Wnt family, it is interesting to identify LEF1, a known mediator of Wnt signalling pathway [30], as a regulatory factor of Wnt5 expression, which further guides this pathway. On the other hand, the regulation of the Wnt5 gene through TFs with known implication in pancreas organogenesis, and more specifically in the proper orchestration of cell movements, gives evidence for the necessity of this regulatory module for the proper differentiation of cells capable of producing insulin. It is worth pointing out that, Lamprey with both pancreas and insulin producing cells has preserved this module inside the regulatory sequence of the Wnt5 gene.
Taking into account that the evolutionary time, when Wnt5 and its regulatory sequence were duplicated, is close to the divergence time of gnathostomata, it is not surprising that in some gnathostomata fishes this module was identified in both Wnt5 paralogs, while for evolutionary younger jawed vertebrates, together with zebrafish, it is preserved in only one. It is worth noting that in Osteichthyes, in which zebrafish belongs, regulatory module divergence and subfunctionalization between paralogous genes are common phenomena [41]. Evaluating the results of our study we may conclude that the Wnt5 paralog, the regulatory module of which was lost (Wnt5a of zebrafish and Wnt5b of mouse) was excluded from the participation of the pancreatic cells' subtype specification procedures. This could be characterized as a neofunctionalization rather than as a subfuntionalization event. Indeed, as we have already anticipated, a study of Kikuta et al., 2007 [21] has shown that in teleosts there are numerous cases, where a highly conserved regulatory module remains near to only one duplicated gene, providing a satisfactory explanation why in zebrafish this regulatory module was maintained only in the Wnt5b, which is also the one implicated in pancreas development [3].
The conservation of this regulatory module in at least one paralog of the species investigated in this study (Figure 4) reflects its functional importance. Indeed, the experimental data from mouse and zebrafish reinforce a possible relation between the presence of this regulatory module in a Wnt5 paralog, and its implication in pancreas formation [3, 5]. Moreover, the presence of this TFBS cluster in human Wnt5b, absent in that of the rodents (mouse and rat), not only explains the observed human-rodents divergence of Wnt5b promoters [42], but also agrees with its implication in human type 2 diabetes [43]. Finally, the herein examined profiles for Wnt5 genes for two distinct cases; mice pancreatic development and across several human adult tissues add evidence on the functionality of this module and explain why genic preservation has occurred respectively. Indeed, the first case supports the fundamental role that mouse Wnt5a (carrier of the regulatory module) plays during pancreatic development. On the other hand, the human adult tissues expression profiles reveal a low expression divergence between Wnt5 genes in the adult state, which supports the preservation of Wnt5 genes, known to be implicated into a responsive backup circuit [34]. Concluding, it is very likely that selective pressure through evolution forced the coding regions of Wnt5 paralogs to remain unaltered and maintained the functionality of at least one regulatory module inside their upstream sequence. This last point is further supported by the expression profiles of macaque Wnt5 genes.
Despite the fact that some issues presented herein, might require further experimental exploration, the approach adopted in this work managed to offer a putative explanation why either Wnt5a or Wnt5b across different species preserved the same function. In relation to this, we conclude suggesting that similar analyses associated to experimentally produced data, could represent an efficient strategy in order to investigate cases where a shift in the functional role of paralogs has occurred.
Authors' information
MK: PhD Student in the Department of Pharmacy of University of Patras and in the Biomedical Research Foundation of the Academy of Athens (BRFAA).
SA: PhD, post-doc in Bioinformatics & Medical Informatics Team, in the BRFAA.
SK: DPhil, Investigator C-Assistant Professor Level, Head of Bioinformatics & Medical Informatics Team, in the BRFAA.
Reviewers' comments
First Reviewer
Ran Kafri (nominated by Yitzhak Pilpel)
Lahav Lab, Department of Systems Biology, Harvard Medical School
Report
I read your manuscript and found it very interesting. Gene duplications have always been close to my heart. It was very interesting that you were able to identify both synteny and regulatory motif conservation. This conservation indicates the importance of the functional role played by Wnt and of the lack of redundancy in the time of duplication. I think that the main aspect that may improve the work is to embed it within the larger framework of current models describing duplicate gene evolution. Specifically, the fate of duplicate genes, following a duplication event, is typically described in terms of one of three possibilities (see ref 1). Neofunctionalization, subfunctionalization and gene loss. Obviously, this above description is a form of simplification. For example, a pair of duplicates can undergo both partial subfunctionalization and neofunctionlization. Nevertheless, the ne-/sub funcitonalization model serves a very good axis for describing fates of gene duplicates. In the case of Wnt5, which of the two processes would you say is a better descriptor of what happened?
Another meta-question that is interesting to address is why, following the gene duplication event, have both Wnt5a and Wnt5b been evolutionarily conserved? Redundancy is known to be evolutionarily instable. The fact that both duplicates have been retained throughout evolution suggests that there is a functional advantage to having both (see ref 2). What is that advantage? Maybe a guess at that question could be based on the motif analysis of both genes. Which motifs are old, which are new. What processes do these below to?
ref 1:
The evolutionary fate and consequences of duplicate genes. Lynch M, Conery JS. Science. 2000 Nov 10;290(5494):1151-5.
ref 2:
The regulatory utilization of genetic redundancy through responsive backup circuits. Kafri R, Levy M, Pilpel Y. Proc Natl Acad Sci USA. 2006 Aug 1;103[31]:11653-8. Epub 2006 Jul 21.
Authors' response
We do agree with reviewers' comments, and we have now added in our manuscript a possible model describing Wnt5 gene duplication event, and on why both copies were preserved. We hope now to fully answer to the comments of the reviewer.
Second Reviewer
Sarath Chandra Janga (nominated by Sarah Teichmann).
MRC-Laboratory of Molecular Biology. Darwin college, University of Cambridge.
Report 1
In this work the authors present an evolutionary and regulatory region analysis for the Wnt5 family of genes in different vertebrate and invertebrate genomes. Although the work is interesting and in general well-presented, I have few concerns regarding the presentation and clarity of the manuscript. Given that the manuscripts only major observations are that Wnt5 gene is duplicated early in evolution after the divergence time of gnathostomata and that in several genomes with paralogs the regulatory region corresponding to wnt5a and wnt5b paralogs appears to be conserved, the authors should consider addressing all these comments below in order to increase the readability and clarity of the manuscript.
General Comment 1
The title appears very abstract without any novel implications although the authors did carry out some meticulous first hand analysis. So I suggest changing the title to something more informative like "Phylogenetic and regulatory region analysis of Wnt5 genes reveals change in genomic context of the two paralogs [despite conservation of regulatory elements]"
General Comment 2
One major concern with the study is that the authors have a series of observations with regard to the regulatory region analysis but it is not evident if what are the interpretations of these observations, as the authors never conclusively discuss them in the context of known knowledge about Wnt signalling. For instance, the authors mention very briefly an show in Figure 3 that only one of the two Wnt5 paralogs contain the regulatory module in several higher eukaryotes however it is not clear if this is due to sensitivity of the search method adopted or if this is true what are the implications in terms of the expression patterns of the other Wnt gene. These observations should be discussed in detail.
General Comment 3a
In this context, more generally how do the expression levels of wnt genes in various human and mouse tissues compare? For instance using the microarray datasets like Andrew Su et. al. PNAS for expression data do the authors see a correlation in their levels or a divergence.
General Comment 3b
It appears to me that the authors claim (and expect) at some point in the manuscript that they are both still involved in the same tissue-specific processes (these observations primarily based on previous expression studies) however the lack of regulatory module conservation with change in neighborhood suggests the opposite- So the authors should discuss their observations in light recent studies such as Janga et. al. PNAS 2008 -and De et. al. Genome Research 2008 where the authors show rewiring of regulatory networks due to change in context.
General Comment 4
The authors show in Figure 3 that NGN3 binds to wnt5b in both human and chimp but not wnt5a however the discuss in the introduction in light of references 7 and 8 that wnt5b expression is unaltered while wnt5a changes in expression due to the induction of NGN3. This has to be clarified in light of authors (apparently) contrasting observations.
General Comment 5
The authors should consider introducing/showing the phylogeny shown in Figure 1 in the introduction itself and mark the genomes into different groups of vertebrate and invertebrates on the figure to improve clarify. Do the authors see the same tree if the alignment was done by grouping wnt5a and wnt5b proteins as different groups.
General Comment 6
In most locations of the manuscript, the authors do not cite corresponding materials and methods section.
General Comment 7
What do the authors mean by ".. between the evolutionary age of P. marinus and that of gnathostomata" towards the end of the section on phylogenetic analysis?
General Comment 8
How do the author identify the Transcription Start Site (TSS) in various genomes? are these a mix of experimental and computational predictions. This has to be detailed in the methods.
General Comment 9
Related to point 8 above the authors could use the relative locations of TSS and the binding regions of TFs to propose whether the regulatory context is indeed conserved between the paralogs across genomes analyzed.
General Comment 10a
The authors should discuss the following scenarios based on their findings What is the likelihood that the paralogs for which there is conservation of regulatory module there is lack of expression/process context.
General Comment 10b
Those paralogs which don't have the regulatory module are they expressed in general? or alternatively is it possible that they are non-functional over times.
Minor comments for revision
There are grammatical inconsistencies and lack of clarity in presentation in different parts of the manuscript, which I expect the authors to revise. Below is an incomplete list which should be corrected.
1) Introduction, Rephrase the sentence to improve clarity ".. and ciona intestinalis (deuterostome), and to early vertebrates, like agnatha, including hagfish and lampreys, were."
2) Rephrase the sentence in Phylogenetic analysis section "The orthologous peptides for Wnt5a and for their wnt5b paralogs were identified.."
3) Page 4, "Formaly" should be "Formally"
4) In conclusions section rephrase ".., situated in close proximity one to each other, and.."
5) On page 10, para 2 change "evolutionary" to "evolutionarily"
6) Rephrase Page 11, last para, "..on why for some species different Wnt5 paralogs
7) The authors use regulatory element and module synonymously in different places. Since the search was for a set of regulatory elements, they should use regulatory module or set of associated TFBS as a common terminology throughout the manuscript in order to avoid confusion to non-specialists.
Authors' response
Answer to General Comment 1
Having taking into account the constructive suggestion concerning the title of our manuscript, we changed it to read: "Phylogenetic and regulatory region analysis of Wnt5 genes reveals conservation of a regulatory module with putative implication in pancreas development."
Answer to General Comment 2
We agree with this comment of the reviewer. In order to test whether the presence of this module in Wnt5 genes is due to sensitivity of our method, we repeated exactly the same analysis (same parameters and for the same species) for the constitutively expressed gene of b-actin, finding absence of the module, with exception that of zebrafish. For details please see section Regulatory Region Analysis.
Answer to General Comment 3a
We agree that an estimation of a correlation in expression divergence of Wnt genes in various human and mouse tissues would be a very interesting topic. However, we believe that it would alter the main scope of our work, which is focused on investigating the implication of Wnt5 genes in pancreas development, based in the background knowledge that in mice embryonic stem cells upon Ngn3 induction (key regulator of pancreas development) Wnt5a gene shows the greatest alteration in expression compared to the other Wnt genes, i.e., Wnt4 and Wnt11 (Serafimidis et.al., 2008). Moreover, we believe that the suggested analyses by the reviewer, involving the expression divergence of several Wnt genes for only two species (mouse and human; Su et al., 2002, 2004) in adult state, would not add new elements on our study which is limited to the Wnt5 paralogs of several species during embryonic pancreas development.
Answer to General Comment 3b
Our manuscript suggests that only the Wnt5 paralog carrying the regulatory module is implicated into the endocrine pancreas formation, and not both. However, those Wnt5 genes without the element have important role in other processes and in light of some additional analyses we now explain why both copies were conserved (see new section Functional Domain Analysis). Finally, concerning the studies of Janga et al., (2008) and De et al., (2008) both reporting important observations at genomic level, in our opinion, it cannot be directly related to our work, where the paralogs of a single gene (Wnt5) across several species is investigated, and not several genes within an organism.
Answer to General Comment 4
Reference 7 and 8 are not contrasting to what is shown in Figure 3 for human and chimp, since these studies refer to murine cells.
Answer to General Comment 5
We now refer Figure 1 also in the introduction, and we added vertebrate and invertebrates indication.
We repeated the analysis with Wnt5a and Wnt5b proteins separated and results were maintained rather constant to the submitted tree (details on the results are available upon request).
Answer to General Comment 6
We have now reviewed the manuscript and where necessary it has been added (see materials and methods).
Answer to General Comment 7
We have now rephrased this section of our manuscript.
Answer to General Comment 8
We now added the above in the material and methods section
Answer to General Comment 9
We have now added a comment on the relative positions of TSS and the binding regions of the TFs.
Answer to General Comment 10a
In the two last paragraphs of our manuscript we clearly report that our conclusions are limited only to those organisms where experimental data support the relation between conserved modules and function, the latter one additionally supported by the results of the suggested negative control experiment. In our opinion any further discussion concerning the presence of the module and lack of its expression/process, would be purely speculative in absence of any experimental information or evidence.
Answer to General Comment 10b
As we already anticipated, our study is focused on those Wnt5 genes implicated in pancreas developmental processes guided by Ngn3 induction. However, it has already been shown that both, Wnt5a and Wnt5b paralogs, are necessary for several developmental processes demanding proper cell migration and cell polarisation events (Cooper et. al., 2006, Hardy et al., 2008, Yang et al., 2003, Kim et al,, 2005). In this regard we have now included in our work a comment on their implication in different processes, and on why both Wnt5 genes were preserved.
Answer to the Minor comments for revision
We have corrected all minor comments.
Report 2
Thanks for addressing some of the concerns raised by me however i still feel that the manuscript can be significantly strengthened by improving two aspects of the study
1) By improving the discussion in light of your observations by extrapolating to observations made by other groups in various tissues
2) I still feel that since the manuscript is already a very short piece (as it is) and so it warrants an in depth analysis of expression patterns at least in pancreas and related tissues if not across all the tissues for which expression data is available.
This analysis is rather easy using currently available gene centric databases such as 'genecards' for humans and i urge the authors to do this analysis and present a heatmap showing this to support the discussion part. If you are able to address these minor concerns I am willing to support the publication of your work.
Authors' response
According to your suggestions, we investigated the expression patterns of both Wnt5 genes, in several adult tissues of human and during pancreatic development of mice.
For the human Wnt5 genes, a similarity in their expression profiles was observed (for details please refer to the main text of the updated version of our manuscript, attached in this email). The high correlation in their expression profiles in adult state of human is in agreement with the conservation of both genes in order to maintain a responsive backup circuit, which controls the canonical and non canonical Wnt signaling pathways.
Concerning the expression pattern of the murine Wnt5 genes during pancreatic development, we found a distinct and well maintained profile in their expression. More precisely, during those days of pancreatic development in which the migration of those cells forming the pancreatic islets is estimated to take place, the murine Wnt5a gene (carrier of the conserved regulatory module) shows a higher expression than Wnt5b. Summarizing, the given results and observations, from the herein conducted expression analyses, agree with what we describe in the manuscript (please see attached manuscript for details).
We look forward to hearing from you and thanking you very much for your constructive comments and the time you took to review our manuscript thoroughly.
Report 3
Thank you very much for addressing the concerns which I raised in my previous round of comments. The manuscript now reads well and I think is suitable for publication.
Third Reviewer
Andrey A. Mironov (nominated by Mikhail Gelfand).
Department of Bioengineering and Bioinformatics, Moscow State University.
Abbreviations
MYA:

Million Years Ago
TF:

Transcription Factor
NGN3:

Neurogenin3
TFBS:

Transcription Factor Binding Sites
TSS:

Transcription Start Site
NGN1/3:

Neurogenin 1/3.
Declarations
Acknowledgements
We thank Dr. A. Gavalas for the valuable discussions on experimental results associated to pancreas development.
Authors' Affiliations
(1)
Bioinformatics & Medical Informatics Team, Biomedical Research Foundation of the Academy of Athens, Athens, Greece
(2)
Developmental Biology Laboratory, Biomedical Research Foundation of the Academy of Athens, Athens, Greece
(3)
Department of Pharmacy, School of Health Sciences, University of Patras, Rion-Patras, Greece
Copyright
© Kapasa et al; licensee BioMed Central Ltd. 2010
This article is published under license to BioMed Central Ltd. This is an Open Access article distributed under the terms of the Creative Commons Attribution License (http://creativecommons.org/licenses/by/2.0), which permits unrestricted use, distribution, and reproduction in any medium, provided the original work is properly cited.