Selection in spatial stochastic models of cancer: Migration as a key modulator of fitness
Received: 1 February 2010
Accepted: 20 April 2010
Published: 20 April 2010
Abstract
Background
We study the selection dynamics in a heterogeneous spatial colony of cells. We use two spatial generalizations of the Moran process, which include cell divisions, death and migration. In the first model, migration is included explicitly as movement to a proximal location. In the second, migration is implicit, through the varied ability of cell types to place their offspring a distance away, in response to another cell's death.
Results
In both models, we find that migration has a direct positive impact on the ability of a single mutant cell to invade a pre-existing colony. Thus, a decrease in the growth potential can be compensated by an increase in cell migration. We further find that the neutral ridges (the set of all types with the invasion probability equal to that of the host cells) remain invariant under the increase of system size (for large system sizes), thus making the invasion probability a universal characteristic of the cells selection status. We find that repeated instances of large scale cell-death, such as might arise during therapeutic intervention or host response, strongly select for the migratory phenotype.
Conclusions
These models can help explain the many examples in the biological literature, where genes involved in cell's migratory and invasive machinery are also associated with increased cellular fitness, even though there is no known direct effect of these genes on the cellular reproduction. The models can also help to explain how chemotherapy may provide a selection mechanism for highly invasive phenotypes.
Reviewers
This article was reviewed by Marek Kimmel and Glenn Webb.
Keywords
Focal Adhesion KinaseGrowth PotentialFitness LandscapeMigration PotentialFocal Adhesion Kinase Expression
Background
Cancerous cells within a tumor compete with one another in a fast paced evolutionary system. At the molecular level, mutations are introduced into the tumoral genome; these mutations may be caused by inherited deficiencies, loss of mismatch repair systems, downregulation of the proofreading checkpoints, and chromosomal instabilities. At the cellular level, these mutations introduce changes in phenotype, some profound but many others subtle. It is the emergence of these mutations, as well as epigenetic events, which generates the incredible flexibility and adaptability of the cancer disease state.
While the effect of certain mutations on the cell's phenotype is reasonably well understood (induction of K-Ras, loss of p53 and/or Rb, overexpression of matrix metalloproteases [1]), it is conceptually difficult to quantify and analyze the level of genetic heterogeneity within a given tumor. It is even more difficult to measure the forces of natural selection in anything other than broad, descriptive terms.
Speaking in broad evolutionary terms, we would like to understand what cellular characteristics make certain cells more fit than others. If a mutant is introduced in a cell colony, what combinations of the mutant characteristics and "background" characteristics make the mutant cells win the evolutionary competition?
The idea that cancer is an evolutionary process has been applied successfully by many computational biologists, as it allows them to use methods of theoretical population biology and ecology [2–8]. Here we focus on two types of phenotypic changes induced by mutations. The first type involves mutations in genes affecting cell proliferation. Activation of some oncogenes, or inactivation of tumor suppressor genes, change the cells' reproductive capacity, and are thought to be early events in the natural history of many cancers [1]. The second type of genetic change influence the cells' ability to migrate/move. Genes of the second type, while commonly associated with metastases, are also affected in primary tumors [9].
These two types of variation are thought to be implicated in malignant transformations for many (if not all) types of solid tumors. How do the two types of change trade-off to create a mutant which is "fitter" than the background? Questions of this kind are related to the general theory of fitness landscapes, first introduced by [10]. Fitness is viewed as a surface in a multidimentional space, where the dynamics is assumed to be directed toward local fitness maxima. The global maximum corresponds to the evolutionarily stable strategy [11]. In scenarios where fitness of an individual strategy depends on the current composition of the population (frequency-dependent fitness), the formalism of fitness generating functions is used [12].
In this paper we focus on a specific aspect of the general problem of fitness landscapes. Namely, we provide a qualitative framework to study the forces of selection acting within a spatially distributed, stochastic colony of cells, which can vary with regards to the two above mentioned characteristics. The models we construct for this purpose are a spatial generalization of a well-known Moran process, which was first introduced in [13]. This process has been used recently in cancer modeling (see [14–18]). The first spatial (1D) generalization of the Moran process was described in [19], where we considered the process of one-hit and two-hit mutant fixation. The simplicity of the (generalized) Moran process enabled us to study analytically, as well as numerically, the role of space in the processes of loss-of-function and gain-of-function mutations, see also [20]. In this spatial Moran process, the cells were allowed to divide in response to a death of a neighboring cell on a 1D grid.
In this paper we construct two spatial generalizations of the Moran process with cell migration. The first model includes explicitly the processes of cell division, death and migration. The second model implicitly describes migration through the varied ability of cell types to place their offspring a distance away, in response to another cell's death. The advantage of the simplified model is its analytical tractability. The two main findings are as follows:
In both models, we find that migration has a direct positive impact on the ability of a single mutant cell to invade a pre-existing colony. A decreased fitness due to lesser growth potential may be offset by an increase in cell migration.

The neutral ridges (the set of all types with the invasion probability equal to that of the host cells) remain invariant under the increase of system size (for large system sizes), thus making the invasion probability a universal characteristic of the cells selection status.
Our work is somewhat different from a large body of recent literature where spatial cancer dynamics is studied by means of cellular automata or agent-based modeling (see the recent reviews [21–29] and the references therein). Rather than adding on many biological processes and subtleties to our model, we focus on understanding how just two forces, proliferation and migration, trade-off to influence the overall fitness of cells.
Discussion
A central idea of this paper is that the cell with the fastest intrinsic growth rate is not always the most fit. Rather, it is the culmination of ability to divide with increased opportunity to do so. These forces must be balanced, depending on the relative costs of both adaptations for a cell.
We have demonstrated how relatively simple, two-component, models can help explore the complicated phenomenon of phenotypic heterogeneity. With the multiphasic nature of fitness presented here, many different strategies have equal or nearly equal fitness (figures 3 and 6). As the number of traits under consideration increases, it is similarly expected that the potential combinations of strategies which lead to equal fitness will increase. This would reflected in the existence of multidimentional sets equivalent to neutral ridges described here.
The heterogeneous nature of tumors provides a primary mechanism for resistance to current therapeutic strategies. Tumors behave as fast evolutionary systems, with many subtly different phenotypes coexisting, cooperating and/or competing within a shared environment. Changes in phenotypes can arise de novo from altered gene expression profiles, rapid cell proliferation outpacing DNA repair mechanisms, loss of repair systems or checkpoints, alterations to chromosomal integrity and epigenetic events. The application of therapy (chemical, radiation) to this system changes the selective forces acting upon the various phenotypes, permitting rigorous selection and so-called "punctuated evolution" within the tumor [30]. These external forces can act to select and advantage a phenotype that might otherwise be unlikely to achieve dominance, or to accelerate the rise of a given phenotype within a population.
Fitness ridges, fitness landscapes and chemotherapy
Assessing the effectiveness of a therapeutic intervention, via mass die-off and selection, underlies the difficulty in studying, understanding and treating cancer. The plasticity of the disease will alter parameters as the disease is treated. Clearly, a predictive understanding of how mutants penetrate both pre-treatment and post-treatment tumors, will be critical for designing new therapy strategies.
Our model can help understand how therapy influences the fitness landscape of the tumor. We test the hypothesis that a higher death rate generates a positive selective pressure on a more mobile phenotype. Such a death rate might describe a form of medical intervention. To test this hypothesis, we allow significantly more than one cell to die per iteration of our process. We begin with a system composed of 10% mutant cells in a background of wild type. At each step of the iteration, each cell in the space has an independent probability to die of P d . Thus, after the mass death there will be on average (1 - P d ) * N cells remaining in the system. The process described previously is then simulated without any new cell death until the space is filled again. At the end of each such iteration we determine the number of type A and type B cells in the system. This process is repeated for a fixed number of mass death events. We also determine whether or not one cell type has completely invaded the system.
As seen in figure
8
, increasing the number of cells which die at each iteration strongly increases the ability of the mutant cell to invade the system. In this figure, we have chosen a background phenotype of
k
A
= 0 and an invading phenotype of
λ
= 0.8,
k
B
as given. Note that as shown in figure
1
, this mutant is a poor invader in the single death model; a mutant with a higher replicative fitness (
λ
= 0.9, diamonds) was able to invade the background less than 10% of the time at maximum motility. We contrast this result to figure
8
, which shows that the increased death rate clearly favors the more mobile phenotype. We observe enrichment of mutant cells as iterations progress for all values of motility strength (
k
B
) (left panel). Furthermore, there is a striking increase in the probability of mutant invasion (right panel).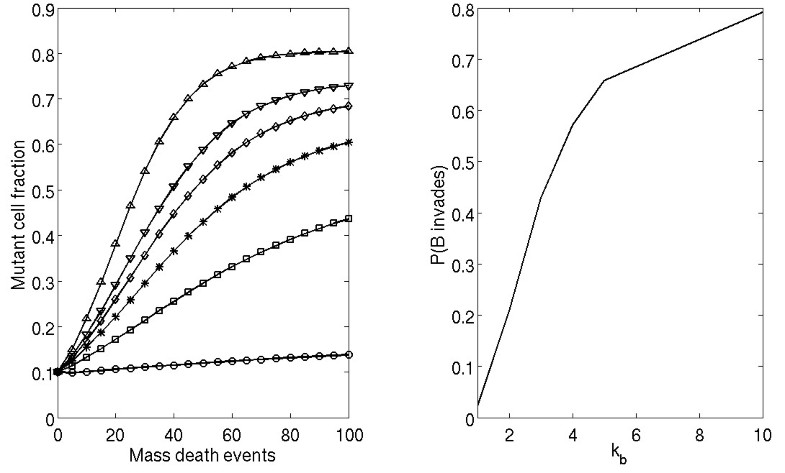 Thus, we have demonstrated that application of a toxic therapeutic intervention that results in gross tumor death can significantly promote the invasion of a more motile mutant into the general tumor- in fact, our data suggest that this advantages the invasive capacity of a motile tumor relative to the faster proliferating tumor. This somewhat unexpected observation may reflect the clinical situation; many malignant tumors exhibit enhanced expression of genes that promote motility, as discussed below.
In the implicit migration model considered here we found that the the fitness of cells depends on two parameters, the growth potential and division radius. Moreover, we demonstrated that it depends on the product of the two. This is not an unusual finding in evolutionary biology. Another example comes from virus dynamics, where the fitness of viruses (measured in terms of their basic reproductive ratio) can be calculated as a function of various parameters in predator-prey type models. It is typically proportional to the product of two quantities: the infectivity of the virus and the inverse of the death rate of infected cells. The former parameter can be roughly related to the "motility" of the virus, or to how efficiently it infects new cells, and in this sense it is roughly analogous to our division radius. The inverse death rate of infected cells is reflective of our growth potential since a decrease in the cell's lifespan (a decrease in the inverse death rate) leads to a decrease in the total number of progeny.
Several papers have been devoted to studying optimal viral strategies, especially given that the two components of fitness are not independent [31–38]. In spirit, our approach is similar to that. While there has to date been little investigation into this area, it seems reasonable to assume energy availability limits the total growth and migration ability of an invasive cancer cell; that is, since both growth and migration are energy-intensive processes, an invasive cell will have to 'budget' its energy to each.
Biological Applications
The model presented in this paper is a very crude approximation of reality. Thus the prediction generated by the model may or may not be relevant for biological applications. However, it is particularly compelling that several genetic alterations have been discovered which are implicated in promoting migratory and/or invasive phenotypes, yet play no direct role in regulating cell division. The in vivo selection for these phenotypes would appear to indicate a strong selection for the fitness conferred. For example, genes that regulate cell interaction with the local extracellular milieu, [39] or those that promote cytoskeleton dynamics [40] have been established to promote cell migration.
The class of small GTPases has been generally divided into families, based on homology and role played in the cell. The Ras family members k-ras, n-ras and h-ras have been linked to cell proliferation, while Rho family members such as Rac, RhoA and RhoC and Rac are small GTP binding proteins the influence cytoskeletal remodeling [41]. These diffierent family members exhibit significant cross-talk, with Ras influencing motility somewhat and Rho proteins sometimes contributing to proliferation. The capacity of numerous cellular proteins found to be elevated in cancer to influence both proliferation and motility, and include a swath of oncogenic proteins such as Src family kinases [42] mitogen activated family kinases [43], and phosphoinnositide 3 kinases [44].
Nonetheless, cytoskeletal effectors which are tightly linked to migration do promote cell invasion and tumor malignancy. Effectors such as RhoC are not oncogenes per se, as they do not transform primary cells, but nonetheless influence cell migration and tumorigeneicity [45, 46]. Moreover, other mediators in the cytoskeleton control system have been shown to impact migration potential and tumorigenicity. The protein ABI-1 is an adaptor molecule which, upon RhoA activation, facilitates the formation of multiprotein complexes involved in lamellipodia formation [47]. Overexpression of ABI-1 correlates well with migratory and invasion potential in breast cancer cell lines, while suppression of this protein led to the complete loss of migratory ability in once highly invasive cell lines [47].
Coupled to the activity of the cytoskeleton are the cell surface receptors mediating extracellular matrix interaction. Integrins, and their associated proteins, have been shown to be critical for motility and survival. For example, the integrin associated protein focal adhesion kinase (FAK) is a critical determinant of cell migration, yet similar to the small GTPases of the Rho family, the expression of FAK is insufficient to transform primary cells [42, 48]. Moreover, FAK expression is not essential for tumorigenesis, yet FAK expression promotes tumorigenicity and invasion. Accordingly, FAK is found to be enriched in aggressive human tumors. The common theme emerging from these data is that, increased migratory capacity results in a tumor cell with increased fitness. It is not yet clear whether this fitness is sufficient to result in a phenotypic conversion of a tumor in vivo, and it would therefore be interesting to determine whether this occurs in a preclinical model of tumor development. However, our simplified model provides very similar results to those seen in vivo with respect to the importance of migration, and provides an interesting perspective on tumor cell fitness during tumor progression. While the opportunity to divide may often be related to factors that govern the intrinsic proliferative potential of the individual cells, our data suggest that migration can compensate for a lower proliferative rate, and that migration may therefore be an important selection factor during tumor progression in patients. Strikingly, the study also points out the potential for chemotherapy to influence tumor phenotype in an unintended manner.
Conclusions
We have formulated two spatial extensions of the Moran process to study the effects of motility on the ability of a new mutant cell to invade a pre-existing tumor. Our results indicate that a mobility phenotype can be dominant and able to invade a background of cells with higher reproduction rates. Further, we have investigated how differing combinations of replication and motility strength blend to form equivalent fitnesses within the tumor system. Finally, we have shown how outside influence on the system inducing mass death within the tumor might unintentionally favor invasion and regrowth by a more aggressively motility phenotype.
Reviewers' Comments
Glenn Webb: There is a continuum modeling approach related to the issues raised in this paper given in the paper. Transforming growth factor TGF-beta is known to inhibit cell proliferation, and also increase cell motility and decrease cell-cell adhesion [49]. A version of the Fisher-Kolmogorov equation was used to quantify the simultaneous effects of TGF-beta to increase the tendency of individual cells and cell clusters to move randomly and to decrease overall population growth. Accompanying experiments demonstrated that TGF-beta increased the percentage of mobile cells in an in vitro cell population in a dose-dependent manner, consistent with model simulations. Have the authors tried to develop continuum models to quantify migratory impact on invasive cell population dynamics?
Marek Kimmel: The paper introduces very interesting spatial extensions of the Moran model with resulting conclusions concerning invasion by a mutant depending on cell motility and division radius. However, mathematical and simulation results provided, concern only aggregate characteristics such as invasion probability, without discussing the spatial patterns emerging. These latter might be interesting as demonstrated by a class of spatial models, which explore the consequences of linking the model of spatial growth of precancerous cells with diffusion of the growth factors [50]. The picture emerging from modeling indicates that production of growth factors by cells may lead to diffusion-driven instability, which in turn may lead either to decay of both population, or to emergence of local growth foci represented by spike-like solutions. Interesting dependencies arise when two mutualistic cell populations are considered. It would be probably interesting to check if any of the models in the current paper may lead to similar dynamics?
Declarations
Acknowledgements
This work was supported by the NIH/NSF joint initiative on Mathematical Biology through NIH grant GM75309 and NIH/NIGMS grant 1P50GM076516-01A1. N.K. also gratefully acknowledges support from a Sloan Foundation Fellowship. J.L. also gratefully acknowledges partial support from the National Science Foundation Division of Mathematical Sciences. D.S. also gratefully support from the NCI through grant NCI R01CA107263. As a one-time exception to the publishing policy of Biology Direct the articles in this series are being published with two reviewers.
Authors' Affiliations
(1)
Department of Mathematics, University of California Irvine, Irvine, USA
(2)
Department of Pathology, University of California San Diego, San Diego, USA
Copyright
© Thalhauser et al; licensee BioMed Central Ltd. 2010
This article is published under license to BioMed Central Ltd. This is an Open Access article distributed under the terms of the Creative Commons Attribution License (http://creativecommons.org/licenses/by/2.0), which permits unrestricted use, distribution, and reproduction in any medium, provided the original work is properly cited.